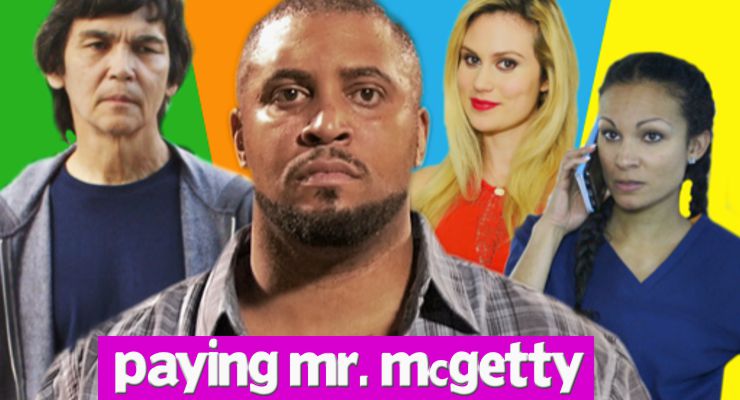 Tyrell lost the rent money, has a mob hit on his head, has a disgruntled boss on his back, a relationship on the rocks, and he has only one day to fix it all! He can't remember last night, but today is a day he will never forget!
Paying Mr. McGetty is not your average action movie, but it sure has an action cast. Paying Mr. McGetty stars actor, stuntman and kickboxer R. Marcos Taylor (Straight Outta Compton, (2016), The Martial Arts Kid (2015) Baby Driver (2017), Girl from Compton (2017), Luke Cage (2016), and co-stars Don "The Dragon" Wilson, 11-time World Kickboxing Champion and star of over 30 action films. This is Don Wilson's first role as "the bad guy". The film also stars Anita Clay (Luke Cage, Genocide, City of Gold) and introduces Alissa Schneider.
Written and Directed by Michael Baumgarten (The Martial Arts Kid (2015), Pretty Obsession (2012), Paying Mr. McGetty features cameo roles by some very prominent martial artists including Cynthia Rothrock, Dr. Robert Goldman, Jeff W. Smith, Maurice Elmalem, Olando Rivera, Sergio Barriga, Glenn C. Wilson, James Cisco, Kevin Bergquist, Mark Levine, and Doug Zimmer.
The fight coordinator for Paying Mr. McGetty is John Kreng who is known for Battle B-Boy (2014), Night of the Templar (2013) The Master (1992) and Hook (1991).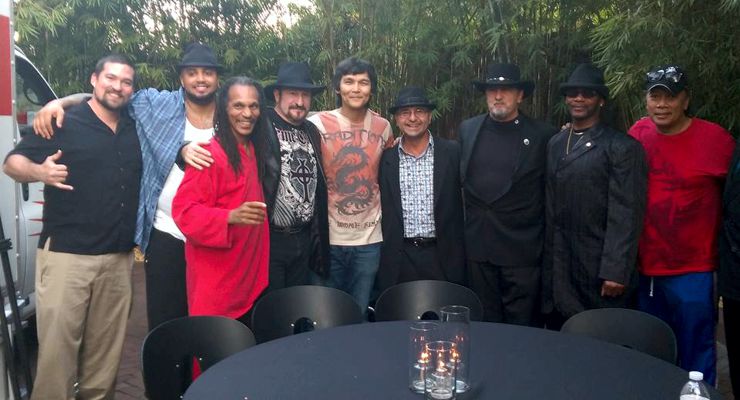 In Paying Mr. McGetty Tyrell (R. Marcos Taylor) spends  a long night drinking and gambling when is awakened by an angry phone call from his girlfriend Meena (Anita Clay) to find he is in bed with a strange woman, Cecelia (Alissa Schneide), who happens to be the daughter of a local mob boss.
When Cecelia's father finds out about Tyrell and his daughter, he hires Shota (Don Wilson), a relentless hitman, to take Tyrell out. To make matters worse, the reward the mob boss puts on Tyrell's head has dozens of others out to kill him.
Even worse than death for Tyrell is the fact that his actions have put Meena, the love of his life, in a great deal of danger. Tyrell must take on the mob and their Hitman Shota, while trying to find the money to pay the rent to Mr. McGetty, all before the sun rises.
The film features a stellar soundtrack overseen by award winning hip hop artist Etcetera and has an amazing score overseen by award winning composer Kaz Boyle.
Paying Mr. McGetty will Premiere at the Burbank International Film Festival on Sunday, September 11, 2016 with Red Carpet at AMC Burbank 16 at 12:30pm. the screening will take place in Theater 11 at 1:30pm.
The film is produced by Cheryl Sanders (The Martial Arts Kid, Holy Hell), James Wilson (The Martial Arts Kid), and Karen Kaing (White Tiger). Executive Producers are Dr. Robert Goldman, Beau Burton, and Greg Lee.
The film is produced by Traditionz Entertainment. From their offices in Los Angeles, California and Cocoa, Florida, Traditionz Movie 2 produces family friendly feature films, along with television and digital programming. They are currently, in development of The Martial Arts Kid II and the vampire-action flick Blood Raid.
Articles and Interviews for Paying Mr. McGetty
Paying Mr. McGetty, Straight Out of Compton Meets Kung Fu Panda
Talking Mr. McGetty: R. Marcos Taylor
Interview with Actor R. Marcos Taylor, Star of Paying Mr. McGetty
411 Talks With R. Marcos Taylor About Working With Don Wilson, Paying Mr. McGetty, and More
Burbank International Film Festival Page