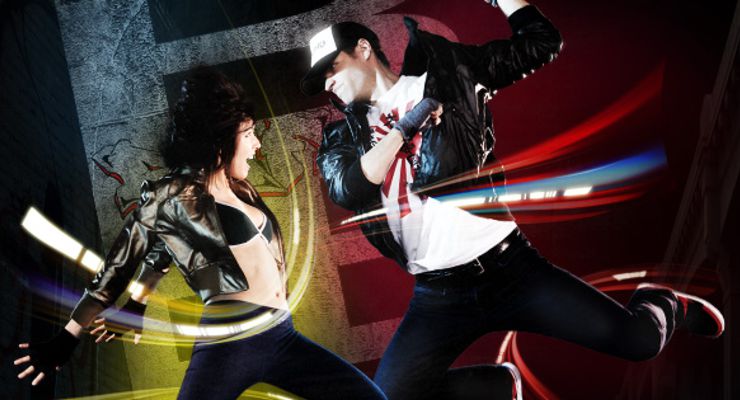 Battle B-Boy Defies All Odds
Battle B-Boy is NOW out on DVD as well as on PS3, Vudo, and Amazon Prime Video and available on VOD and by Digital Download nation wide!!!
Director: Frank Lin
Writer: Frank Lin
Stars: Jae Phan, Alison Dahlstrom, Ricky Cole
Stunt Coordinator: John Kreng
SYNOPSIS:
"Da-Fi all odds!"
Da-Fi (pronounced "defy")[noun]
1. Short for Dance Fighting
2. Hand-to-hand combat using dance moves
In Battle B-Boy, MIKE discovers his father needs money for heart surgery, he and his B-Boy friends solicit the help of JIMMY, a professional gambler, and enter the world of "Da-Fi," an underground fight-club where B-Boys and B-Girls physically battle for money and reputation.
Rules are simple: fight to the beat of the music and the last team standing at the end of three song changes wins. If you can't take the heat, you better tap-out before you get knocked-out!
As the fights get more dangerous, Mike must learn to work with his team and hold everyone together, or he will lose his father forever.
This review from http://filmcombatsyndicate.blogspot.com
REVIEW:
I initially learned about Battle B-Boy earlier this year upon the film's entry at the Vietnamese International Film Festival back in April. The film has since garnered some pretty outstanding reviews, leaving me curious about the film ever since. The trailer was very energetic, vibrant, colorful and youthful in its delivery of just the kind of film any action fan could and should look forward to.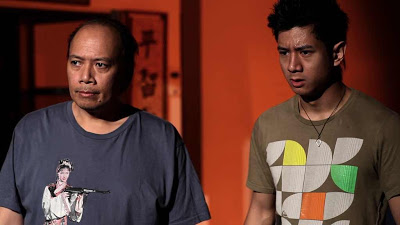 Jonathan Phan stars as Mike (pictured far right), a entertainer for hire who works with friends Jay (Ricky Cole), Ben (Ingel Catindig) and Ritchie (Ritchie Greenfield). One day, Mike soon learns of his father, Sam (Howard Fong), and rushes to his aid at the hospital where the doctor informs him that a special procedure is needed for his debilitating heart condition.
After pawning his ring for just enough to get a down-payment for his procedure going, Sam is mugged at knife point and his money is stolen, with Mike chasing after the culprit and his partner waiting for them in a cramped alley. Mike corners them two-on-one fight where Mike uses his skills as a street fighter to take them down effortlessly. Upon walking away unscathed, he bumps into Jimmy (John Kreng above/left of Phan) who witnesses the brawl and offers Mike a money making offer he couldn't refuse, introducing Mike to the world of Da-Fi, an underground tournament where fists and feet fly only to the beat, and every step you dance will lead to knockout or a tapout.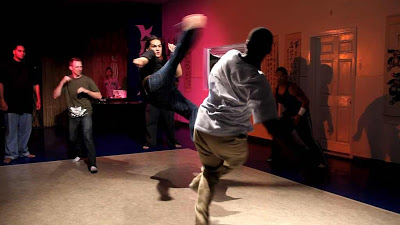 When Mike passes his initiation, it is not long before he discovers Jimmy's shared, and long-bitter past with Sam, who is too prideful to accept any help from Jimmy, monetary or otherwise. But with Sam's condition worsening, the medical expenses piling up and no other options left, Mike must find a way to stay aboard and help get his friends involved in the Da-Fi circuit without his father noticing.
Aided by their long-time friend and Mike's love interest, Rachel (Alison Dahlstrom), they compete in their first bout as a crew under Jimmy's advisement, proving they have a long way to go before being fully able to work as a team. Despite this, Jimmy reluctantly agrees to train them for future matches, as they each share a dynamic skill set for dancing and street fighting, as well as reasons of their own for winning the $100,000 cash prize earned for each individual competitor.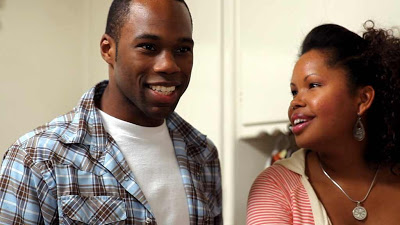 As the film continues, each character has a small story arc that builds between scenes, including Ben bearing the brunt of the physical work at the local market with his mother, Jay's own effort to take care of his disabled, headstrong and determined sister (Kamali Minter), in addition to Ritchie's struggle to resolve his differences with his father after running away from home, and Rachel, whose own tragedy upon losing her father brings him closer to Mike as she supports his struggle to help Sam at any cost.
The film isn't all doom and gloom though, delivering a healthy blend of action; drama and lighthearted comedy, highlighting everything from Ritchie's goofy, playful personality to Ben's boyish charm as he romances beautiful, rich, upperclass b-girl dancer, Kelly (Megan Nguyen), from an opposing team, in addition to accentuating the group's admirable close-knit nature as they progress through the tournament.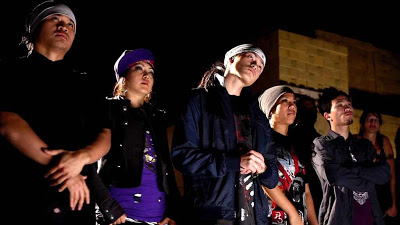 As the film moves forward, stakes get higher and the battles become more and more dangerous, as the team readies for its most violent dance battles from the all-black robopop-lockin crew, The Exterminators, with the nefarious bone-breaking crew known as Typhoon, led by the silent-but-deadly Villn (Longkue Steven Lor pictured left/center) whose tricks are even deadlier than his kicks. The action is spectacular, with fights that are incomparable, groundbreaking and dynamic with sharp execution of choreography, technique and a sense of brilliance that leaves you truly wanting more.
The violence is very mild with a few bruises and bloody noses, but nothing cringeworthy. And each of the battles share something memorable, especially from child b-boy Bailey Munoz who cameos at the start of the film, and Ricky Cole who brilliantly pays his homage to the now-late great actor and martial artist Jim Kelly in his own outstanding way during his scenes.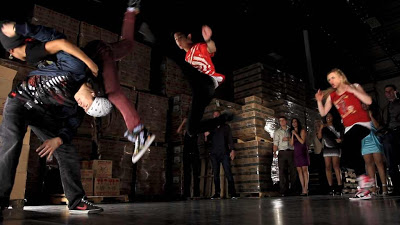 Writer and director Frank Lin accomplished a great deal in bringing Battle B-Boy to life, with co-star, producer and acclaimed author and action director John Kreng achieving what films like Beat Street and Stomp The Yard did, essentially introducing stylish hip hop and dance, and blending it all with the kind of blistering, gravity-defying martial arts techniques that would attract any martial arts cinema fan. And through it all, Lin tells a very poignant and unifying story about friendship, family, triumph over tragedy and endurance through even the toughest of times.
Battle B-Boy is a fantastic, explosive, heartwarming, colorful, classy and vibrant film, all as it comes together to revitalize a classic movie genre…with a B-twist! I highly recommend renting or purchasing this movie as it is, deservedly, one of the most memorable films in recent martial arts cinema history, and with all hopes of a sequel bearing around how this film does, I sincerely hope it happens. So support it! Check it out now at Google Play, Redbox and Netflix, or wherever movies are sold.
John Kreng hosted a screenfighting seminar titled Fights And Action For Filmmakers on Thursday, August 29, 2013 joined by fellow actress, comedian and stuntwoman Melissa Tracy, along with screenwriter and director Ben Ramsey (Blood And Bone) and acclaimed action director and stuntman Jeff Imada (The Bourne Ultimatum). Kreng's latest book, Fight Choreography: The Art of Non-Verbal Dialogue is also available at Amazon or wherever books are sold.
Battle B-Boy was written and directed by Frank Lin and stars Jonathan Phan, Ingel Catindig, Ricky Cole, Ritchie Greenfield, Alison Dahlstrom, John Kreng, with Karen "DJ Shy" Beck, Howard Fong, James Chang, Bailey Munoz, Kamali Minter, Megan Nguyen and Longkue Steven Lor.