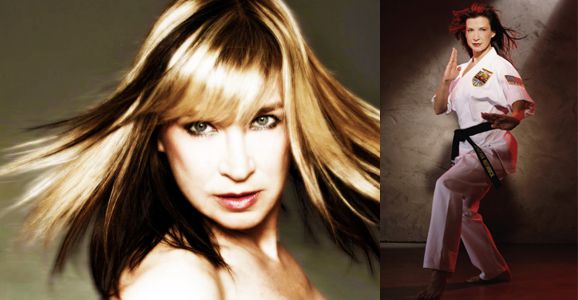 Cynthia Rothrock was born on March 8, 1957 in Delaware, USA. She holds 5 Black Belts in Korean and Chinese martial arts including the Korean arts of Tang Soo Do and Tae Kwon Do, and the Chinese arts of Eagle Claw, Wu Shu (contemporary), and Northern Shaolin (classical). She began studying martial arts at age 13 and by 1982 she was one of the premier kata and weapons competitors in the United States. She competed in divisions that included male and female competitors and she literally captured every title in both open and closed karate competition and from 1981-1985 she was the undefeated World Karate Champion in both forms and weapon competition. Cynthia Rothrock likes to perform with such weapons as the Chinese Double Broad Swords, the staff, the Chinese Nine-section Steel Whip Chain, the Chinese Iron Fan, and an assortment of Okinawan Kobudo and Japanese Bugei Weapons.
Her talents propelled Cynthia Rothrock to stardom within martial arts communities and she was featured on the cover of virtually every martial arts magazine in the world, in over 300 articles and stories.
In the early 1980's, Cynthia Rothrock starred in a Kentucky Fried Chicken Commercial and this brought her martial skills to the attention of producers and directors. Her first full length motion picture was Yes, Madam, filmed in Hong Kong in 1985. She starred with Michelle Yeoh. The movie was a box office hit and Cynthia Rothrock became the first non-Asian to become a star in Hong Kong. She appeared in over 30 films and her performance established a new sub-genre of the kung fu movie known as the "nasty foreign chick" movie, which came from her nick name in the movie Yes, Madam. Cynthia opened the door for other non-Asian actors such as Jean Claude Van Damme and Richard Norton to begin starring in Hong Kong movies and her movies helped open up other markets for Asian films in other countries including America.
Yes, Madam helped launched Cynthia's cinematic career as as one of the most successful female action stars in the world and she spent 5 years in Hong Kong starring in Asian films such as Millionaire's Express (Shanghai Express), No Retreat, No Surrender 2, Righting Wrongs (aka Above the Law). After her movie, Righting Wrongs, she received less and less star status in Hong Kong movies because producers feared offending Hong Kong audiences by giving her too much screen time. However, they needed Cynthia in their films so the films would appeal to foreign markets, but this was not satisfactory for Rothrock, and she decided to move on.
With the help of Producer Pierre David, Cynthia Rothrock left Hong Kong to star in her first U.S. role as co-star with Chad McQueen in Martial Law. Next, Hong Kong based consortium, Golden Harvest Productions (co-producer of Enter the Dragon starring Bruce Lee with Warner Brothers) wanted to launch Cynthia's film career in America with a series of action films China O'Brien and China O'Brien 2. These films were very popular among martial artists everywhere and in international video stores and cable networks, but were not the draw she needed for the general public in America and film makers never found the perfect film to launch her to stardom in the United States.
With a film career that spanned ten years, Cynthia earned the title "Kung Fu Video Queen", but the truth is, she is one of the best female martial artists on the planet, in or out of the movies.
Cynthia Rothrock Filmography
1985 – 24 Hours to Midnight
1985 – Defend Yourself/Sybervision
1985 – Yes, Madam
1986 – Millionaire's Express (Shanghai Express)
1986 – No Retreat, No Surrender 2
1986 – Righting Wrongs (aka Above the Law)
1987 – Magic Crystal
1988 – The Inspector Wears Skirts (aka Top Squad)
1988 – Righting Wrongs II: Blonde Fury
1988 – China O'Brien
1988 – China O'Brien II
1989 – Triple Cross (aka Angel of Fury)
1989 – Martial Law
1989 – Prince of the Sun
1990 – Deadliest Art: Best of the Martial Arts Films
1990 – Free Fighter
1990 – Fast Getaway
1990 – Martial Law 2: Undercover
1990 – Lady Dragon
1990 – Tiger Claws
1990 – Rage and Honor
1991 – Honor and Glory
1991 – Rage and Honor 2
1991 – Lady Dragon 2
1992 – Rage and honor
1992 – City Cops (Beyond the Law)
1993 – Irresistible Force
1993 – Guardian Angel
1994 – Undefeatable
1994 – Bloody Mary Killer
1994 – Fast Getaway 2
1994 – Eye for an Eye
1995 – Tiger Claws 2
1996 – Hercules: The Legendary Journeys (TV)
1996 – Sworn to Justice (formerly Blond Justice)
1996 – Checkmate
1996 – Night Vision
1996 – The Encyclopedia of Martial Arts-Martial Combat
1997 – The Hostage
1997 – The Dukes of Hazzard: Reunion!
1997 – American Tigers
1999 – Tiger Claws 3
2000 – Manhattan Chase
2001 – Redemption
2002 – Outside the Law
2003 – Bala Perdida
2004 – Xtreme Fighter (aka Sci-Fighter)