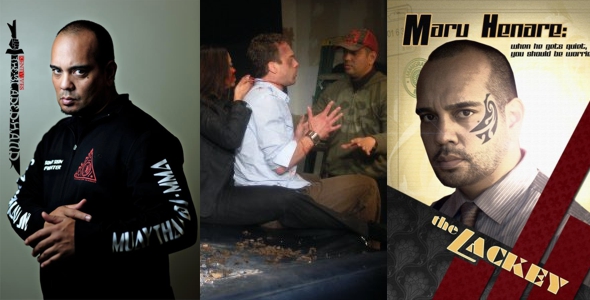 Sonny Sison is a 20 year veteran of the entertainment industry, having worked as a performer in acting, stunts and dance as well as a creative force behind the scenes as a dance/fight choreographer, stunt coordinator, writer, director and producer for Film, Television, and Live Shows/Concerts. He is a martial arts practitioner of 35 years in the disciplines of Kung Fu, Karate, Escrima, Capoeira and is certified in the use of firearms. He has won numerous championships and grand championships for forms and fighting in tournaments around the US Western States and Hawaii.
Sonny Sison began his entertainment career in 1990 at Universal Studios, Hollywood playing the lead role of "Young Conan" in The Adventures of Conan: A Sword and Sorcery Spectacular stunt show, where he received extensive training in sword and stage combat from internationally acclaimed Swordmasters JR Beardsley and Anthony DeLongis. His television credits include guest starring on Boomtown and multiple episodes of The Shield, General Hospital, Buffy The Vampire Slayer and The Deadliest Warrior. Movie credits include: The Green Hornet, The Rundown, Broken Path (rated in "Top Ten Movies You May Never See" by Kung Fu Cinema) in the role of "Jiro", The Brady Bunch Movie, Austin Powers In Goldmember and the upcoming big-budget feature Act of Valor. He has worked as a professional dancer, performing in tours, stage and music videos with the likes of Michael Jackson, Will Smith, TLC, Carmen Electra and C&C Music Factory.
His triple threat abilities enabled Sonny Sison to pursue acting and stunt work which lead to a 16 year relationship with The Power Rangers, the most successful Children's Live Action Television Series ever produced. He started as a stunt double for the Red Ranger and other monster characters on the television series in 1993 for Mighty Morphin Power Rangers Series and worked throughout various seasons until 1999. In 1994, Sonny helmed the position of the "White Ranger" for the Mighty Morphin Power Rangers Live World Tour with performances at Radio City Music Hall, Universal Amphitheater and many other sports arenas and performance venues throughout the United States. In addition, he was the fight choreographer for the US production and briefly left in 1995 to direct the show in South America. He then rejoined the US cast to tour in Europe in 1996. In 1999, he was the fight choreographer/stunt coordinator for the US domestic tour of Power Rangers Lost Galaxy Live. In 2007, Sonny choreographed Power Rangers Dino Thunder Live Show which toured throughout India. He has currently been contracted again to be the official choreographer for live show appearances for Saban Brands, having recently choreographed shows in London, Cannes, New York and Las Vegas.
Regarding stunts and martial arts in film, television, live shows, music videos and gaming, Sonny Sison has worked with a who's who of Hollywood and internationally elite action stars, a partial list including: Dwayne "The Rock" Johnson, Jet Li, Ray Park and Mark Dacascos. His stunt experience also extends into the music world. He has coached martial arts for Madonna's Drowned World Tour, and choreographed sword fights for her music video Paradise. Sonny was the fight choreographer/stunt coordinator for rapper Xzibit's music video Symphony In X Major, directed by Linkin Park's resident DJ, Joe Hahn, and stunt coordinated Emo rock super group Story Of The Year's music video Anthem of Our Dying Day. He has also choreographed live show premieres for Matrix Reloaded and Batman Returns for Warner Bros. and Jackie Chan's The Myth (2005). A list of corporate clients include pharmaceutical giants Brystol-Meyers Squibb and Novartis, as well as technology innovators Intel and Symbol. Sonny has taken his abilities to the video gaming world, working as a motion capture actor, stuntman and fight choreographer in games such as True Crime: Streets of Hong Kong, UFC: Undisputed 2010, Alpha Protocol and Small Soldiers.
Sonny is produced the documentary The Bladed Hand: The Global Impact of the Filipino Martial Arts, is in development as a producer for action film Quickfire and is rewriting the live stage production IJO IJA: The Warrior's Path.
Sonny Sison has a role as one of the Filipino freedom fighters recruited for jihad in the Navy SEAL movie Act of Valor (2012) released on February 17, 2012.
Sonny Sison is best known for his work on Olympus Has Fallen (2013), Act of Valor (2012) and The Rundown (2003). He has done stunt work in 12 episodes of Hawaii 5-0 (2011-2019), worked on Iron Fist (2017) and he has worked as a stunt and fight coordinator, a fight director, as well as a fight choreographer in both films and television.