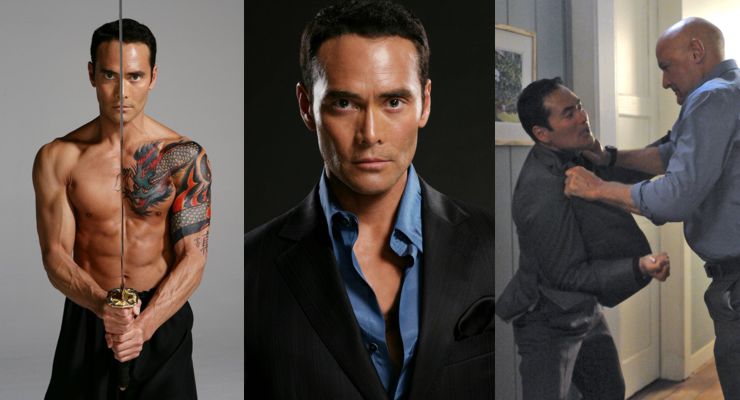 Mark Dacascos was born on February 26, 1964 in Honolulu, Hawaii, USA as Mark Alan Dacascos. He gets his good looks from a mix of Japanese, Filipino, Spanish, Irish, and Chinese heritages.
Mark is best known for his work on John Wick: Chapter 3 – Parabellum (2019), Cradle 2 the Grave (2003), Brotherhood of the Wolf (2001), Drive (1997) and Only The Strong (1993).
As a television personality, Mark has appeared in Iron Chef America: The Series from 2004 through 2018. He also took a turn around the dance floor where he transformed his martial arts moves into dancing magic on ABC's hit show, Dancing With the Stars.
Mark Dacascos stars in the Netflix original series Wu Assassins (2019- ) as Monk / Kun Zi. He appeared as Wo Fat in Hawaii Five-0 from 2010 through 2018. He played Mr. Giyera on the hit television show Agents of S.H.I.E.L.D. (2015-2016), and he was the star of the television series The Crow: Stairway to Heaven (1998).
Besides starring in television and films, Mark has also directed his first feature film titled Showdown in Manila (2016) starring Casper Van Dien and Tia Carrere and he can be seen with Alexander Nevsky and numerous other martial artists in Maximum Impact (2017).
Mark portrayed Kung Lao in the second season of the YouTube series Mortal Kombat: Legacy (2011-2013).
Mark Dacasos was born to Wun Hop Kuen Do founder Al Dacascos and Moriko McVey-Murray, but he was raised by His stepmother, award winning martial artist, Malia Bernal. Mark attended Los Angeles Valley College and was on the 1983-1984 Gymnastics Team coached by Gary Honjio. He also attended Portland State University in Portland, Oregon.
Mark trained under his father in Wun Hop Kuen Do and he has studied Muay Thai with Kru Puk, Capoeira with Mestre Amen Santo, and Wushu with Coaches Eric and Debbie Chen, but admits that he is still a beginner and intermediate student in those arts.
Mark Dacascos was discovered while walking down the street in San Francisco's Chinatown by Chris Lee, an assistant director at the time, and Rexall Chin, a hairstylist, for director Wayne Wang. Mark's first scenes ended up on the cutting room floor, but he went on to establish himself in films and television, primarily playing martial artists. In 1986, Mark was set to play the Red Ranger in the television Super Sentai series, Bio-Man, which was to be produced by Haim Saban, but the show never resulted in a series.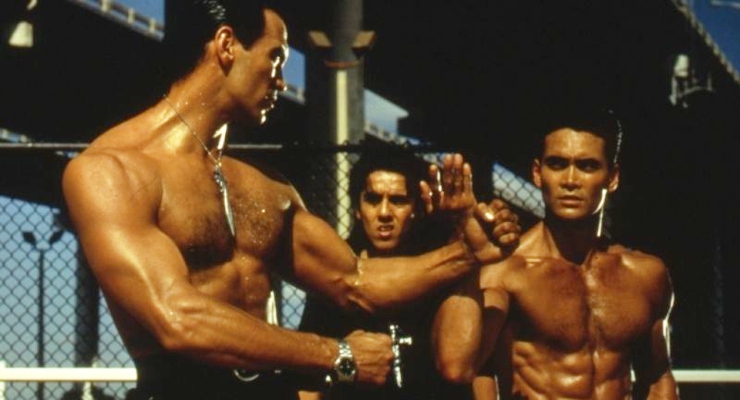 Mark's breakout role came in the 1993 film Only the Strong (1993). He played Ex-Special Forces soldier, Louis Stevens, who returns to Miami to find his former high school overrun by drugs and violence. A master of the Brazilian martial art, capoeira, Stevens pledges to straighten out a dozen of the school's worst students by teaching them this demanding and highly-disciplined fighting style. The following year, Dacascos co-starred with Party of Five's Scott Wolf as Jimmy and Billy Lee, respectively, in the movie, Double Dragon (1994), which was based on the video game.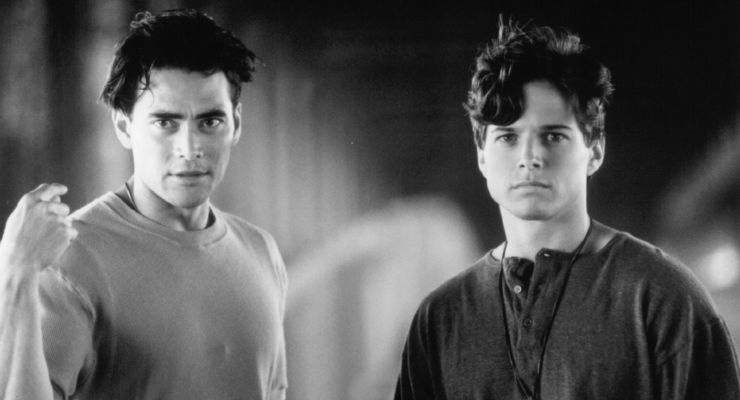 Mark Dacascos plays the role of the Chairman of the cooking show, Iron Chef America and Iron Chef Australia. In the series' backstory he is the nephew of the original Iron Chef Chairman, Takeshi Kaga; the actors hold no relation in real life.
Mark has been featured in many action films including Brotherhood of the Wolf (2001), Crying Freeman (1995) and Cradle 2 the Grave (2003), where he squared off against Jet Li. Mark also performed in three video games. He did voice acting in Stranglehold, live acting in Wing Commander IV: The Price of Freedom and he did digitally recreation in The Chairman in the Iron Chef video game for Wii.
Mark Dacascos was nominated for the Saturn Award for Best Supporting Actor in 2002 for his role in Brotherhood of the Wolf (2001). He appeared in the television series The Crow: Stairway to Heaven (1998), a follow-up to the film The Crow (1994). He also appears in the children's television show, Masked Rider: Dragon Knight (2009) with Matt Mullins, where he portrays Eubulon, also known as the Advent Master, mentor of the Kamen Riders and creator of the Advent Decks.