Filming of Showdown in Manila
Filming of Showdown in Manila is ongoing and the cast and crew are working hard. The movie will wrap at the end of March, 2015.
Alexander Nevsky Showdown in Manila Directetd by Mark Dacascos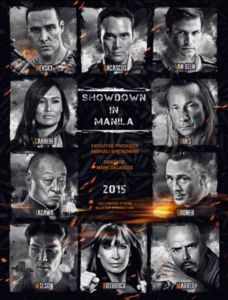 Former Russian bodybuilder, Alexander Nevsky, an actor and producer of independent action films is currently filming his next film project, Showdown In Manila or Manila Showdown, an action thriller in the same vein as the Expendables.
Andrzej Bartkowiak director of Romeo Must Die (2000) is producing the film along with Alexander Nevsky and martial artist turned actor, Mark Dacascos is directing with Rudy Harbon as Directory of Photography. Cast in the film are Mark Dacascos as Matthew Wells, Cary-Hiroyuki Tagawa as Aldric Cole, Oliver Gruner, Casper Van Dien, Matthias Hues as Dorn, Monsour del Rosario, and our own Don "The Dragon" Wilson, the Queen of Martial Arts, Cynthia Rothrock, Tia Carrerra as Sheryl, and Natalie Gubina as Alison.
Both fight choreography and stunt coordination for the film is being done by Fight Instructor Al Dacascos and Assistant Fight Instructor Sonny Sison.
The film begin shooting in February, 2015.