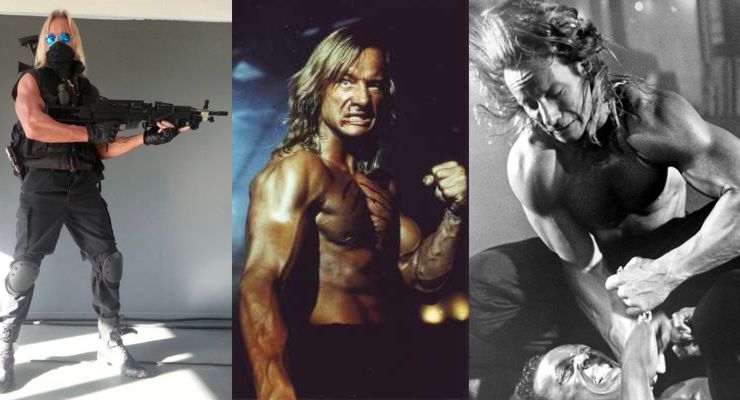 Matthias Hues is a German-born, American-naturalized actor and martial artist who broke into acting by taking Jean-Claude Van Damme's role of Yuri in No Retreat, No Surrender 2 (1987).
Matthias Hues was born on Valentine's Day, February 14, 1959 in Waltrop, Germany. His father was Dr. Josef Hues and hi mother,Maria Humperdinck Hues, is the niece of Engelbert Humperdinck, composer of the opera Hansel and Gretel.
Matthias became involved in sports at a very young age. By the time he was 19 he was part of the team that won the German pentathlon championship in Hannover. He later became Germany's hopeful in track and field. 6'5″ and 250-pounds, Matthias Hues took up martial arts which showed off his ability to move extremely fast even at his height and weight. He has a Black Belt in Tae Kwon do and is skilled at kickboxing.
After graduating from school, Matthias moved to Paris to fulfill a dream of entering Hotel management. Once there he joined one of the most prestigious health clubs in Paris, which had just been bombarded with the new Jane Fonda aerobic exercise program from the United States. Matthias Hues recognized an opportunity when he saw one, and he returned to Germany and opened two health clubs, building his membership by flying in aerobic teachers from the USA.
It was during that time when he became obsessed with America and the American way of life, and due to his spectacular physique and bigger-than-life appearance and personality, it wasn't long before some people suggested that he should try to enter the entertainment industry, so he sold his health clubs and moved to Los Angeles.
Matthias Hues immediately joined Gold's Gym in Venice, California, the mecca of bodybuilding and entertainment personalities. Within a few weeks Derek Barton, a former Hollywood stuntman, and formerly one of Gold's managing directors, received a frantic call from a producer who had just lost Jean-Claude Van Damme for his movie and needed someone to replace him immediately. Derek didn't hesitate to send Matthias to test for the role, and Matthias managed to convince the producers to give him the part, despite having no acting experience whatsoever. The movie, No Retreat, No Surrender 2 (1987), was a moderate success, and opened the door for Matthias to make more films.
Matthias Hues quickly established himself as a powerhouse in the action genre and began appearing in more films. His most successful film to date is Dark Angel (1990). Over the years he recognized that his outstanding physique and size would not always be a plus in his acting career, so if needed he could reshape his look, dropping up to 40 pounds at times for various roles. He also began studying with some of the industry's best acting and speech coaches.
Matthias played a variety of roles in his films, from a gladiator turned private investigator in Age of Treason (1993) to an aging hit-man in Finding Interest (1994) to a bumbling idiot trying to kidnap a rich kid in Alone in the Woods (1996) to a dancing lion tamer in Big Top Pee-wee (1988). He also played a Klingon general in Star Trek VI: The Undiscovered Country (1991). Matthias is one of the few foreign actors who managed to loose his accent to the extent that even people in his own country don't recognize that he is from Germany.
Matthias recently began writing and producing. He is set to direct and produce his first full feature film; a spy thriller to be shot in Frankfurt and Rome.
Matthias Hues plays Frank Radowsky in Ultimate Justice (2015) with Mark Dacascos and Ian in Maximum Impact (2017) with Alexander Nevsky. He can be seen in Railroad to Hell: A Chinaman's Chance (2018) and he has numerous projects in the works.
Matthias Hues Actor-Bodybuilder-Martial Arts Actor