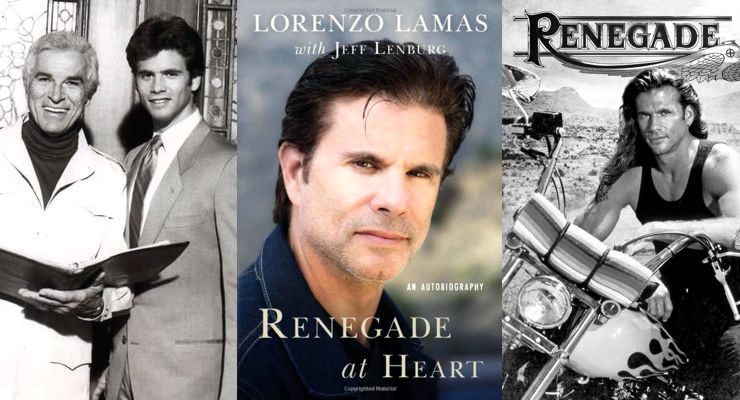 Meet the real Lorenzo Lamas in his Lorenzo Lamas Autobiography, Renegade at Heart. Lorenzo Lamas has played many roles over the course of his roller coaster career. He has been the Star of two major television shows, husband to 5 different wives, and a reality show star. Lorenzo Lamas has been tabloid fodder for decades. If you are a fan who believes that you have seen every side of Lamas, the truth is far more interesting–and surprising.
Lorenzo Lamas is the son of film stars Fernando Lamas and Arlene Dahl, and stepson of swimmer and actress Esther Williams. Lorenzo was born into Hollywood royalty. But his path in Hollywood was not an easy one. Overweight and aimless as a child, he found it hard to live up to the expectations of his famous father, whose exploits made him the inspiration for the "most interesting man in the world."
Lorenzo Lamas surprised everyone, by shaping up and ultimately winning countless black belts in tae kwon do and karate. Despite his father's early discouragement, he pursued acting, starring in Falcon Crest and Renegade. In Renegade at Heart, the Emmy and Golden Globe nominated actor pulls back the curtain showing his startling and explosive story. His story is one of money and notoriety, fights and fall outs, and years of battling abandonment and attachment issues after his parents' divorce, his epic romances and tabloid-making marriages to his four ex-wives.
Lorenzo Lamas delves deep into his relationships with his six children and with his famous father, whose penetrating words of wisdom have guided him through turbulent times and to a sense of renewal and new beginnings.
The Lorenzo Lamas Autobiography features 50 rare, never-before-shared family and personal photographs from his private collection. Renegade at Heart is everything Lamas's millions of fans have been waiting for. It is the unvarnished truth, his side of the remarkable journey, and the fully fleshed rumination of the highs and lows of an extraordinary life and the survival of an extraordinary man and actor.