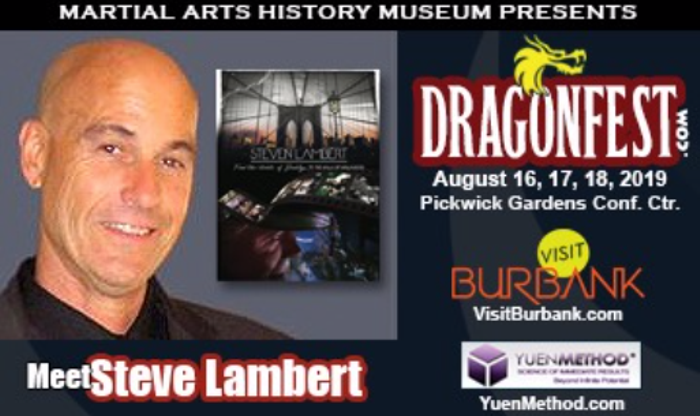 Hold on to your life and listen to Steven's as he shares his life story in his new book Steven Lambert: From the Streets of Brooklyn To the Halls of Hollywood. This book takes you on a journey like no other. Steven paints you pictures of what it was like to come of age in the early 1950's in Brooklyn, New York, including kid gangs, the Mafia, and a few games of skelly and stickball. Well, he was just a kid. Let Steven Lambert show you how he stumbled into martial arts without knowing the life lessons and skills he would eventually learn from his master and from the art itself.
Let him take you into the halls of Hollywood where he will share his experiences with famous actors, producers and directors. He will take you on a roller coaster ride of emotion as he shares with you about working as an action actor and stuntman. Experience shock, surprise, laughter and joy and watch the black and white lines of Steven's life fade to gray.
There is knowledge to be gained from the experiences shared by Steven in his book. Secrets are revealed and inspiring stories are told. We recommend that you BUCKLE UP as you take to the streets of Brooklyn and then to the halls of Hollywood, peering through the eyes of this punk kid from Brooklyn who saw life as one great adventure.
You can purchase Steven Lambert: From The Streets Of Brooklyn To The Halls Of Hollywood on Amazon.com.

Special Review by Sam Shmulik Firstenberg
I have just finished reading the autobiography book From the streets of Brooklyn to the halls of Hollywood by Stuntman/Stunt coordinator/Fight choreographer Steve Lambert and it was a blast. To sum up my reading experience of this book, it was sheer entertainment.
Unapologetic ally, Steve is sharing in great detail stories, anecdotes, events, and photos from his long career in the motion picture industry, from the underbelly of Hollywood's action arena.
Without holding back, he reveals it all – the good, the bad, and the ugly – the stuff he encountered over the many years and tons of movies he was involved in.
Throughout the years Steve rubbed shoulders with all the "who's who" of the action adventure crowd in Hollywood; big budget, low budget, directors, actors, producers and name stars – the likes of Steven Spielberg, Chuck Norris, Arnold Schwarzenegger, Sylvester Stallone, Jean Claude Van Damme, James Cameron, Michael Dudikoff, and if I might say so yours truly included. He was the action double and personal friend of actor James Woods for many years in many movies.
On the IMDB website it is noted that Steve Lambert participated as a stuntman, a stunt coordinator, a fight coordinator, an actor or stunt actor in some 200 films and television shows. So we can just imagine what he has seen and who he has met through the years.
But the main virtue of this book is that it was written in a light, humoristic way with a positive attitude. Even when he strikes a sour or bitter note or recalls an unpleasant memory the writer shucks it off and turns it around into a funny or forgiving tale.
If you are, like many of us, seeking to hear some wicked gossip, juicy tales, and immerse yourself in the ins and outs of the biggest action movies factory in the world, then this book is for you.
You can purchase Steven Lambert: From The Streets Of Brooklyn To The Halls Of Hollywood on Amazon.com.

About Steven Lambert
Steven Lambert is a martial artist, American actor, stuntman and stunt coordinator known for his work on Titanic (1997), Indiana Jones and the Last Crusade (1989), Ocean's Eleven (2001) and in many martial arts movies including Best of the Best II (1993), American Ninja (1985) Revenge of the Ninja (1983) and many others.