Sheldon Lettich was born January 14, 1951 in New York city. He is an American screenwriter, film director and producer. He is best known for his work in the action film genre most notably on films in collaborations with Jean-Claude Van Damme.
Sheldon moved to California when he was young and he grew up in the Los Angeles area. He graduated from high school and then spent nearly four years in the U.S. Marine Corps, serving as a radio operator in South Vietnam with 3rd Battalion, 1st Marines, and later with the elite 1st Force Reconnaissance Company based at Camp Pendleton, California.
Working his way through college as a professional photographer, he was then able to do graduate study in the American Film Institute's program at the AFI Conservatory's Center for Advanced Film Studies as a Cinematography Fellow. Originally his career goal had been to become a director of photography, but at the AFI he was introduced to writing and directing as well, and this is where he would find eventual success in the entertainment industry.
He got his first hit with the renowned stage play Tracers which he co-authored with a group of aspiring actors who were also Vietnam vets. The play was based partly upon Sheldon's own experiences in Vietnam. Tracers was first performed on July 4, 1980 at the Odyssey Theater in Los Angeles. Next the play traveled to Joseph Papp's Public Theater in New York City, then the Steppenwolf Theater in Chicago where it was directed by Gary Sinise. From there it was performed at the Royal Court Theater in London, and Tracers went on to be performed at numerous venues worldwide. The play was awarded the Drama-Logue Critics' Award for Direction and the Los Angeles Drama Critics' Award for Ensemble Performance, and it is still being performed throughout the world.
While working on Tracers, Sheldon was in the process of writing numerous other speculative screenplays. One of the screenplays he co-wrote with Josh Becker became the cult classic, Thou Shalt Not Kill… Except (1985) or Stryker's War. Josh Becker directed the film and it starred Bruce Campbell.
It didn't take long and his screenplays caught the attention of producers in Hollywood. He co-wrote the Cold War drama, Russkies (1987), and this film gave a young Joaquin Phoenix his first role. It was around this same time that Lettich wrote the story and the screenplay for the best known classic martial arts film ever, Bloodsport (1988). Bloodsport (1988) would launch the career of Jean-Claude Van Damme. Lettich's agent sent Sylvester Stallone one of Lettich's Vietnam-based screenplays called Firebase and this lead to an overall deal with Stallone's White Eagle Productions and to Lettich co-writing Rambo III with Stallone.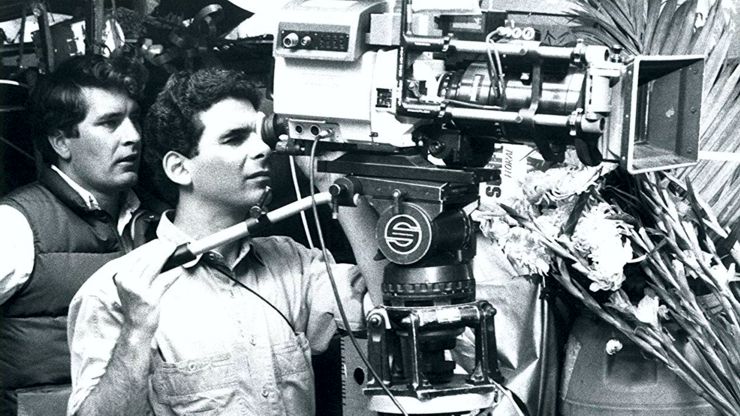 The success of Bloodsport (1988) turned Jean-Claude Van Damme into an international action star and it also built a strong friendship between Van Damme and Lettich. It would be Van Damme who would help launch Lettich's directing career beginning with the film, Lionheart (1990). Lionheart (1990) became Jean Claude Van Damme's first movie to be released theatrically by a major U.S. studio. This was followed by Double Impact (1991), which was filmed in Hong Kong. This film was challenging as Lettich had to direct Van Damme in a double role as as set of twin brothers who sought revenge for their parents' murder.
Next, Sheldon Lettich discovered martial arts great, Mark Dacascos, and Mark made his starring debut in Only the Strong (1993). Only the Strong (1993) was the first film to introduce the Brazilian martial art of Capoeira to international audiences. He also directed Dolph Lundgren in The Last Patrol (2000), and Daniel Bernhardt in Perfect Target (1997).
Lettich continued his long association with Van Damme writing both the story and the screenplay, and as a producer, for the historical French Foreign Legion film, Legionnaire (1998), filmed on location in Morocco. Lettich also directed The Order (2001), an action-thriller starring Van Damme and Charlton Heston. This movie was filmed on locations in Israel and Bulgaria.
Next came The Hard Corps (2006) which is directed by Sheldon Lettich from a screenplay he co-wrote with George Saunders. The urban action-romance film starred Jean-Claude Van Damme and Vivica Fox. It was shot on locations around Vancouver, British Columbia, Canada, and on sound stages in Romania. Sony Pictures Entertainment financed and released The Hard Corps (2006) worldwide.
His movie, Max (2015), was co-written with his long-time friend, Boaz Yakin, who also directed the film. MGM produced MAX and it was released nationwide in the United States by Warner Brothers on June 26, 2015. By the end of the summer Max (2015) had grossed $43 million. The film was novelized and sold over 100,000 copies. Max 2: White House Hero (2017) was also completed.
He is currently working on Shank (2020) which he will be directing.
Sheldon Lettich wrote a Vietnam War movie that he has always wanted to make, but after seeing Tropic Thunder (2008), he was afraid that people would not take a Vietnam war movie seriously anymore.