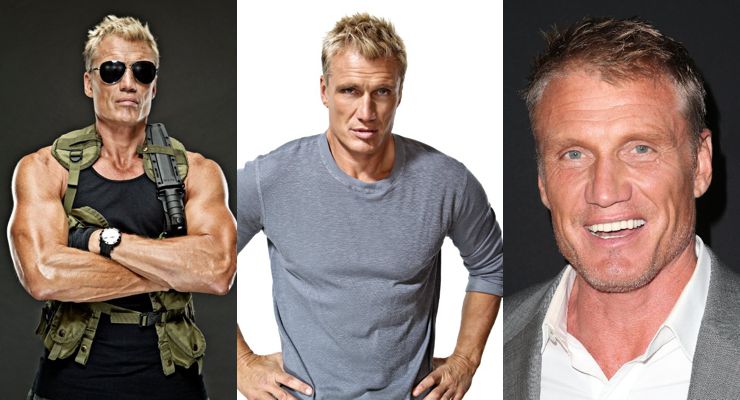 Hans Dolph Lundgren was born on November 3, 1957. He was raised in an academic middle-class family in Stockholm, Sweden and Dolph followed in his father's and older brother's footsteps and pursued an engineering degree. After having completed his military service in the Swedish Marine Corps, Dolph enrolled in the Royal Institute of Technology in Stockholm, studying Chemical Engineering like his older brother. Dolph received various scholarships to attend both Washington State University and Clemson University in South Carolina, studying Chemistry. In 1982 he graduated from The Royal Institute of Technology in Stockholm, completing his Master's Degree in Chemical Engineering on an exchange program with the University of Sydney in Australia. Graduating at the head of his class, Dolph was awarded a Fulbright scholarship to one of the world's top engineering schools, the prestigious Massachusetts Institute of Technology in Boston.
A young Ph.D. student, Dolph met the exotic singer, Grace Jones, and he fell in love with her. He moved to New York City and became a mode to make some extra cash. A bit too muscular for a model's size 40, Dolph went back to school at MIT a few months later. A friend told him "Hey man, you look like you should be in the movies". Dolph took the statement to heart.
Dolph Lundgren's motion picture debut came in the James Bond film A VIEW TO A KILL (1985). However, it was Dolph's memorable performance in ROCKY IV (1985) later that year that got him noticed worldwide. He went through a grueling nine month audition process with 5,000 actors hoping to land roles, Dolph was cast by writer-director Sylvester Stallone as his fearsome Russian opponent, Captain Ivan Drago. Just like he did everything else, Dolph put his heart into his career as an international action-hero and has starred in more than 50 feature films.
Acting in Hollywood has its ups and downs and Dolph has stayed close to the martial arts to keep balanced: "Karate and physical fitness have kept me reasonably sane in a very tough and often spiritually empty business." After completing a grueling examination, Dolph was awarded his third degree black belt by the World Karate Organization in Tokyo. His other athletic accomplishments include being the captain of the Swedish National Karate Team and the individual champion of the Swedish, European and Australian Heavyweight Full Contact Divisions. In addition to his Karate expertise, Dolph was selected by the U.S. Olympic Committee to serve as the Team Leader of the U.S. Olympic Pentathlon Team during the 1996 Atlanta Games.
"More importantly, I believe the martial arts made me — and still makes me –a better person."
~ Dolph Lundgren
Dolph Lundgren began training judo at the age of 16 but switched to traditional Japanese style Goju-ryu karate a year or so later, and then to Kyokushinkai, the more powerful Japanese style. He trained throughout high school and then went into the Swedish Marine Corp where he fought in the 2nd World Open Karate Tournament in Tokyo one of the earliest international full-contact tournaments. He proved himself to be a worthy fighter and he went on to win the British Open Knockdown Heavyweight title in 1980 and 1981 and also became Australian Open Champion in the individual and team events a year later. He received his 1st Degree Black Belt at 23 and when he went back to studying in Australia, he had his own karate club at Sydney University. To earn extra money he did security for music acts touring Sydney. That is how he met singer Grace Jones. After moving back to the United States, Dolph trained with Tadashi Nakamura and Shigeru Oyama, both 7th Dan, and planned to enter 3rd World Tournament in Tokyo, but canceled those plans to begin acting, moving to Hollywood.
In 1994, he married Anette Qviberg, a jewelry designer and fashion stylist in Marbella and Dolph spent considerable time in Europe, raising his two daughters. In 2009, he received a call from friend Sylvester Stallone and ended up co-starring opposite Stallone, Bruce Willis and Arnold Schwarzenegger in the box office hit, THE EXPENDABLES (2010), EXPENDABLES 2 (2012) followed and Dolph reprised his role as comedic action-man Gunner Jensen in the highly anticipated EXPENDABLES 3 (2014), adding to the Expendables star-studded cast, Mel Gibson, Wesley Snipes, Antonio Banderas and Harrison Ford.
Using his talents, seasoned actor Dolph Lundgren has also directed five feature films. His production companies, Thor Pictures and Red Orm Productions, are developing several projects which he will produce, star in and direct. He co-wrote and directed: COMMAND PERFORMANCE (2009) produced by Avi Lerner at NuImage Films.
Dolph is currently producing and starring in SKIN TRADE (2014), an action-thriller about human trafficking, that he also co-wrote. 'This is a script I've had for seven years and I never though it was going to get made', says Dolph. 'It's incredibly exciting to finally stand on the set and realize that it is actually happening. Especially working with actors like Ron Perlman, Peter Weller, Michael Jai White, Celina Jade and Thai martial arts legend Tony Jaa.'
Dolph is also a founding member of Group of Eight an off-Broadway theatre group started in the 90's.
In 1987, shortly after ROCKY IV (1985), Dolph released his workout video, MAXIMUM POTENTIAL. His fitness book for men: TRAIN LIKE AN ACTION STAR, was released in 2014 by Sky Horse Publishing in New York. In addition to the book, Dolph has been developing a personalized organic brand of vitamins and supplements.