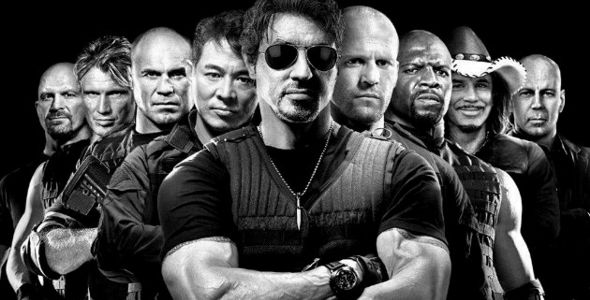 The Expendables 2 will star most of the cast from the original film, The Expendables, including Sylvester Stallone, Jason Statham, Jet Li, Terry Crews, Randy Couture, Dolph Lundgren, Arnold Schwarzenegger and Bruce Willis. The new film will also include our own Chuck Norris, Jean-Claude Van Damme, and Scott Adkins.
In The Expendables 2, Mr. Church reunites the Expendables for what should be an easy paycheck, but when one of their men is murdered on the job, their quest for revenge puts them deep in enemy territory and up against an unexpected threat.
The Expendables 2 Opened on August 17, 2012.
Director: Simon West
Writers: Richard Wenk (screenplay), Ken Kaufman (screenplay)
Stars: Sylvester Stallone, Jason Statham, Jet Li, Terry Crews, Randy Couture, Dolph Lundgren, Arnold Schwarzenegger, Bruce Willis, Chuck Norris, Jean-Claude Van Damme, Scott Adkins