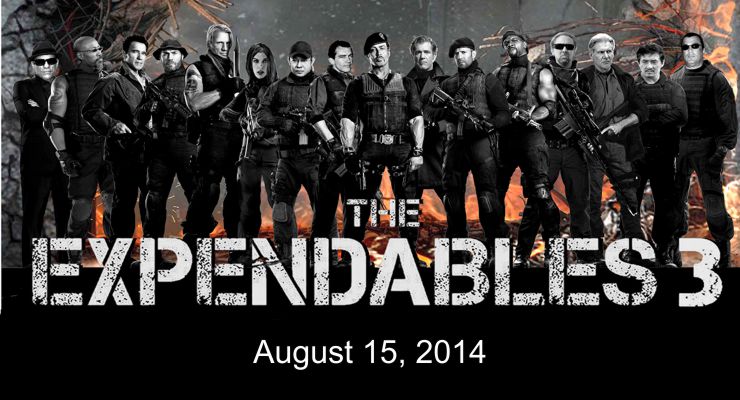 The Expendables 3 An ensemble of legendary action heroes unite again!!!
Expendable: capable of being sacrificed in order to accomplish a military objective.
Sylvester Stallone and other modern day action heroes including Jason Statham (Crank 2, Death Race, The Transporter Trilogy) and Jet Li (The Forbidden Kingdom, Unleashed) join forces with Dolph Lundgren (Rocky IV, Universal Soldier, Masters of the Universe) Randy Couture,  Terry Crews and Arnold Schwarzenegger to make theaters dangerous places to be this August 2014. Completing the awesome cast of The Expendables 3 is Wesley Snipes, Antonio Banderas, Mel Gibson and Harrison Ford along with Kellan Lutz, MMA star Ronda Rousey, welterweight boxing champion Victor Ortiz and Glen Powell. Chuck Norris (The Delta Force) and Bruce Willis didn't return in The Expendables 3.
What's the Plot:
Barney Ross (Stallone) is a man with nothing to lose. Fearless and void of emotion, he is the leader, the sage and the strategist of this tight-knit band of men who live on the fringe. The team behind him is made up of Lee Christmas (Statham), former SAS and a savant with anything that has a blade; Yin Yang (Li), a master at close-quarter combat; Hale Caesar (Terry Crews), who has known Barney for ten years and is a long-barrel weapons specialist; Toll Road (Randy Couture), a skilled demolitions expert and considered the intellect of the group; and Gunnar Jensen (Lundgren), a combat veteran and an expert in precision sniping who struggles with his own demons.
When the mysterious Church offers Barney a job no one else would take, Barney and his team embark on what appears to be a routine mission: overthrow General Gaza (David Zayas), the murderous dictator of the small island country of Vilena and end the years of death and destruction inflicted on its people. On a reconnaissance mission to Vilena, Barney and Christmas meet their contact Sandra (Giselle Itie), a local freedom-fighter with a dark secret. They also come to learn who their true enemy is: rogue ex-CIA operative James Monroe (Roberts) and his henchman Paine (Austin). When things go terribly wrong, Barney and Christmas are forced to leave Sandra behind, essentially giving her a death sentence. Haunted by this failure, Barney convinces the team to return to Vilena to rescue the hostage and finish the job he started. Perhaps, also, to save a soul: his own.
Sylvester Stallone as Barney Ross: Leader of the Expendables.
Jason Statham as Lee Christmas: The team's knife expert.
Antonio Banderas as Galgo: a former member of the Spanish Armed Forces, Bosnian war veteran, and expert sharpshooter.
Jet Li as Yin Yang: The Expendables' hand-to-hand combat expert.
Wesley Snipes as Doctor Death: A former medic, and one of the original Expendables.
Dolph Lundgren as Gunner Jensen: Volatile member of the team.
Kelsey Grammer as Bonaparte: A retired mercenary and ally of the Expendables.
Randy Couture as Toll Road: The team's demolitions expert.
Terry Crews as Hale Caesar: The Expendables' barrel-weapons specialist.
Kellan Lutz as John Smilee: A former Navy Seal recruited to the Expendables.
Ronda Rousey as Luna: An athletic nightclub bouncer recruited by Bonaparte. Rousey filmed her role while training to defend her title at UFC 168.
Glen Powell as Thorn: a highly trained combat veteran and hacker.
Victor Ortiz as Mars: A sharpshooter and lethal soldier, who is afraid of heights.
Robert Davi as Vata
Mel Gibson as Conrad Stonebanks: A rogue co-founder of the Expendables and a ruthless arms dealer.
Harrison Ford as Max Drummer: A CIA field operations officer and pilot who manages the Expendables.
Arnold Schwarzenegger as Trench Mauser: Barney's former teammate