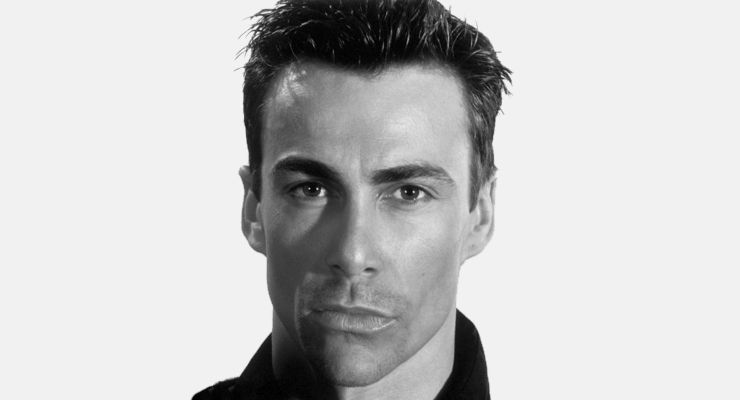 Daniel Bernhardt was born on the August 31, 1965 in Worblaufen, Bern, Switzerland. He is a martial artist, model, actor, stunt performer, fight choreographer and director.
Daniel Bernhardt studied architectural design in Bern for four years after finishing high school. During this time, he and his brother opened a martial arts school. When he had completed his design studies, he moved to Paris and began work as a model. He worked for such designers as Montana, Mugler, Boss, Cerruti, Versace, Jaene Barnes and was published in numerous magazines including Vogue, Elle, Max, Interview, Cosmopolitan. He would go on to establish himself a top international model.
Daniel Bernhardt moved to New York where his acting career began. He was cast to co-star with Jean-Claude Van Damme in Bruce Weber's TV spot "Looking for Kicks" for Gianni Versace.
He was discovered by Producer Marc Di Salle, the gentleman who helped launch Jean Claude Van Damme's carrier with Bloodsport (1988) and Kickboxer (1989). Marc Di Salle cast Bernhardt in the leading role of Alex Cardo in the sequel, Bloodsport 2 (1996) where he debuted opposite actors Pat Morita and James Hong, along with Donald Gibb and Taekwondo champion, Philip Tan. Then came the sequel Bloodsport III (1996) with Pat Morita and James Hong. This sequel also included John-Rhys Davies, and 9th degree Black Belt Taekwondo master, Hee II Cho.
Daniel Bernhardt continued his career in low budget action films including Future War (1997), opposite Robert Z'Dar, Black Sea Raid (1997), True Vengance (1997), with Miles O'Keeffe and Beverly Johnson and Perfect Target (1997) with Robert Englund and Brian Thompson.
Realizing that he love acting, Daniel Bernhardt began studying acting under Harry Mastrogeorge in Los Angeles. His next films were G2 (1998), again with James Hong, and the last in the Bloodsport series, Bloodsport 4: The Dark Kumite (1999) where he went against Brazilian JuJutsu champion Stefanos Miltsakakis.
Daniel Bernhardt appeared on the television series Mortal Kombat: Conquest (1998-1999), as Siro, which was followed by Global Effect (2002) and then Matrix (1999) and the sequel, Matrix Reloaded (2003), where he had the incredible fight scene with Laurence Fishburne on top of the trailer attached to a semi-truck. Bernhardt also worked with Keanu Reeves, Carrie-Anne Moss, Hugo Weaving, Monica Bellucci, Lambert Willson and Jada Pinket Smith in this film. Daniel Bernhardt was also the voice of Agent Johnson in the video game, Enter The Matrix (2003).
The same year he filmed an action independent film, titled The Librarians (2003) aka Strike Force (2003), where he co-starred with William Forsythe, Burt Reynolds, Erika Eleniak, Andrew Divoff, Amaury Nolasco, Christopher Atkins, Ed Lauter and Matthias Hues who he fought in the film. He worked on Children of Wax (2007), and the the film The Cutter (2005), opposite Chuck Norris and Joana Pacula Next came Supreme Champion (2010) and Foodfight! (2012), followed by the Hunger Games: Catching Fire (2013), John Wick (2014), Atomic Blond (2017) and Escape Plan 3: Devil's Station (2018).
Daniel Bernhardt is the fight choreographer for Creed 2 (2018).