Here is a behind the scenes look at my first interview for The Fight Choreographer's Handbook: A Guide for Filmmakers with Director/ Screenwriter Ben Ramsey. A word of warning…if you ever meet him, never blame him for the end result of Dragonball-Evolution! LOL! Just kidding, Ben!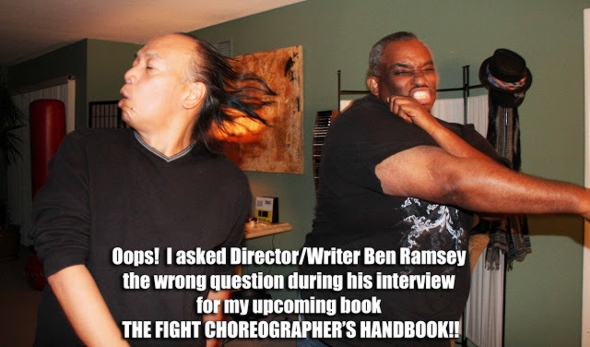 5/8/2012- This is the thanks I get after interviewing Simon Rhee (below)- 2nd Unit Director, Stuntman, Actor, Martial Artist, and President of International Stunt Association. Just kidding! Simon, thanks for your time, words, advice, and experience behind them! For you martial arts film buffs, you might remember Simon as Dae Han from the film BEST OF THE BEST.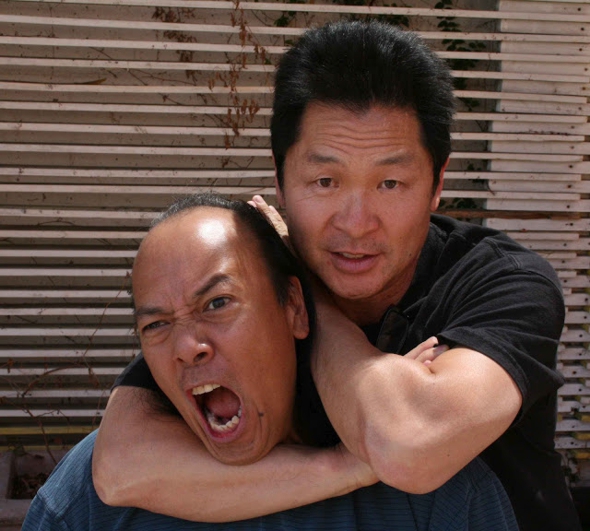 Creative Renaissance Man (creature designer, Director, Producer, Exec Producer, Writer, etc.), Steve Wang (below), gives me the boot at his design shop after doing an extensive 4 hour interview with him. Thanks Steve, the doctor says I can only eat through a straw for the next month.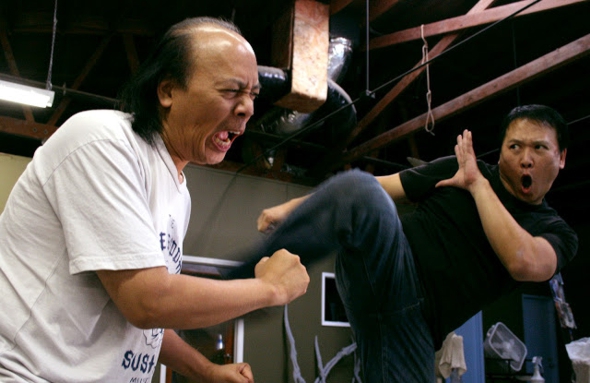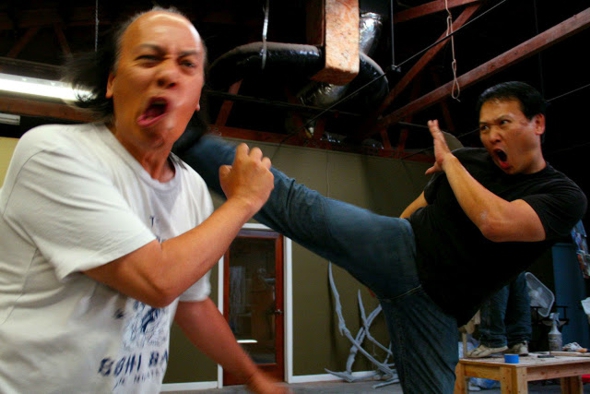 After interviewing UPM/Production Coordinator Hank Grover (below), he administers a Steven Seagal-esque wrist lock on me. That's what you get when you don't turn in your stunt budget in on time! Now I will have to type my book with one hand until it heals! Thanks Hank!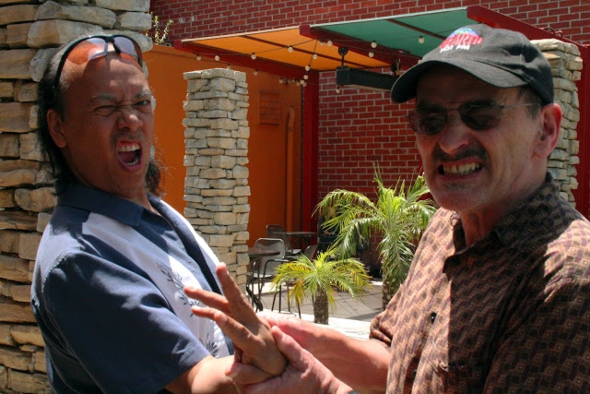 After interviewing stuntman, stunt coordinator, martial artist, and documentarian, Sonny Sison (below), he gives me his special "Pinoy thank you." Now I know how Magellan must've felt like during his last seconds of his life!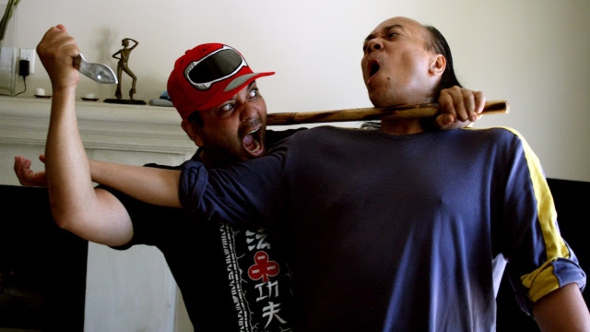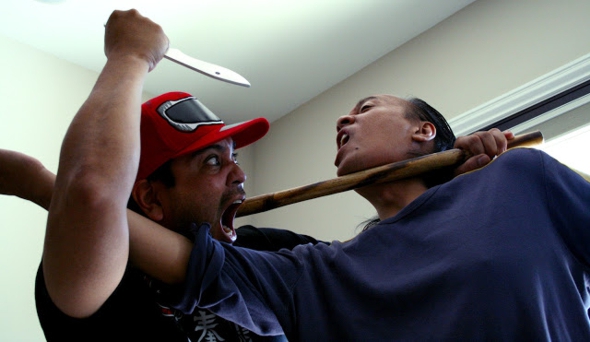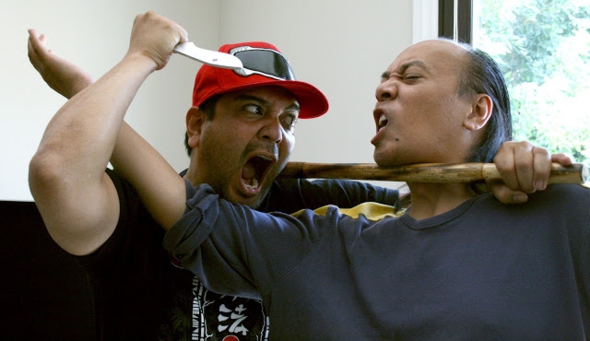 March 2013- Just finished interviewing the legendary Richard Norton! Mr. Norton is the only Western actor to have fought Jackie Chan 3 separate times in different movies. He has also fought Sammo Hung as well as starred in many Hong Kong action films in the 80's and 90's. He was also in the movies Force Five, The Octagon, Gymkata, and Blood of Heroes, to name a few. He's still actively working in the film industry (more than ever) and recently finished working on the remake of Mad Max starring Thomas Hardy and Charlize Theron.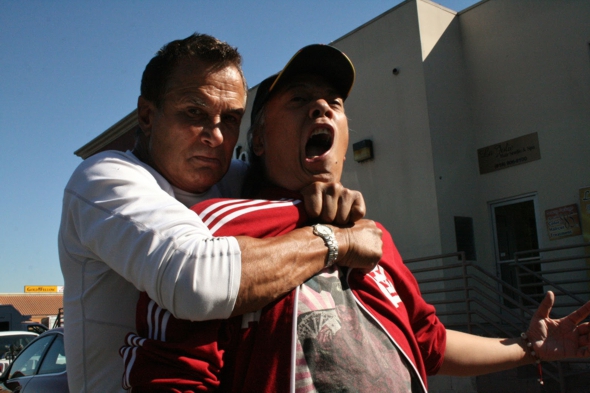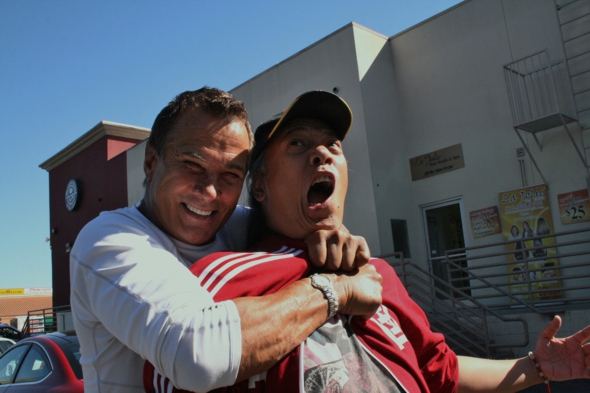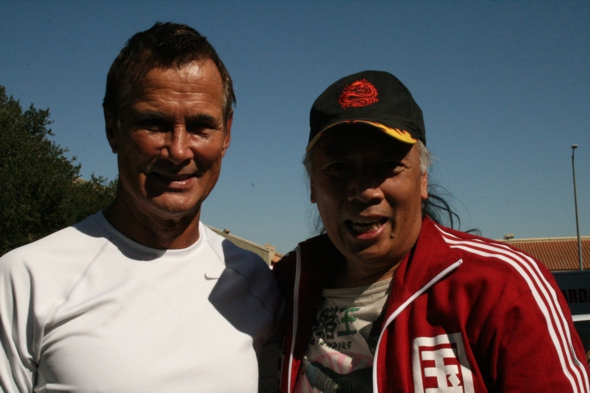 Stay tuned for more pics of more people kicking my ass after I interview them for my book!!!