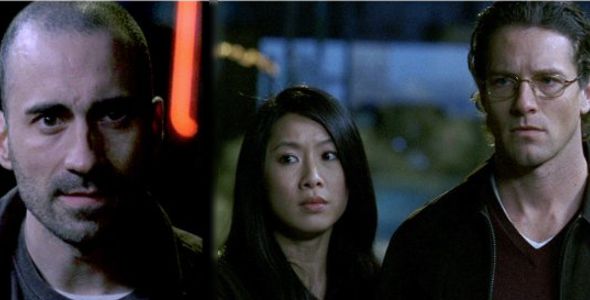 Lin Oeding Interpretation: A harmless discussion turns into serious action in this fable from Hollywood stunt man, Lin Oeding.
By Matthew Foster – Short of the Week ~ Interpretation is a simple fable, and is satisfying in a way only a fable can be.  Like other simple fables of our age (The Road Warrior, Star Wars) it entertains as tales around the bonfire once did, but with the addition of fast paced visual action.
We have our reluctant hero, cruel villains, a message about life, and blood. Dan and Erica are on their way home after a movie-date through the urban jungle. They could be any couple, though better looking and more pleasant (as representatives should be).  Their path crosses that of three thugs, one of whom is using passages from Sun-Tzu's The Art of War to justify his violent life, and another who has taken it to heart.  Ah, but they don't understand that what that famous book means is a matter of interpretation.
Director Lin Oeding has experience as a stunt man in a variety of projects, from the TV series Bones to The Pirates of the Caribbean franchise, so it is no surprise the fight is brutal, exciting, and filled with surprises.  You can see each blow, and each has meaning.  This is the stuff that gets your blood pumping.
Like in the best action films, this isn't combat in a vacuum. We are given enough to choose sides and care who is laughing, who is terrorized, who is bleeding, and who is left laying in the road. We are introduced to Dan and Erica as they carry out the verbal dance that marks the later part of a date, the war between the sexes that's as old as time. They are easy going, funny, and so easy to relate to.  That war is interrupted by an equally old one.  With a few deft strokes, Oeding creates a palpable threat. The three hoods feel dangerous, and it is easy to empathize with Dan; even more so due to star Ian Bohen's ability to inhabit the character.  His physicality is amazing, but no more so than his humor and charisma.
Interpretation is Lin Oeding's step toward feature action filmmaking.  It should prove to anyone that he's more than qualified.
About the Author
Matthew Foster is the director of the Dragon*Con Independent Film Festival, which annually brings filmmakers, features, and the best in short film to Atlanta. While it was being published, he wrote a monthly film column for the short fiction review magazine, The Fix, and he maintains a film criticism website, FosteronFilm.com.