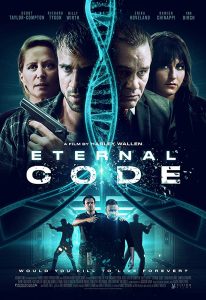 Painted Creek Productions ("Painted Creek) and Vision Films Inc. ("Vision) announced on Tuesday the upcoming release of Harley Wallen's Action Thriller feature film Eternal Code.
Eternal Code (2019) stars Richard Tyson (Black Hawk Down), Scout Taylor-Compton (Rob Zombie's Halloween 1 & 2), Billy Wirth (The Lost Boys), Yan Birch (Wes Craven's The People Under the Stairs), Mel Novak [Bruce Lee's Game of Death (1968)], Erika Hoveland (Injustice For All), Damien Chinappi (Betrayed), Kaiti Wallen (Moving Parts), Angelina Danielle Cama (Abstruse), Vida Ghaffari (The Mindy Project), Shane Hagedorn (Wild Faith), Harley Wallen (Bennett's Song) and Calhoun Koenig (Law & Order SVU).
Breaking all moral and ethical codes, a genetic research company has developed a miracle device to sustain human life for the rich and powerful. When the company's CEO (Erika Hoveland) refuses to approve these illegal methods, she and her husband (Billy Wirth) are kidnapped by a team of mercenaries (Scout Taylor-Compton, Harley Wallen) hired by Oliver (Richard Tyson) to keep them out of the way. Fearing for her parents' lives, their teenage daughter (Angelina Danielle Cama) must develop an unlikely ally (Damien Chinappi) to save her parents from those who would kill to live forever. 
Eternal Code is written, directed and produced by Harley Wallen, Executive Produced by Annette Cama and Co-Produced by Nancy Oeswein.
After a revolutionary invention with great implications, Bridget finds a character flaw in the company they've partnered with to develop the prototype that could be the fountain of youth. When she pulls the plug and steps away from their original deal, she quickly realizes they will stop at nothing to get it back. After they kidnap her and her husband to sway a favorable vote, Bridget and her husband's hopes rely on their teen daughter, Miranda, and her unlikely allies Corey, a suicidal veteran, and Stephanie, A street girl.
This film is written, directed and produced by Harley Wallen, with Executive Producer Annette Cama and it is co-produced by Nancy Oeswein.
"It's a very exciting moment as a filmmaker when your film gets released," said Harley Wallen.  "Eternal Code is a timely story that will get your heart pumping and there are exceptional performance on both sides of the camera.  I'm very grateful for this massive upcoming release theatrically and on VOD and DVD.  We have a truly great team releasing this film.  Vision Films has been an exceptional partner for many years. They previously released my film Betrayed (2018) which is now available almost everywhere across the globe. Also, when I started making films, Emagine welcomed me with open arms and we've had so many huge premieres together.  I'm grateful to both companies for their work on the release." 
"Vision Films is pleased to be working with Harley Wallen and Painted Creek Productions on their newest release, Eternal Code," said Lise Romanoff, CEO/Managing Director of Vision Films.  "Vision has previously released the Painted Creek films Betrayed (2018) and Bennett's Song are we are thrilled to continue our partnership with Harley who not only is a gifted writer and director but whose acting ranges from family man to mobster." 
Eternal Code will enjoy a limited theatrical release beginning on August 30th in select markets and will be released on all major cable platforms and on VOD including iTunes, Amazon, GooglePlay, Vudu, and FandangoNow on September 6, 2019. The DVD release is scheduled for later this fall.
In a star-studded event, Vision Films and Painted Creek will showcase the world premiere screening of Eternal Code at the TLC Chinese Theater in Hollywood, California on September 4, 2019.
About Painted Creek Productions:
Painted Creek Productions is an multi award winning independent film production company known for a film such as Betrayed, Bennett's Song and Moving Parts.  Painted Creek Productions focus is on story telling and entertainment over genre.  The company is spearheaded by Harley Wallen and Kaiti Wallen.
CONTACT: Joe Williamson, The Williamson Management, williamsonmgmt@gmail.com 
About Vision Films:
Vision Films is a leading independent distributor and VOD aggregator specializing in the licensing, marketing and distribution of over 800 feature films, documentaries and series from some of the most prolific independent film producers in the world. Led by Lise Romanoff, Managing Director/CEO Worldwide Distribution, Vision Films releases 2-4 films a month across Theatrical, VOD, DVD and television platforms www.visionfilms.net
CONTACT: Kristen Bedno  Kristen@visionfilms.net
About Emagine Theatres:
Emagine has led the way in bringing luxury theatres to the metropolitan Detroit market. Emagine enjoys the honor and distinction of being named "Best Movie Theatre" for several years running by the Detroit Free Press, the Detroit News, and WDIV television.  Emagine enjoys screening various types of alternative content, indie films and local film premieres including foreign-language films. Over the last four years, they have been able to increase the presence of those genres of films on a consistent basis due to increasing influx of movies from different parts of the world as well as partners such as Painted Creek Productions who has hosted many local premieres at Emagine locations.
CONTACT: http://www.emagine-entertainment.com/contact/