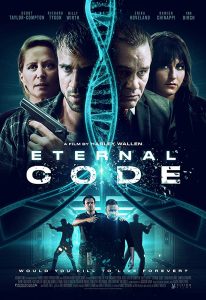 The one thing we should all appreciate about watching movies nowadays is the ability to easily re-watch a movie and to playback scenes. This is good, both for viewers and filmmakers. When I watch a film for the second time, I am able to pay closer attention to the story. The first time I watch a film I am reviewing, I am usually overly critical of the little things, he got stabbed in the leg in the last scene, but he's not limping in the next, or the dialogue seems to lag or isn't realistic. I began in my usual way with director Harley Wallen's Eternal Code (2019), but things changed.
I had been able to review one of Wallen's previous films, Betrayed (2018), which had many of the same cast members including Harley Wallen, Richard Tyson, Billy Wirth, Yan Birch, Kaiti Wallen, Angelina Danielle Cama, Calhoun Koenig, and Damien Chinappi, but Eternal Code (2019) didn't have the same kind of action, nor was it as fast paced a thriller as Betrayed (2018). Eternal Code (2019) had a profundity about it and my appreciation for the film grew even more with my second viewing. I hope that reading this review will help viewers who watch the film for the first time to appreciate the deeper messages within it.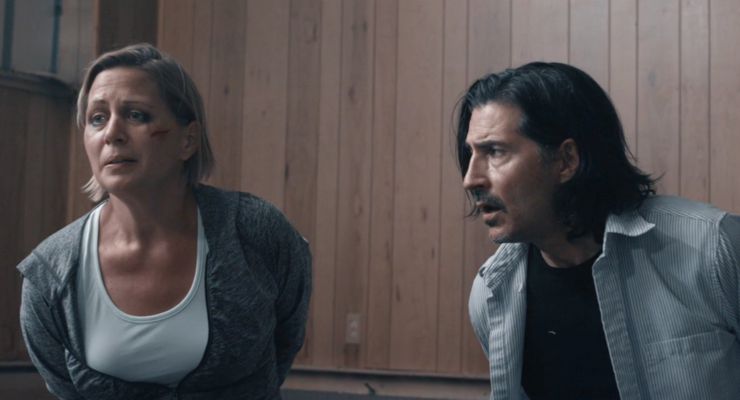 The premise of Harley Wallen's Eternal Code (2019), is not new. Eternal Code (2109) is about a genetic research company which, in the past, had always done business with integrity. Now the company is developing a miracle device which will be able to sustain human life. However, there are those in the company who are willing to break all moral and ethical codes to get the device working quickly. Why? So it can be used by the rich and powerful who are willing to pay anything for "eternal life". When the company's CEO, Bridget Pellegrini (Erika Hoveland), refuses to approve the illegal methods being used for experimentation, she and her husband, Mark, (Billy Wirth) are kidnapped by a team of mercenaries (Scout Taylor-Compton, Harley Wallen, Shane Hagedorn) hired by Oliver (Richard Tyson) to keep CEO Pellegrini out of the way. Fearing for her parents' lives, their teenage daughter (Angelina Danielle Cama) must develop an unlikely ally in homeless Vet, Corey (Damien Chinappi), to save her parents from those who would kill to live forever.
"So a few rich people potentially live forever . . .

Who gets to decide where it ends? Who gets to decide whose life is precious enough to save and whose life isn't? How can you not see the repercussions of this . . .
The controversy in Eternal Code (2018) is a controversy of ethics, and CEO Pellegrini says it all in her statement to the board, "The purpose of developing this technology was never so we could play God . . . My father founded this company. He had a very strong moral compass as do I." Even more to her point is when she shares her fathers' teaching, "the way we do anything is the way we do everything".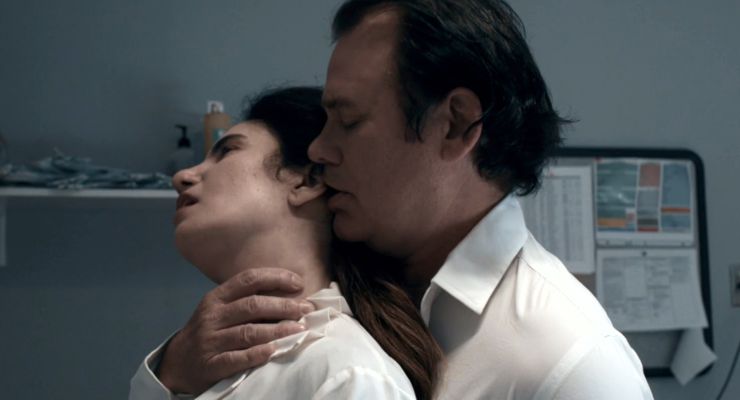 But the CEO's nemesis, the ever menacing Oliver, played by Richard Tyson, is the manager of the project, and he and his disturbing "scientist colleague" Nikita (Vida Ghaffari) have the opposite view,
We can make mortality a thing of the past. We can give someone or anyone everlasting life. Don't you get it, it would be immoral not to.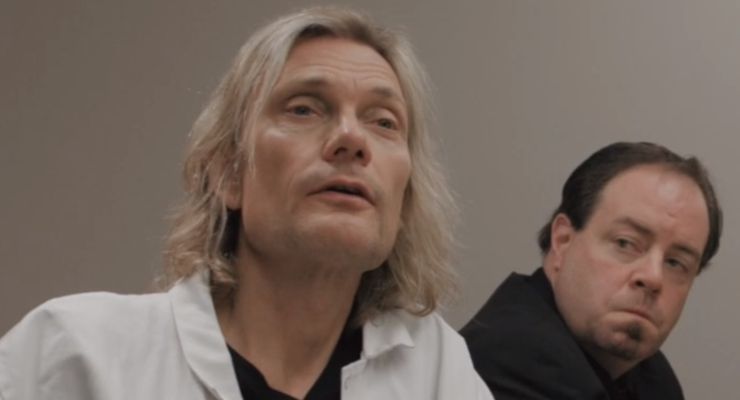 Oliver and Nikita have ulterior motives, but scientist, Magnus (Yan Birch), wishes only that he had been able to use the device to save his dying wife when he begs, "Look, you know where I stand, if this would have been available just three years ago my wife could have had a second chance. We simply can't stop right now, WE CAN'T STOP RIGHT NOW!"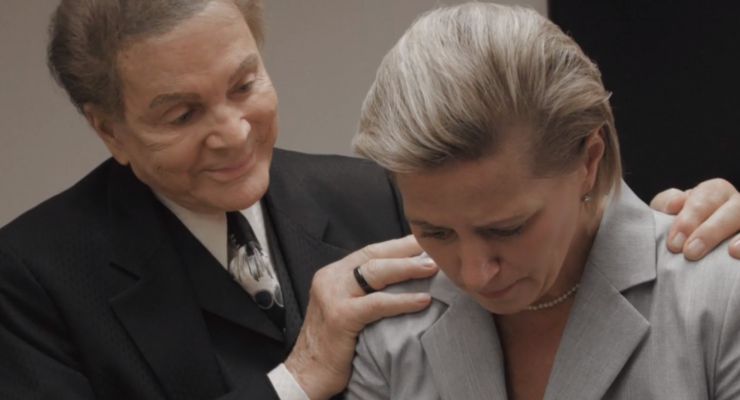 From its inception, this movie does things a bit differently. One of those is casting Mel Novak, the perpetual villain, as a good guy. Mel plays Mr. Pomeroy, an executive at the biotech company who is welling to speak up for what is morally and ethically right. His role is not huge, but his character delivers a thoughtful statement of encouragement to CEO Bridge Pellegrini,"Always let your heart and gut guide you, the brain is not the best place for decision making." Mel's character in Eternal Code (2019) is a little more like an angelic visitor than a human being.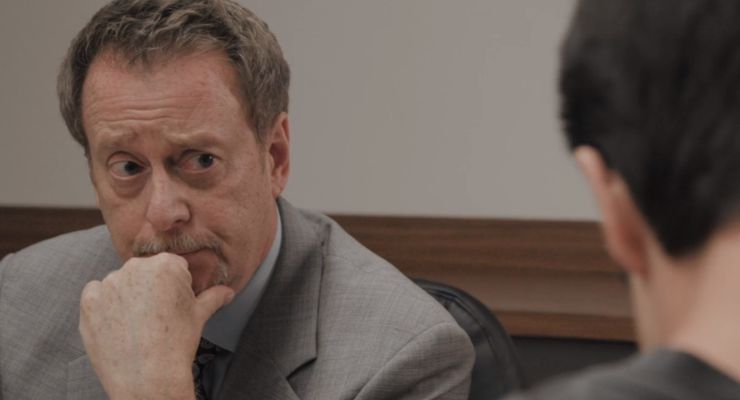 Another executive at the company is David (Ken Alter) who, unlike Mr. Pomeroy, is having a difficult time coming to terms with what is happening and who thinks, at first, that going along with Oliver is the safest route to take.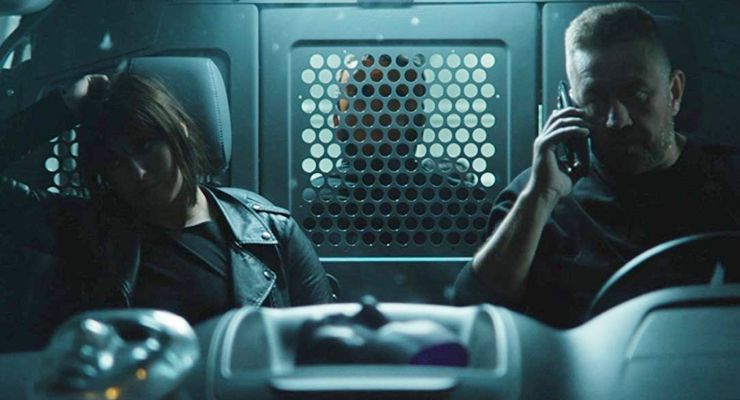 Besides Mel Novak, new to Eternal Code (2019) are Halloween reboot star, Scout Taylor-Compton, who plays Charlie and Shane Hagedorn, who plays Carter. Along with the their boss, Sam (Harley Wallen), they play the team of mercenaries hired to threaten board members and to kidnap CEO Bridget Pellegrini (Erika Hoveland). Taylor-Compton plays one bitch-ass female and Hagedorn's character is heartless. Sam (Harley Wallen) is a bit smarter than your average bad guy when he refuses, for a moment, to break his own rules and to do the job the way Oliver wants it done. He says, "The problem is, what am I going to do with $5,000,000 if I'm dead, or in jail for that matter." However he finally settles for $10,000,000 to risk it all.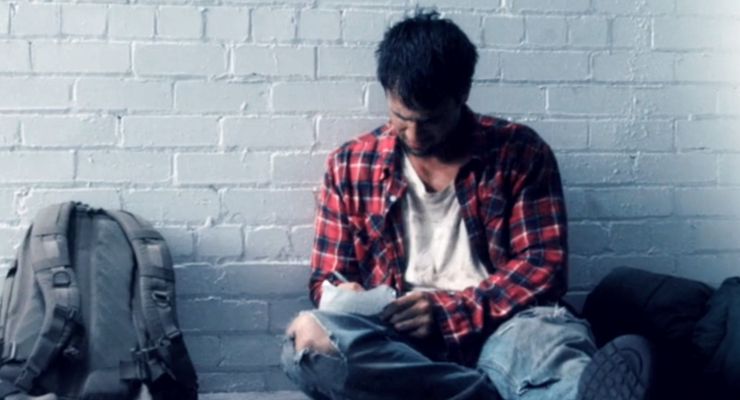 There is a lot of dimension to this film, and it begins with a homeless American war veteran, Corey, (Damien Chinappi), who has returned from Afghanistan to a life in shambles. "I am replaceable," he says, and yet, it is on Corey's moral character that the rest of the story begins to build. In Col. Dave Grossman's words, Corey is a '"sheepdog", made to "protect the flock and confront the wolf".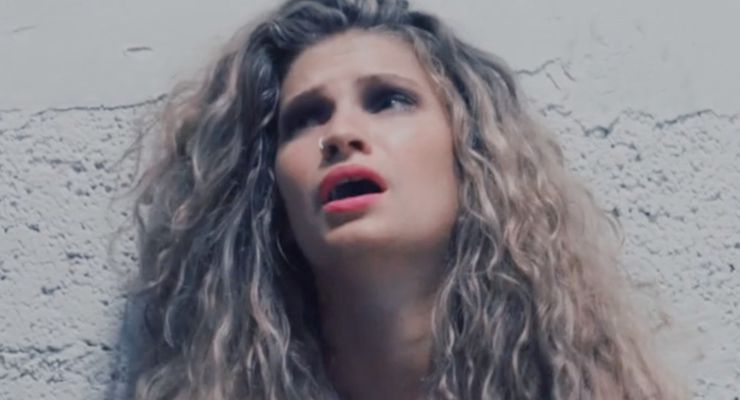 Corey does protect others throughout the film, beginning when he jumps in to protect a prostitute named Stephanie (Kaitie Wallen). Later, on the street, Stephanie laments to her girlfriends about the violent men that frequent them, making the profoundly real statement, "We're all broken. When you put two broken people together they start breaking each other".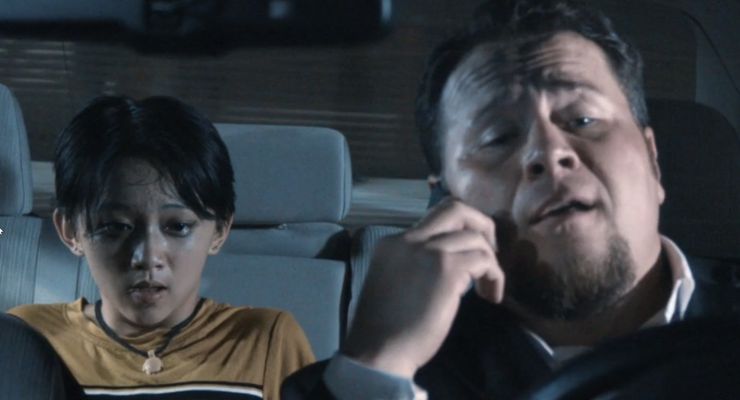 Corey goes to the rescue of CEO Pelligrini (Erika Hoveland) and Mark Pelligrini's (Billy Wirth) daughter, Miranda (Angelina Danielle Cama) and her best friend, May (Calhoun Koenig), who comes to the realization that she was not right in her judgement of Corey, or other people like him, who live on the streets.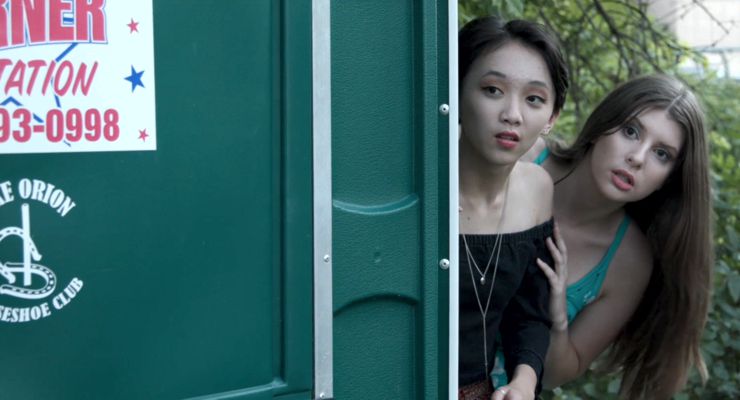 In Eternal Code (2019) the good people get better and the bad people continue to degenerate. Relationships build between those who are broken as they help one another. All of this takes place while evil people are doing evil things. Before they ever need Corey, Miranda and May realize Corey has character, and that he needs help, and they take time to do something nice for him. This scene is one of the many bright moments in the film that contrast the evil taking place elsewhere. Corey makes this simple statement to the girls, "Thank you, tell your parents they did good. I wish there were more people in the world like you, the world would be a better place." I agree.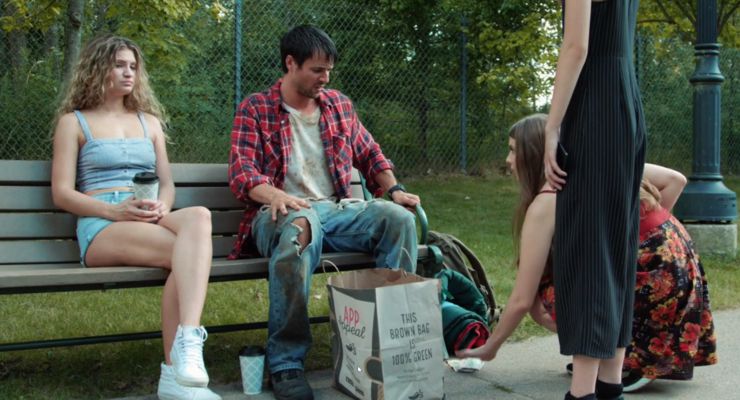 The film really shows the dichotomy between good and evil, living in the light and conniving in the darkness. In a world where things are becoming grayer and grayer, it is nice to see a sci-fi thriller that shows that doing the right thing is correct, even when the consequences are dire.
With guns, kidnapping and murder, the indie film Eternal Code (2019) is worth watching, just as the sci-fi thriller it is. The cast is good, the story-line and script are good, and there are some really good cinematic moments in the film. But better than all that, the moral integrity of the film is good, and the light it shines into the darkness brings hope to what might otherwise be a cold dark world. There is no Pollyanna ending in this film, as evil will always be with us. But it does show that we can choose to live in the light, or live in the darkness, it's up to us.
For those who look deeper, there is much to glean from Eternal Code (2019). I recommend you watch it and see for yourself.