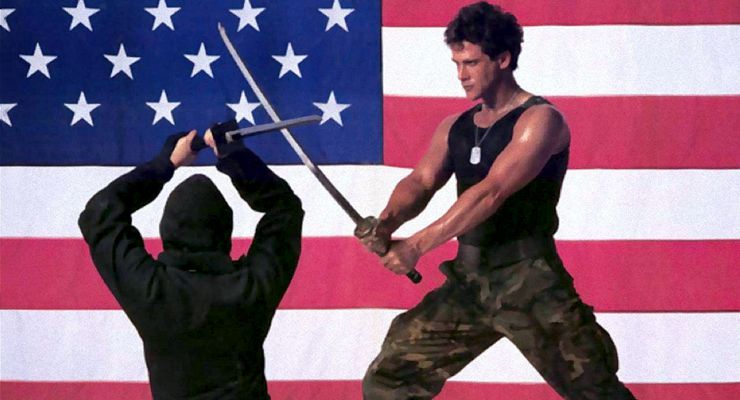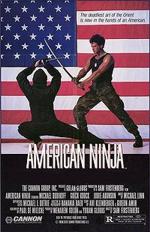 Director: Sam Firstenberg
Writers: Paul De Mielche (screenplay), Avi Kleinberger (story)
Stars: Michael Dudikoff, Steve James and Judie Aronson
American Ninja (1985) is a ninja action film produced by Menahem Golan and Yoram Globus' Cannon Films. Directed by Sam Firstenberg ( Revenge of the Ninja, Ninja 3: The Domination), who specialized in this genre in the 1980s. The film was originally a project for Chuck Norris, but ended up starring Michael Dudikoff in the title role of Pvt. Joe T. Armstrong, with the late Steve James as his side-kick, Cpl. Curtis Jackson. Okinawan Shorin-Ryu karate master, Tadashi Yamashita, also played in the film as Black Star Ninja. The fight choreography and stunt coordination was done by Mike Stone and Richard Norton.
American Ninja (1985)  is about Joe Armstrong, an orphaned drifter will little respect for much other than martial arts, who finds himself on an American Army base in The Philippines after a judge gives him a choice of enlistment or prison. On one of his first missions driving a convoy, his platoon is attacked by a group of rebels who try to steal the weapons the platoon is transporting and kidnap Patricia, the base colonel's daughter, who happens to be along for the ride. Joe rescues Patricia and gets her safely back to the base, but everyone else in the platoon is killed, leading his superiors to conclude that Joe is guilty of cowardice, collaboration or simple incompetence. At the same time, the rebel leader vows revenge against the serviceman who disrupted his plans, and sends an army of ninjas to assassinate him and bring back Patricia. If he wants to survive and save the girl, Joe's going to have to draw on every last ounce of his training.