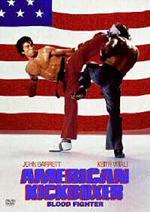 Director: Frans Nel
Writers: Emil Kolbe (screenplay), John Barrett (story)
Stars: John Barrett, Keith Vitali, Terry Norton
American Kickboxer (1991), also known as American Kickboxer 1, is a 1991 American martial arts film starring John G. Barrett and Keith Vitali. It was directed by Frans Nel and written by Emil Kolbe.
Plot: In American Kickboxer (1991) kickboxing champion B.J. is jailed for an accidental murder thanks to the testimony of his arch-nemesis Denard. A year later, B.J. is released and then challenged by Denard for $100,000.