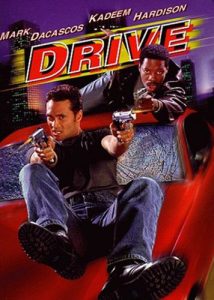 The action adventure, and definitely comedy, sci-fi film, Drive (1997), is written by Scott Phillips and directed by Steve Wang. The movie is said to be Rush Hour meets The Matrix, except that it came out a year before Rush Hour (1998) and two years before The Matrix (1999).
Wang's use of Hong Kong-style martial arts choreography, coordinated by Koichi Sakamoto (Power Rangers Franchise) and performed by his Alpha Stunts team, along with the martial arts prowess of Mark Dacascos and Masaya Kato, and wire work, rigged by Akihiro Noguchi, makes Drive (1997) a must see for martial arts action movie buffs.
The film stars Mark Dacascos, Kadeem Hardison, John Pyper-Ferguson, Tracey Walter and Brittany Murphy and together they are a great cast. Bro's Toby Wong (Mark Dacascos) and Malik Brody (Kadeem Hardison) pair well together and their chemistry really "drives" the film. Malik throws comedic one-liners as well as Wong throws punches and kicks. Brittany Murphy plays Deliverance Bodine and she is hilarious.
Another expert martial artist, Masaya Kato, plays an Advanced Model of Dacascos' model, and the final fight scene between the two is extraordinary.
Koichi Sakamoto and his Alpha Stunts team are incredible and work well with other martial artists and stunt performers including Roger Yuan,  Eric Betts, Akihiro Noguchi, J.J. Perry, Bridget Riley, David Wald to name a few.
The bad guys in Drive (1997) are played by John Pyper-Ferguson and the great character actor, Tracey Walter. At times they are a bit hokey, but since everything they do turns into a fight, you really don't have time to take notice.
Drive (1997) won Best International Film at the Fantasia Film Festival 1998.
Drive (1997) is about a Chinese soldier, Toby Wong (Mark Dacascos), who is a prototype enhanced human bio-engineered in Hong Kong. He has a bio-engine inside his body that gives him super human reaction time, stamina and other superhuman qualities, creating the perfect assassin. Toby wants to get away from his creators and get the bio-engine removed so he can live an normal life so he escapes from Hong Kong and takes a ship to San Francisco to deliver the bio-engine to an American company who is willing to pay him handsomely and remove the device so they can reverse engineer it. The original owners are after Toby and are waiting for him when he gets off the ship. Toby slips into a bar to get away from the Chinese-hired hit men, but they follow Toby into the bar and he must take a dread-locked bystander (Kadeem Hardison) hostage to evade the police, who have been called in. Toby and his hostage decide to team up and share the money, but they must continue to elude villains Vic Madison (John Pyper-Ferguson) and his stooge, Hedgehog (Tracey Walters), and the Chinese hit men over and over again.
The film is fairly well cast and when you put together Mark Dacascos' incredible grace of movement and his superb punching and kicking skills, Kadeem Hardison's quick witted one liners, the Hong Kong-style action and wire work, you get one really fun martial arts movie you don't want to miss.