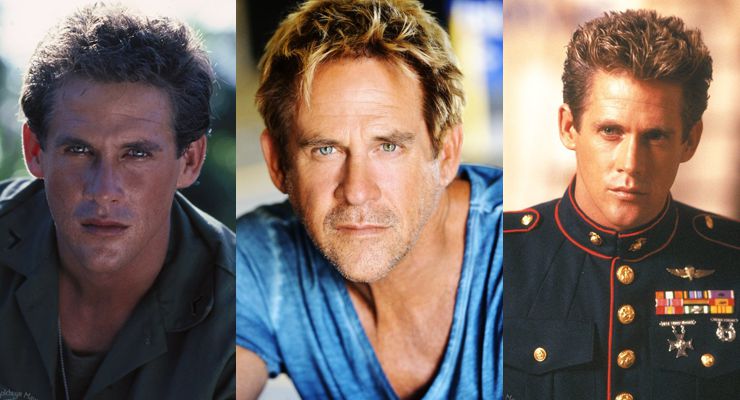 Michael Dudikoff was born on October 8, 1954 in Redondo Beach, California. He is a martial artist, actor and producer, known for American Ninja (1985), American Ninja 2: The Confrontation (1987) and TRON (1982).
Michael Dudikoff had no martial arts training previous to making the first American Ninja movie, but he had the "James Dean" look that Cannon wanted. He began training in martial arts before the second film and has since trained in karate, aikido, judo and in Brazilian Jui-Jitsu. He began his training in Brazilian Jiu-Jitsu under Rorion Gracie. He continues to connect with the Brazilian Jiu-Jitsu fighting circuit, including with Rigan Machado, who is a world champion and 8th degree red and black belt in Brazilian Jiu-Jitsu.
Michael Dudikoff compares his acting methodology to that of training in the martial arts:
The methodology of breaking down a character is similar to the regimen of martial arts training. I rehearse and prepare for my character and my scenes with the repetition and focus I learned in doing katas (karate forms). And there is a point where it flows for me with the same dance-like fluidity.
One of the reasons why I love mixed martial arts is because it takes this concept one step further. I watch the sport and I compare it to acting; you study to diversify your strategy, you are more flexible to adapt to whatever comes your way. By combining these schools of thought, my form and my character become second nature."
Michael went to West High School in Torrance, California and studied Child Psychology at Harbor College. To but himself through school he was working as a waiter at Beachbum Barts in Redondo Beach when he served lunch to Max Evans, who was a fashion Editor for Esquire Magazine. Max asked Michael if he was willing to do some runway modeling for a fashion show, and, with encouragement from his mother, he agreed.
Michael completes several successful runways, and decided to retained an agent at the Mary Webb Davis Agency in Los Angeles. It didn't take long before Dudikoff entered the world of high fashion and began working for clients including Calvin Klein and GQ. By the time Michael was in his late 20's he was doing international print modeling and traveled between New York, Los Angeles, and Milan.
Modeling soon led to acting and Dudikoff starred in commercials for companies including Coca-Cola for Japan, Army Reserve and Stridex.
Theatrical agent Sid Craig met with Michael and this lead to his first television role. Michael landed the role of Joanie's first boyfriend in the American sitcom Happy Days. He then got roles in other television shows including Dallas, Gimme a Break!, and a Columbia Pictures movie-of-the-week called Sawyer & Finn. He was also in the video Bounty Hunters (1996). He is widely recognized for playing the character Private Joe Armstrong in the American Ninja (1985) and in three of the other five movies in The American Ninja series.
Other Michael Dudikoff films include TRON (1982), Uncommon Valor (1983), Bachelor Party (1984), Avenging Force (1986), River of Death (fr) (1989), The Human Shield (1991), Chain of Command (fi; fr) (1994), Soldier Boyz (1995), Bounty Hunters (1996), Ringmaster (1998), The Silencer (2000), In Her Defense (1999), Gale Force (2002) and Quicksand (2002).
In September 2012 Dudikoff mentioned in an interview with TRASHOTHEK  that he would like to be in The Expendables 3, and he hinted at the possibility of a sequel to American Ninja and Avenging Force. In 2013 he had a role in Olympus Has Fallen. In 2015 he starred in The Bouncer (2015), Four Towers (2015) and Navy Seals vs. Zombies (2015).