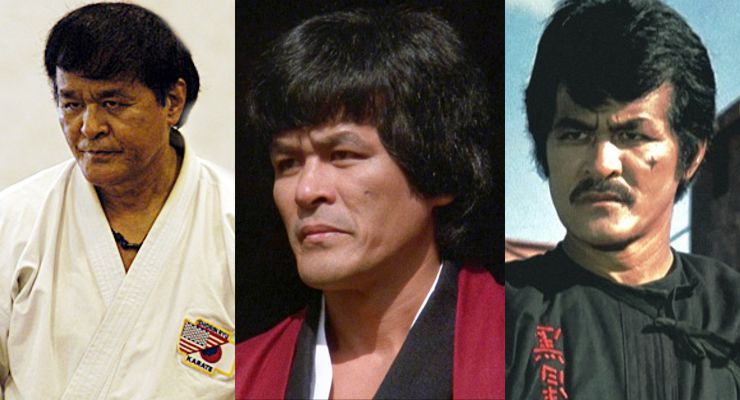 Tadashi Yamashita is known for his work on American Ninja (1985), The Octagon (1980) and Rising Sun (1993). The first martial arts film Tadashi Yamashita made was The Karate (1973).
Tadashi Yamashita currently holds the rank of 10th Degree Black Belt in Okinawa Shorin-ryu Karatedo and a 10th Degree Black Belt in Zen Okinawa Kobudo.
Tadashi Yamashita was born in 1942 in Japan but he does not consider himself to be Japanese, but rather Okinawan. When he was only 3 years old his father died and when he was 8,  his mother moved him to Okinawa. Tadashi began his study of the martial arts in 1953, when he was 11 years old under Hanshi Shugoro Nakazato of the Shorin-ryu Shorinkan in Naha, Okinawa and under Hanshi Shinpo Matayoshi of the Zen Okinawa Kobudo Renmei. He was awarded his black belt in 1960, at the age of 18. At one time he was the All-Okinawan Shorin-Ryu Free Sparring Grand Champion. In 1963 Tadashi moved from Okinawa to Chicago in the United States and became a citizen. He continued to travel back and forth to train and in 1968 he once again traveled to Japan to test before Shugoro Nakazato and Chosin Chibana for his 7th Degree Black Belt, becoming the youngest 7th Dan in history.
In 1967 Yamashita opened his first dojo in Mishawaka, Indiana. A natural born leader, he became the head of the American Karate Association with Sensei Ernie Lieb in 1969 .  In 1970 he became head of the Shorin-ryu Shorinkan in the United States under Hanshi Shugoro Nakazato. In 1972 Sensei Yamashita moved to California and where his talents and skill were noticed by top artists, including Mike Stone and Ed Parker. He also met and became friends with Elvis Presley and Bruce Lee. During the 1973 Pro-Am Karate Tournament, Sensei Yamashita received standing ovations from over 7,000 spectators after demonstrating his skill with ancient kobudo weaponry.
Tadashi Yamashita has dedicated over 60 years of his life to the practice of Okinawan Karatedo and Kobudo. He has his 10th Degree Dan in both karatedo and kobudo. He is the President, Director and founder of the Yamashita International Budo Association which incorporates Yamashita Shorin-Ryu Karate, Yamashita-Matayoshi Kobudo and Sensei's Suikendo Fighting System.
Tadashi Yamashita has made many movies over the past 40 years and his media credits include The Karate (1974) , The Blind Karate Man, Karate II, The Octagon, American Ninja, American Ninja 5, Rising Sun, Gymkata, Capital Punishment, Bronson Lee Champion, The Shinobi Ninja, Enter the Dragon, Judge Dee, Golden Needles, The Seven, The Magnificent Three and Lethal Weapon 4.
He has also appeared in numerous television show including Kung Fu, A Man Called Sloan, Knight Rider, Thrillseekers, ESPN Karate Demonstrations and several Pay Per View Events.