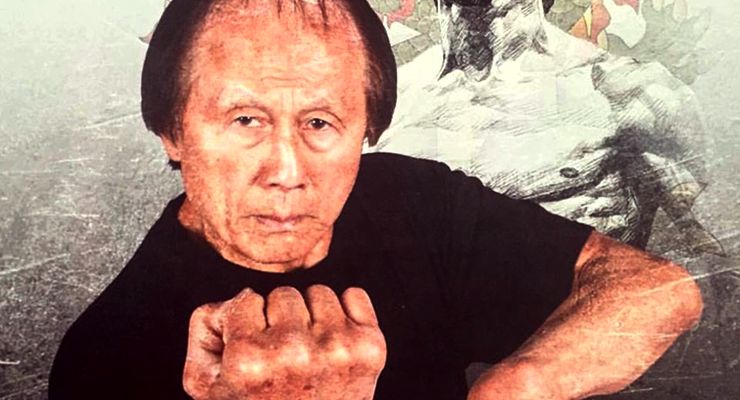 Leo Fong was born November 23, 1928 in the Xinhui district of the city of Jiangmen, in the province of Canton, China. He is an martial artist, actor, boxer, and was a Methodist minister. He has been working in the entertainment industry as an actor and director since the early 1970s.
When Leo was five years old his family immigrated to the United States and were held in Seattle, Washington. After their release the family moved to Chicago where his father, Richard, worked with Leo's uncle in his uncle's restaurant. With much hard work and saving as much as he could, Richard bought a small grocery store in Widener, Arkansas and the family moved once again. It was this move that would set Leo on his martial path. In those days, being Chinese in Arkansas was not easy, as the children there were not use to people who look different. Leo was bullied by his fellow class mates and taunted with hateful slurs and finally during a softball game he popped one of the bullies in the nose to protect his dignity. Leo was blamed for the fight and punished, and this incident made him realize that he needed to be able to protect himself. He bought a book called The Fundamentals of Boxing written by Barney Ross and he read it from cover to cover. The book gave him the skills he needed to protect himself from bullies and that is exactly what he did. He began boxing competitively when he was 15 years old and he got his first formal boxing lesson from an old professional fighter by the name of Kirby "KO" Donoho after he joined the boxing team while studying for the ministry at Hendrix College in Conway, Arkansas. In Leo's first year of competition he won 7 of his first 8 fights and he scored 5 first round knockouts all with a left hook. His amateur record was 18 wins and 7 losses.
After the Boxing and wrestling programs at Hendrix College were disbanded, Leo was invited to box with the local National Guard Unit in Conway, Arkansas and became a great competitor.
In 1954, after graduation from Southern Methodist University in Dallas, Texas, Leo was assigned a church in Sacramento, California where he began to study Jiu-Jitsu under Bill Luke who was a student of Judo instructor Bruce Teagner. Leo trained with Luke for over a year until Luke relocated to Southern California. Then, Leo joined a Judo program at the Sacramento YMCA studying under Bob Bendicts.
After a visit to China town, Leo decided to study Wing Chun. He began studying Choy Lay Fut under Grandmaster Low Bun and continued for over three years. He then met James Yimm Lee and studied under James and T.Y. Wong. He also studied Tae Kwon Do under Chong Yuk Yong. When Lee and Wong split, Leo went with Jimmy and continued to study. It was through Jimmy that Leo met and became friends with Bruce Lee in 1962. It was because of Leo that Bruce Lee added the boxing punches and fighting stance to his style of fighting.
Bruce Lee negotiated with Mito Uehara, the owner of O'Hara Publications and Black Belt Magazine to have Leo write "Choy Lay Fut" and "Sil Lum Kung Fu," and these are the first books ever written in English on these styles.
In the 1950 he began to study martial arts. learning judo and jiu jitsu. Through the years he has studied and practiced various martial arts styles to the point where he developed his own style called Wei Kune Do.
He was a sparring partner and friend of famed martial artist Bruce Lee. Fong appeared on the cover of the 10th anniversary edition of Black Belt magazine. Bruce Lee arranged it.
Leo Fong has a bachelor of arts degree in physical education, a masters of theology degree as well as a degree in social work Chong Yuk Yong.
Leo Fong began his acting career in the film Murder In The Orient (1974), a Filipino martial arts exploitation film that co-starred Ronald L. Marchini and featured Eva Reyes and Rodolfo 'Boy' Garcia. In 1975 he starred in Bamboo Trap with Filipino actors George Estregan, Chanda Romero, Eddie Garcia, Rez Cortez and martial arts cult hero Ron van Clief.
He has continued to act in films, but since the late 1970s he has also been writing, directing, and producing films. Some of his films in the seventies to mid-eighties featured the same stock of actors, Cameron Mitchell, Hope Holiday and Stack Pierce.
In his film, Transformed (2005), he was actor, director, producer and composed the theme song for the film. He also helped edited the film. Transformed (2005) had a Christian theme and an anti-drug message and featured Tadashi Yamashita and Fred Williamson. This was the second film that Leo and Fred appeared in together. The first film was Blind Rage (1978), a film about a gang of blind men that rob a bank. He played Master Lee in Drifter TKD (2008) and was a producer for The Last Musketeer (2009). He has worked in other films and television shows and began working on Dragon to Dragon: The Leo Fong Story With Bruce Lee (2018) which is written, produces and directed by Tamas Birinyi. The film features Leo Fong, Art Camacho, Bruce Lee, Eric Lee, Chuck Norris, Gerald Okumura, David Reed and Tadashi Yamashita.