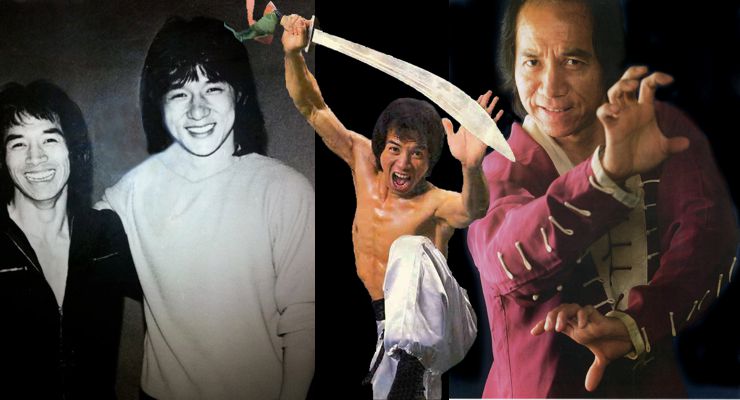 Eric Lee reigned as The King of Kata from 1970 to 1974. He amassed over 100 world titles in Kata competition. Black Belt Magazine is quoted as saying that Eric Lee is "without a doubt, the most influential forms performer of his time." The Original Martial Arts Encyclopedia states, "Before the advent of form ratings, Lee was unofficially the number one forms champion in the United States."
"Kata" is the encyclopedia of a martial arts system. If you are doing the original, compulsory form, then you are training in the original traditional movements. I like forms because it has improved my physical abilities. It has given me strength, endurance, coordination, balance, timing, flexibility, focus and much more because it helps your cardiovascular system. I think it's beautiful."
Eric was born in Chung Shan Village, Canton Province, China. He reminisces, "I was influenced to take up martial arts by my dad in China. After dinner, they would hit the gong (the signal that the evening workout was about to begin). My dad was one of the students at the time. He studied Choi Li Fut. "Everybody wanted to know Kung Fu in China", says Eric. It's culture. The Sifu's are much more respected in China. In America, when you are 18, they expect you to take care of yourself; when you are 65 you are expected to go into a convalescent home, but in China the martial arts are so ingrained into the culture that when the Sifu's grow old, they are greatly respected. In martial arts, we carry on a legacy, we pass on our system to our children.
As a boy, Eric remembers, "My family owned two herb shops in Hong Kong and we lived in the back of one of them. In Hong Kong, the herb shop and the family doctor/drug store were in the same location. We would cook the herbs for the patients according to the doctors instructions." In Hong Kong, when he had free time, Eric would go to the movies. "I was impressed with the beauty and the incredible power and strength of the martial arts. The Kung Fu movies in Hong Kong were in Black and White. I used to watch the legendary Won Duck Hing. I got a lot of inspiration from watching these old movies. As a young teenager, Eric was sent to school in Nicaragua and stayed with some friends of his grandparents. "I didn't know anybody there," says Eric. "That was before Nicaragua became communist. Everyone spoke Spanish and English. I had lived in Hong Kong and learned a little English there but not enough to communicate with the local people."
By the time he reached his mid-teen years, Eric remembers, "My dad, grandparents, and everybody resided in California where they had moved the family business to Oakland." In spite of his rich heritage on the periphery of martial arts in China, it was in California, at about age 15 or 16, that Eric Lee started his formal martial arts training. Eric tells his story, "I was in Oakland, in Junior High School, and the biggest guy in the school said, "Eric, look at the bird," I looked up and he hit me with a chop in the throat. I was choking for a long time. The next day, I sought out a martial arts instructor so that I could learn how to defend myself. I went to two or three schools at the same time when I first started studying Southern Hunang Ga system and also some Wing Chun."
"I studied with Al Dacascos intensively from 1968 to 1973." Says Eric. "His style was unorthodox." The style was Wun Hop Kuen Do Kung Fu (way of the combined fists). Eric states of Dacascos, "We have a similar kind of mind you have to be open to accept new and original things. Al lives in Oregon now. We still stay in touch. I learned a lot from Mr. Dacascos and from all my instructors. They will always be my instructors."
"From 1968 to 1972, I had my own club. It was an open mat situation that anybody was welcome to share. We had Tai Chi, Aikido, Tae Kyan Do, Praying Mantis, Choi Li Fut, and many others came and went. We were all martial artists and attending the same college. We would spar, have outsiders come, share, and learn together. Some of the people that were there were : Alex Feng (Judo), Luther Secrease (Tae Kwon Do). Patrick (Praying Mantis), and Harry (a Japanese man who taught Aikido). In those days, I was mainly interested in learning.: Eric continues, "Bruce Lee had his school in Oakland and he had a major influence in my life. I met him but never studied with him. He was never around."
In addition to his diverse open hand karate training, Eric was fascinated with weaponry. "I have mainly studied in Chinese weaponry," he says. Indeed he has become proficient over the years in more than 35 different weapons. Eric states, "There are basically four categories of weaponry: Long Weapons (Kwan Do, like spear, stick,, etc). Flexible Weapons (whip chain, three section staff, nunchaku), throwing weapons (throwing stars, darts, knife), and Swords (hook swards, tiger hook swords, broads swords, double edged straight swords). Once a person masters the four categories, then it's just a matter of adapting to the nuances of the individual weapons. "For me," says Eric, "it just came naturally. I had the patience for it and just adapted to it." In Kata competition, Eric consistantly used the Chinese single or double swords. "They were easy to control," he says.
A consummate competitor, Eric remembers, "I always tried to compete in three divisions: Kata, Weapons Kata and sparring. As a Black Belt, I was undefeated in kata and weapons kata. I competed in tournament point fighting. I actually took a few Grand Championships and I also lost some . . . I competed against Benny Urquidez."
Eric had a huge impact in tournament kata competition. "I started using music along with my demonstration katas in about 1970. At the beginning, they (the judges) would not accept it. I met a lot of resistance when I tried to use the music. Sometimes I would have to change a movement in a kata to adapt to the music. The traditional teachers felt that I bastardized the traditional value of the forms."
But Eric marched to the beat of a different drum as he used strobe lights, black lights, fog machines, sound effects, comedy, flash, and whatever else was available. Looking back on those kata competition days from the vantage point of his current career, Eric comments. "I am a film maker myself. Who would make a movie in black and white with no sound? Nowadays, nobody would be interested. It would be boring." Eric prefers to have the impact of the entire spectrum. He wants the audio and visual effects available for his use in kata performance.
Then why," asked this author, "in your opinion, has musical kata not come into the prominence that perhaps, it should have?" Eric responded, "A lot of people who go to the tournaments are traditional teachers, and who brings the students to the tournaments? The teachers do."
While Eric remains an active martial arts practitioner to this day, his career had taken a shift some years ago. "I retired from active competition in 1974. "says Eric." I had always been interested in films but never had the opportunity. I auditioned for The Killer Elite in San Francisco and then later I moved to LA and got the 'bug'.
Perhaps Eric Lee's best-known movie is Big Trouble in Little China (1986). He has also had major roles in: Blood Sport II (1996), Ninja Busters (1984), Weapons of Death (1981) (1981), Fist of Iron (1995) (1995), The Shinobi Ninja (1981) (1981), and The Game. Over the past twenty years he has either starred, co-starred, or been featured in so many other major motion pictures and television series that it is hard to keep track of them all. Some on the most memorable include: Ring Of Fire I & II, Death Match, Rambo, Misfit Patrol, License To Kill, Strong City, Smoke on the Water, Hanoi Hilton, Talon Of The Eagle, Steel Justice, Future Kick, Death Machine, Falcon Claw, Good Guys Wear Black, Shame Shame On The Bixie Boys, Uncommon Valor, Into The Night, "A" Team, General Hospital, Bob, Call To Glory, Airwolf, "V", Tales of the Gold Monkey, Kung-fu Series, Fall Guy, L.A. Nightlife, For Love And Honor, Joe And The Colonel, Beauty And The Beast, Hollywood Beast, Creature Features, Me & Mom, Incredible Hulk, Bring 'Em Back Alive, Hunter, Gavalan, Scarecrow & Mrs. King, Greatest American Hero, Gong Show, Rousters, Price Is Right, World Martial Arts Challenge, Just For Kicks Television, Evening Magazine, Kitt And Rene Show, This is Hollywood, A&E's Martial Arts Special, and the Hollywood Reporter. He work on Lethal Weapon IV and starred in The Master Demon.
As a renowned martial arts performer Eric Lee has been a "starring attraction" in literally hundreds of shows. He has been billed and performed in some of the largest martial arts shows in the world including: The Coliseum Martial Arts EXPO and World Tournament, The Second World Martial Arts Expo, The British Martial Arts Extravaganza, The Las Vegas Martial Arts Show, The South America World Martial Arts Tour, Arnold Schwarzenegger's Fitness EXPO '98, Ed Parker's Internationals Martial Arts Tournament, Hawaiian Tournament of Kings, and hundreds of regional, national and International karate, kung-fu, Tae Kwon do and Kempo tournaments.
Eric Lee has also been featured on the cover of virtually every martial arts magazine in the world. With the exception of Bruce Lee, Eric has been featured more than any other kung-fu practitioner in the 20th century. His educational and instructional seminars have been attended by thousands of martial arts devotees from around the world.
Mr. Lee's martial arts instructional books and video tapes include: Fight Back . . . A Self-defense Guide, The Chinese Broad Sword, Black Belt Magazine Video series KUNG FU WEAPONS (Three Sectional Staff) and (Double Broad Sword), and the entire Eric Lee's educational video series (over 50 titles) that include Health, Chinese Healing, Vitality, Martial Arts Acting, Exercise & Conditioning and other martially related subjects.
In addition, Eric Lee has received numerous awards for his contributions to the world of martial arts. He has received such prestigious honors as the Crystal Award (lifetime achievement), inducted into the Gallery of Fame, received the Southern California Motion Picture Council's GOLDEN STAR HALO AWARD, Bob Wall's WHO'S WHO in the MARTIAL ARTS, and many other special honors that embrace the epitome of Martial Arts Excellence.
He is a featured inclusion in virtually every martial arts reference book in the world. Some of the more notable include: MARTIAL ARTS: Traditions, History, The Martial Arts SOURCE BOOK, The BLACK BOOK, MASTERS, FOUNDERS, LEADERS of American Martial Arts, WHO'S WHO in the Martial Arts Elite, and WHO'S WHO in Karate.
"Lately," Eric says, "I have been really interested in directing. I have always been interested in the creative part of the (film) industry. Martial art are very creative for me because it takes the mind to move the body." Eric Lee's body is still moving as he continues to train in his beloved martial arts, stating, "I train for a different purpose. I train for flexibility and energy. Depending on what project I am working on, I train in moderation in that area. I didn't know the balance when I was younger: How much to rest, how much to eat, etc." Eric reveals the anchor of his balance when starting.
As to the role that martial arts has made in Eric's personal development he says, "A lot I have been able to contribute to other people and they have been able to contribute to me. It has certainly given me a lot of richness in my life. From the physical point of view, it has helped me keep my health together. I am in pretty good health because of the training involved. It has broadened my mind with culture: the history and culture of the arts. Mentally, it has helped me with discipline because, in the martial arts you have to train and stay motivated. Martial arts has given me a lot of incentive to keep going."
Currently, Eric does occasional seminars and continues to teach a small number of his advanced students. As for his future in the martial arts he says, "I would like to get more educational tapes out there. I wouldn't mind giving motivational talks for other martial artists all around the world."
After an undefeated reign as "King of Kata " for five years, and honors such as Black Belt Hall of Fame, Armed Forces Appreciation Award, 2 Golden Fist Awards (best weapons championship, best kata champion), to name a few, Eric humbly says, "I just want to continue to learn and improve in the area that I like. As in anything, we must have a beginner's mind. I believe we should never stop learning anything. Martial arts is a way of life, it is much more than kicking and punching. It gives you a good feeling when you can share what you have learned."