The Marvel Cinematic Universe* has continued to grow every year since it began in 2008 with Marvel's Iron Man, and now they have announced the dates for more films coming out through 2019!
The Marvel Cinematic Universe includes:
Phase One
Iron Man (2008)
The Incredible Hulk (2008)
Iron Man 2 (2010)
Thor (2011)
Captain America: The First Avenger (2011)
Marvel's The Avengers (2012)
Phase Two
Iron Man 3 (2013)
Thor: The Dark World (2013)
Captain America: The Winter Soldier (2014)
Guardians of the Galaxy (2014)
Avengers: Age of Ultron (2015)
Ant-Man (2015)
Phase Three
Captain America: Civil War (2016)
Doctor Strange (2016)
Guardians of the Galaxy Vol. 2 (2017)
Spider-Man: Homecoming (2017)
Thor: Ragnarok (2017)
Black Panther (2018)
Avengers: Infinity War (2018)
Ant-Man and the Wasp (2018)
Captain Marvel (2019)
Untitled Avengers film (2019)
Untitled Spider-Man: Homecoming sequel (2019)
Guardians of the Galaxy Vol. 3 (2020)
Below is the Slate for Phase 3 of the Marvel Cinematic Universe.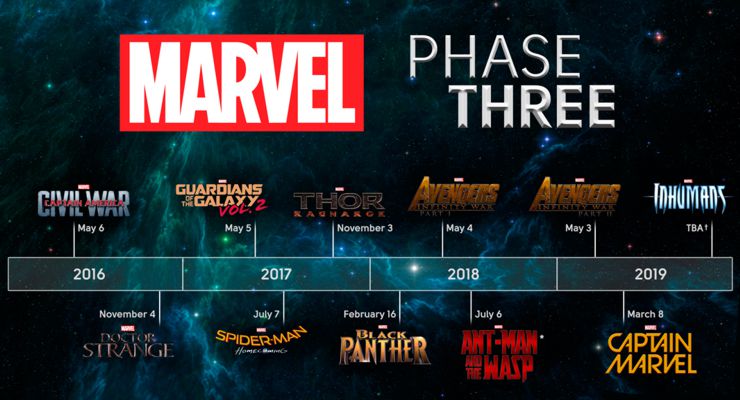 *The Marvel Cinematic Universe (MCU) is a fictional universe that is centered on a series of superhero films, independently produced by Marvel Studios and based on characters that appear in publications by Marvel Comics. It is a media franchise that has expanded to include comic books, short films, and a television series. The shared universe, much like the original Marvel Universe in comic books, was established by crossing over common plot elements, settings, cast, and characters. Clark Gregg has appeared the most in the franchise, portraying Phil Coulson, an original character to the MCU.
Feige stated, it's about "Teaching the general movie going audience about the notion of the characters existing separately, coming together for specific events and going away and existing separately in their own worlds again. Just like comic readers have been doing for decades and decades… People sort of are accepting that there's just a time when they should be together and there's a time when they're not."
What's in the Marvel Cinematic Universe Timeline
What's in the Marvel Cinematic Universe Timeline