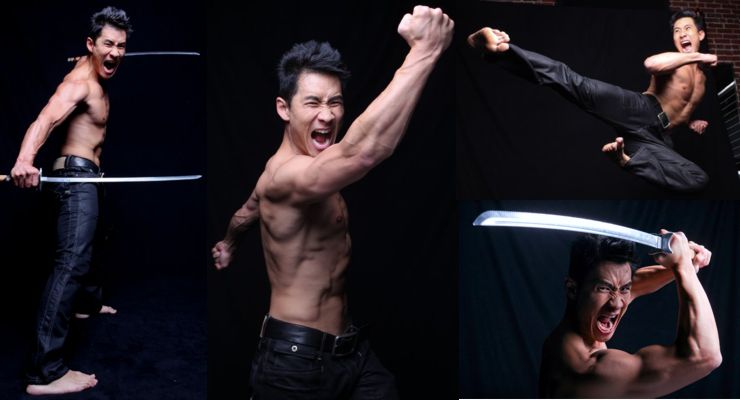 Mike Chat (Michael Chaturantabut) was born on April 30, 1975 in Rayong Province of Thailand. He is a Thai/Han Chinese-American actor and stuntman, who is best known for his role as Chad Lee, the Blue Ranger, in Power Rangers Lightspeed Rescue (2000). He is also known for The Time Machine (2002) and Power Rangers Lightspeed Rescue – Titanium Ranger: Curse of the Cobra (2000). Mike is the star of Discovery Channel's award-winning documentary XMA: Xtreme Martial Arts (2003)
Mike Chat is an XMA Xtreme Martial Artist who trained at Sharkey's Karate Studios located in Naperville and Momence, Illinois. He is known as the Tony Hawk of martial arts and is a 7-time World Forms and Weapons Champion and founder of XMA, Xtreme Martial Arts. With over 1,400 licensed facilities worldwide, Mr. Chat is responsible for training over 175 world champions. Mike  Chat trained and coached The Adventures of Sharkboy and Lavagirl 3-D (2005)'s Taylor Lautner, and Jake Strickland from Jackie Chan's House of Fury (2005) and Hollywood superstars Taylor Lautner (Twilight Saga), Jaden Smith (Karate Kid) and Willow Smith, and Grammy artists Usher, and the Black Eyed Peas.
He has been a stunt double for Brad Pitt, George Clooney, Matt Damon, Keanu Reeves and many others.
XMA's signature moves and stunt professionals can be seen in today's hottest films like The Dark Knight Rises, Iron Man, X-MEN, TRON Legacy, Spiderman, GI Joe, and The Matrix Trilogy. XMA's popularity in Hollywood has led to the development of two scripted XMA based television shows with Emmy Award winning producer John Brenkus of Base Productions.