Ultimate Justice (2015) with Mark Dacascos, Mike Moeller and Matthias Hues
Ultimate Justice (2015) has wrapped and we can hope for a trailer in early 2015. Finally we will see martial artist and actor, Mark Dacascos doing what he does best, Martial Arts ACTION, and the same with Matthias Hues and Mike Moeller. (see teaser trailer below).
I am looking forward to the upcoming movie Ultimate Justice (2015),  with Mark Dacascos (Crying Freeman, Hawaii Five-0 and Drive), and Mike Moeller (One Million Klicks). Matthias Hues (Dark Angel and Mission of Justice) is also in the film along with Sandra Tauro (Dr Awkward), Mike Leeder, Brandon Rhea (Fearless), Yasmeen Baker, Wolfgang Riehm, Martin Baden and even Wing Tsung Sifu Henry Mueller. Mike Moeller is a phenom and he will also serve as the films fight choreographer. The story written by Marco Theiss with Mike Leeder doing the English version for the film. The film is being directed by Martin Christopher Bode and produced by Mike Leeder with Ruediger Kuermerle and Mike Moeller co-producing.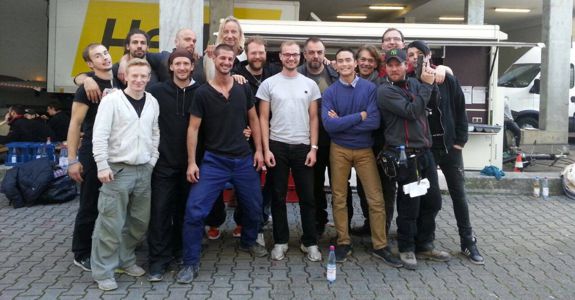 Ultimate Justice (2015) has a fantastic international cast and a really good crew and they are producing a film with great action and drama. With Mike Moeller handling the action and because the movie has great support from the German stunt community, it appears that this film has what it takes to please an international action loving audience.
Ultimate Justice (2015) is about a team of former elite special ops soldiers who forged strong bonds in battle. All have retired, but they are drawn back into action when the family of one of their own is attacked and they will not not give up until Ultimate Justice is served.