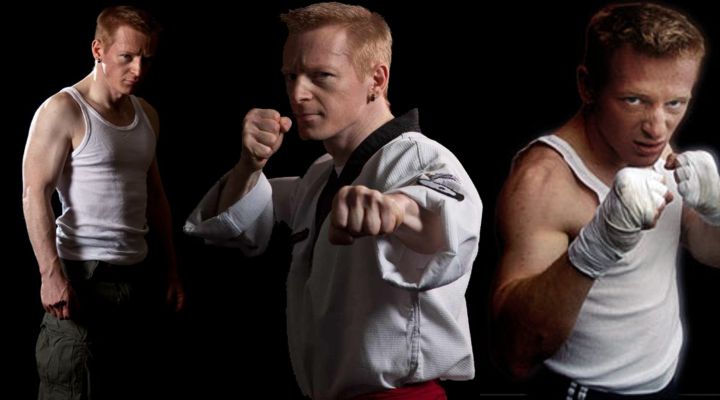 Mike Moeller (Mike Möller) is a German born martial artists, stunt performer and actor.  He grew up in a small village in East Germany. As a child he loved sports and became a huge movie buff after the wall came down between East and West Berlin, when the people from East Berlin were finally able to rent videos. He loved martial arts action films and they, in particular, influenced and motivated him. There were no martial arts clubs or gyms where he grew up so he began studying on his own, learning from books and movies. His home based fitness training included circuit training, doing push ups, chin ups, sit ups and he made his own weights. His training was intensive and included both fitness and martial arts. When it became possible, he joined a very good Taekwondo club in Nuremberg and also began training in a gym. Today he has a routine of training which includes martial arts and stunt training, weight training and cardio and he trains every possible chance he gets
Mike Moeller also began his stunt training himself. He and his friends got together to discuss movie fights and they often ended up working out and creating their own fight scenes. He taught himself how to fall and to do acrobatics like he saw in the movies he watched, and soon they began filming their own martial arts short films. Mike and his friends did not have a computer so they filmed with a Hi8 camera and edited the footage with two VDRs. They used a stereo system and a Super Nintendo for sound.
Mike Moeller began his professional career as a stuntman in 2000, when he got the chance to work with Stunt Coordinator Donnie Yen in the Television series Der Puma. He was a big fan of the martial arts television series and when he heard that Donnie Yen was in Berlin, he wrote a letter and sent it with a video to the local production company working on the show. He asked if he could get a photo with Donnie Yen. Instead he was asked to the set and ended up auditioning. He got a call saying that Donnie Yen and the Asian stunt team liked his video and his sense of humor and they wanted him on the show. Mike received a day of training and and fought the lead actor Mikey Hardt during three days of filming.He shot Resident Evil one year later in Germany at Babelsberg Studio. Soon after he began working for many national and international directors and stunt coordinators.
In 2003 Mike Moeller was nominated for a Taurus World Stunt Award for BEST FIGHT from the movie Half Past Dead. In 2012 Mike made his first independent martial arts film Urban Fighter (aka Street Gangs) and the film won the Movieville International Film Festival award for BEST ACTION MOVIE. Made in the tradition of  many B-movies, the low budget Urban Fighter has the look of one of the old kickboxing films made by Don The Dragon Wilson, and it has some of the best fight action sequences around.
Later that year Mike Moeller starred in the action film Atomic Eden alongside Fred Williamson and Lorenzo Lamas.
Mike Moeller continues to fight in films and with his newest film, One Million Klicks, he takes on the lead role as well. Mike still spends a lot of time improving his martial arts skills and trains with martial artists from various fields such as judo, karate, boxing and wrestling.
Mike Moeller's love for action movies has never diminished and he will continue to bring his best action to the silver screen.