Alexander Nevsky actor, writer and producer was born on July 17, 1971 in Moscow USSR. A Russian bodybuilding superstar, he has become the first successful Russian writer, producer and actor in Hollywood. He wrote and played the role of Vlad Stepanov in Moscow Heat (2004) starring with Adrian Paul and Michael York. He wrote the story for Treasure Raiders (2007) and played the role of Wolf, starring with David Carradine. He directed Black Rose (2014) and played Vladimir Kazatov starring with Kristina Lokken and Adrian Paul once again. Black Rose was a great success in Russia and will go to the American Film market in November of 2015.
In 1994 Nevsky graduated from State Academy of Management (Moscow). He has published 5 best selling fitness books in Russia and he is the author of approximately 500 articles. He was "The Biggest Bodybuilder in Russia" in 1995, weighing in at 320 pounds and with  23 inch arms.  Alexander was an amateur kickboxer and a boxer from 1986 to 1992. Later, after moving to the United States,  he learned different styles of martial arts and attended master-classes taught by Chuck Norris and Steven Seagal.
In 1999 Alexander Nevsky moved to California. He studied English at UCLA and acting at the Lee Strasberg Theatre Institute.
Alexander Nevsky never worked as personal trainer, but he did inspire millions in Russia and ex-USSR in bodybuilding and fitness through his books and television appearances.
Alexander Nevsky was offered a role in Columbia/Tristar's BattleDome but he refused the role of the "bad Russian" in the film. He also was offered a part in The Order by Jean-Claude Van Damme but refused for the same reason. He only accepts roles and produces films where Americans and Russians work together for a common good.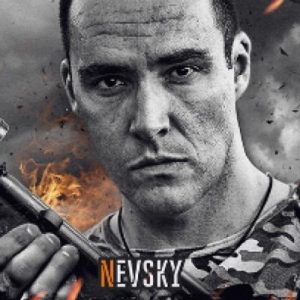 In 2015 Alexander Nevsky was actor and producer for the film Showdown in Manila, with Mark Dacascos who also directed the film.  Showdown is a veritable montage of martial arts masters including Cary-Hiroyuki Tagawa, Matthias Hues, Olivier Gruner, Don 'The Dragon' Wilson and Cynthia Rothrock. Both fight choreography and stunt coordination for the film is being done by Fight Instructor Al Dacascos and Assistant Fight Instructor Sonny Sison.
Also in 2015 Alexander Nevsky co-produced and starred in Maximum Impact (2016) which is an action comedy written by Ross LaManna, the creator of all the Rush Hour movies. Maximum Impact is the story about agents of the Federal Security Service of Russia and agents from the US Secret Service who are forced to work together to prevent a full-scale international terror crisis. The film also stars martial artists Mark Dacascos and Eric Roberts and it is directed by Andrzej Bartkowiak, who was the director of photography for  Speed (1994), for The Devil's Advocate (1997) and Lethal Weapon 4 (1998). Thanks to Andrzej Bartkowiak, before filming began on Maximum Impact,  Nevsky had the opportunity to work with actress and acting coach Natalia Nogulich for several months.
Alexander Nevsky is the Action On Film 2018 Break Out Action Star and will receive the award at the August 25, 2018 event in Las Vegas.
Festival Director Theresa Coscarelli said, "He's handsome, talented, professional and he's worked with top people in front of and behind the camera. What more could you ask for?"
When hearing about the award, Nevsky said, 'Thank you very much for that huge honor and I really look forward to attending your great Festival! Thanks for supporting independent action movies, can't wait to show my film Maximum Impact to the real action fans at ACTION ON FILM!