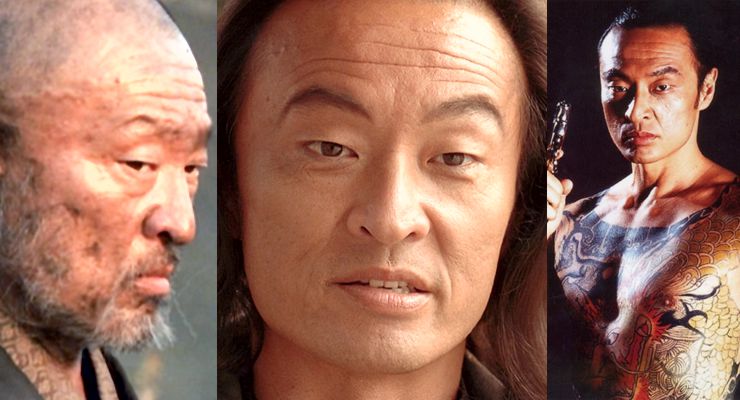 Cary-Hiroyuki Tagawa was born in Tokyo on September 27, 1950. He is a Japanese-American martial artist, an actor and a sports physiologist.
Cary's father, a Japanese American, was in the army, stationed at Ft. Bragg (NC), Ft. Polk (LA) and Ft. Hood (TX). His mother, Ayako, was a Japanese theatre actress from Tokyo and she influenced Cary's desire to act by taking him to see Shirley McClain's academy award winning performance in Some Came Running. The Tagawa family eventually settled in Southern California, where Cary began acting in high school. As a student at the University of Southern California, Cary was an exchange student in Japan. He has recently been involved off-screen in addressing student groups (at SFSU and Stanford). He has also been coaching the martial artist portraying Shang Tsung in the Mortal Kombat Live Tour, and in his free time developing his new form of martial arts, called "Chun Shin."
Cary-Hiroyuki Tagawa was cast as the Eunuch in Bernardo Bertolucci's The Last Emperor (1987) allowing him to begin his career in the entertainment industry and to build his extensive film resume.  In 1989, he played an undercover agent of the Hong Kong Narcotics Board in the James Bond film Licence to Kill. In 1991, he starred alongside Dolph Lundgren and Brandon Lee in the action film Showdown in Little Tokyo, where he played the role of Yakuza boss Yoshida. He also starred alongside James Hong and Jeff Speakman in the same year in the film The Perfect Weapon, where he played Kai, an assistant to the Korean mafia families.
Cary-Hiroyuki Tagawa appeared in the movie Mortal Kombat (1995) as the shapeshifting sorcerer Shang Tsung, and as the deadly pirate leader Kabai Singh in The Phantom (1996). Tagawa is among the actors, producers and directors interviewed in Director Jeff Adachi's documentary The Slanted Screen (2006), about the representation of Asian and Asian-American men in Hollywood.
Cary-Hiroyuki  Tagawa played Heihachi Mishima in Tekken (2010), the video game adapted from the film franchise. Cary was the voice of Brushogun in Teen Titans: Trouble in Tokyo (2006). He was in the original film Johnny Tsunami (1999) and then in its sequel Johnny Kapahala: Back on Board (2007). Tagawa played Attar's mentor Krull in Tim Burton's version of Planet of the Apes (2001) which was filmed between those other two films.
Cary-Hiroyuki Tagawa reprised his role as Shang Tsung for the second season of the YouTube series Mortal Kombat: Legacy. The new version of his character was unrelated to Tagawa's previous work as Tsung.
In the television  series Revenge, Cary-Hiroyuki Tagawa played the role of Satoshi Takeda, a powerful CEO in Japan and Emily's former mentor in her quest for revenge. In season 2, Cary took over this role from Hiroyuki Sanada, who had scheduling conflicts preventing him from continuing in the series.
Cary-Hiroyuki Tagawa appeared on television in Star Trek: The Next Generation (Encounter at Farpoint; 1987), Thunder in Paradise (1995), Nash Bridges (1996), Baywatch: Hawaiian Wedding (2003) and Heroes (2007). He was also the voice of Sin Tzu for the video game Batman: Rise of Sin Tzu. Cary played the part of Earth Alliance security officer Morishi in Babylon 5: Convictions. He played the evil soul-stealing sorcerer Shang Tsung in a film adaptation of the video game Mortal Kombat, and the evil mastermind Heihachi Mishima in the film adaptation of Tekken.
You can see Cary-Hiroyuki Tagawa as Shogun in 47 Ronin, as Senator Khat in Skin Trade, as The Mayor in The Man with the Iron Fists: Sting of the Scorpion, as Hashimoto in Little Boy (2015), as Shing in Duel of Legends (2014) and as Tagomi in The Man In The High Castle.
Cary-Hiroyuki Tagawa's feature films span twenty-three years. These filmed have grossed over 1.5 billion in worldwide box office and another seventy performances on television shows and series. The feature films with roles by  Cary-Hiroyuki Tagawa have netted 13 Academy Awards from The Last Emperor (1987) to Pearl Harbor (2001) to Memoirs of a Geisha (2005). His films include Hachiko and Tekken and Hachi: A Dogs Tale (2009) won the Audience Choice Award for Best Feature Film at The Sedona International Film Festival.  In Hachi: A Dogs Tale (2009), Tagawa plays Richard Gere's best friend.
Cary-Hiroyuki Tagawa has always been a healer.
What most people don't know is that I was a healer long before I began acting. It is my first love.
He is the founder of a 31 year old Post-New Age breathing modality, called Chuu Shin, where Tagawa combines his experience in Martial Arts and Sports.
I was always a very physical child. I always played sports which naturally led to the study of Martial Arts but Chuu Shin was founded upon leaving my traditional study.
Chuu Shin represents the best of Tagawa's Sports and Martial Arts history. It combines the Western external physical training with Eastern internal energy systems.
Cary-Hiroyuki Tagawa loves football and he got his start working with athletes in 1979, when Los Angeles Rams running back Wendell Tyler asked Cary to train him using martial arts techniques. Cary was asked again in 1993 by pro football players Marcus Allen and Sean Jones to help them increase their athleticism. In each case, the athletes were able to achieve higher performance with less energy expenditure. Their increased flexibility led to greater quickness, speed and reaction time. Cary realized then that his training techniques could enhance the performance of professional athletes on a much grander scale.