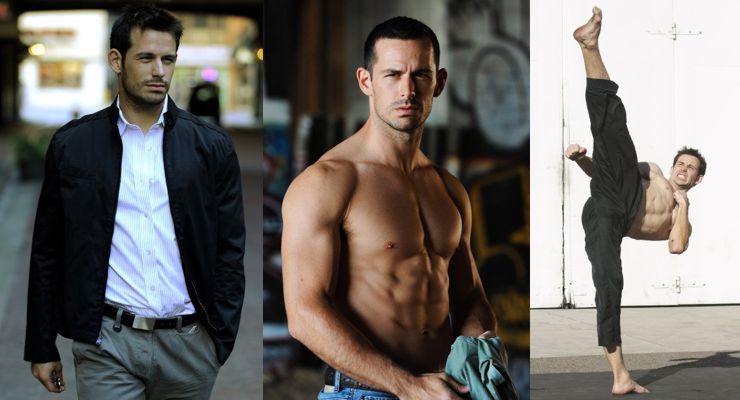 Stunt performer and actor, Matt Mullins, was born on November 10, 1980 in Naperville, Illinois.  Matt began his martial arts journey after watching Teenage Mutant Ninja Turtles, and since then he has become a world renown martial artist, starring in the CW4Kids show Kamen Rider: Dragon Knight and White Tiger starring Matt Mullins, Don "The Dragon" Wilson, Cynthia Rothrock, Jawed El-Berni, and Yui Manochem.
With 5 martial art world titles in hand, Matt moved from Naperville to Hollywood and quickly began booking national spots for top brands such as Nike, Burger King, and Pepsi and the Ultra Sexy Motorola RAZR 2 commercial. Matt starred in the Discovery Channels Xtreme Martial Arts, and this helped him to get noticed in Hollywood and he was given more leading opportunities in films like the award winning cult film "Adventures of Johnny Tao".
Simultaneously, Matt created the martial art phenomenon Sideswipe, which took Hollywood by storm, winning FOX TV's "30 Seconds To Fame" and securing millions of fans to finish top 8 in America's Got Talent on NBC.  Sideswipe is a martial arts based performance team which travels the United States performing with a combination of martial arts moves, aerodynamics, and gymnastics. The show is a mixture of martial arts choreography with music and lights to create a "cabaret of entertainment and highflying action".
Whether it is choreographing for the Britney Spears Circus Tour, starring on the CW, or performing live with Sideswipe, Matt continues to expand his multi-platform empire.
As a martial artist, Matt has been teaching martial arts for the past fifteen years privately in Los Angeles, California and at the world-renowned Sharkey's Karate School in Naperville, Illinois, home of six world champions including Mike Chaturantabut, Craig Henningsen, Chris Brewster and Brendon Huor.
Matt has trained some of today's top competitors in the sport. He is a fourth degree black belt in the style Shōrei-ryū under martial arts instructor John Sharkey at Sharkey's Karate Studio in Naperville. He is a world champion martial artist, and a NASM (National Association of Sports Medicine) certified trainer. Matt has combined his knowledge of body mechanics with his vast martial arts experience to create the safest and more efficient training regiment, using proper body alignment and cross training techniques. Matt has broken down every aspect of the sport from performance and presentation to basic kicks, making it easy for anyone to learn the martial arts, sport karate or acrobatic kicking.
Together with Mike Chaturantabut, Matt created a martial arts style which later became known as Extreme Martial Arts (XMA).
In 2006, Matt completed Matt Mullins' Basic Tricks, his first book on extreme martial arts and tricking. The book takes an in-depth look into how to develop your technique to perform extreme martial art moves and tricks.