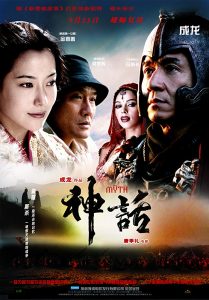 The Myth (2005) is a Hong Kong martial arts fantasy action adventure film directed by Stanley Tong and produced by Jackie Chan who also stars in the film along with Bing Shao, Tony Ka-fai Leung, Hee-sun Kim and Mallika Sherawat.
In The Myth (2005), an archaeologist named Jack (Jackie Chan) is perplexed when he begins to have dreams of a past life where he is as an ancient warrior, the great General Meng Yi, who is sworn to protect a Korean Princess named Ok-Soo (Hee-seon Kim). When asked to join an expedition trying to locate the mausoleum of China's first emperor, he and his friend William (ony Ka Fai Leung) discover his visions are based in fact and he finds himself following a mystical trail to uncover one of his homeland's biggest mysteries.
The Myth (2005) was released in Hong Kong on September 23, 2005. It was the third highest-grossing domestic release that year both in Hong Kong and overseas.
Styna Chyn from Film Threat, wrote the following about The Myth (2005),
"Even though Jackie Chan did not direct "The Myth," (Stanley Tong), he did produce it; and his creative input echoes throughout this genre-bending action film. Shot in China, Hong Kong, and Hampi, India, "The Myth" is a comedy of epic proportions. Combining historical fantasy, martial arts, and science-fiction, Tong's film follows archaeologist Jack (Jackie Chan) and scientist William (Tony Leung Ka-Fai) on their adventures in investigating the veracity of a myth involving immortality, levitation, and a Korean princess-turned-concubine for Emperor Qin towards the end of the Qin Dynasty."
Jim Hemphill, from Reel.com Films Reviews, gave the film 4 out of 5 stars and wrote the following about The Myth (2005):
"Jackie Chan's The Myth is enjoyable but second-rate Jackie Chan, an action film that's completely satisfying on every level except when compared to the star's own best work. Chan has, in some ways, become a victim of his own excellence: the astonishing stunt work and action choreography of his peak years (the 1980s period of the Police Story and Project A films) have set up expectations that no performer could continue to live up to, certainly not after moving into middle age. Viewers weaned on Chan's classics will undoubtedly find The Myth to be Jackie-lite, a slightly slowed-down version of his usual acrobatics. Yet the film does contain a few superb set pieces reminiscent of vintage Chan, and director Stanley Tong's opulent visual style makes it a feast for the eyes—and the bottom line is that half-speed Jackie Chan is still more dynamic than just about any other action hero."