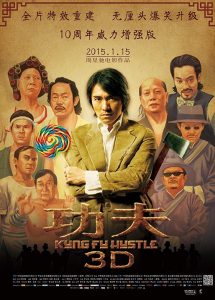 Kung Fu Hustle (2004) is a 2004 wuxia gangster comedy film, written, directed, and produced by Stephen Chow from the screenplay co-written by Xin Huo , Man Keung Chan, and Kan-cheung Tsang. Also producing were Bo-chu Chui and Jeffrey Lau. Stephen Chow starred in the lead role of  Sing co-starring with Wah Yuen, Qiu Yuen, Danny Kwok-kwan Chan and Bruce Siu-lung Leung.
Star Overseas, the production company for Shaolin Soccer (2001), began to develop Kung Fu Hustle (2004) with Columbia Pictures Asia in 2002 after Shaolin Soccer (2001) was such a good success. Although Kung Fu Hustle (2004) features a number of retired actors famous for 1970s Hong Kong action cinema, the film has been compared to contemporary wuxia films such as Crouching Tiger, Hidden Dragon (2000) and Hero (2000). The cartoon style of the film, accompanied by traditional Chinese music, is often cited as its most striking feature.
The film was released on December 23, 2004 in China and on January 25, 2005 in the United States.
Kung Fu Hustle (2004) won six Hong Kong Film Awards and five Golden Horse Awards. In October 2014, the 10th anniversary of the film, it was re-released in 3D in Asia and in the United States.
Kung Fu Hustle (2004) takes place in 1940's China, a period when gangs rule the cities. The hapless Sing (Stephen Chow) and his dim-witted pal, Bone (Feng Xiaogang), try to scam the residents of Pig Sty Alley, a slum so poor that the gangs virtually ignore it,  into thinking they are members of the dreaded Axe Gang. This forces the real gangsters to descend on this Shanghai slum to restore their fearsome reputation. What the gangs leader, Brother Sum (Kwok-kwan Chan), doesn't know is that their are three legendary retired kung fu masters (Xing Yu, Dong Zhihua, Chi-ling Chiu ) live anonymously in this decrepit neighborhood and they do not take kindly to criminals.