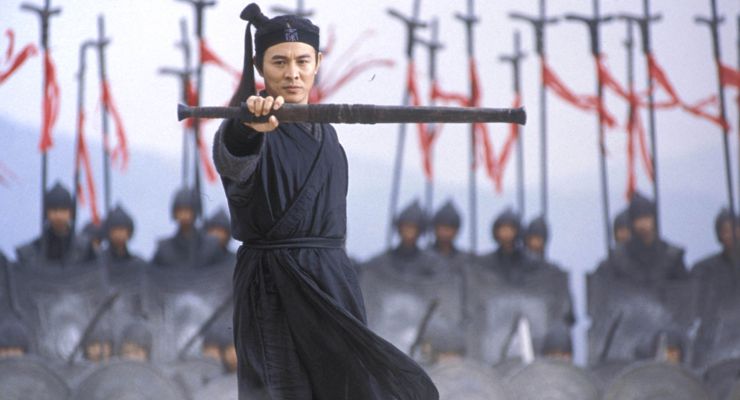 With his "newest" film, Hero (2000), Jet Li has come to a crossroads. It is a beautiful film, his best in almost 10 years, and definitely worth the viewing. He has come a long way since his first film, The Shaolin Temple (1982), the first kung-fu movie made in China since Mao's reign; and after starring in just four Hollywood films, Lethal Weapon 4 (1998) doesn't really count, Jet Li is undeniably one of Hollywood's most accomplished martial arts actors and the first Chinese actor from Communist China to make it in Hollywood. But despite his apparent Hollywood success, his movies have shown a disturbing trend towards diminishing returns; $55.9 million for Romeo Must Die (2000), $36.8 million for Kiss of The Dragon (2001), The One (2001) earned $44 million but had a budget of $40 million and Cradle 2 the Grave (2003) with a meager $34.6 million. In truth, anyone familiar with Li's past remarkable performances knows how bad his American forays have been in terms of acting, action and story.
Before getting into Hero (2000), let's go back in time to when Jet was just a lad doing what we all think he does best, wushu.
Born in 1963, Li began training at the Beijing Martial Arts Academy at the age of nine. Two years later, he captured the title of China's National Youth Wushu Champion. This earned him a slot on the prestigious Beijing Wushu Team that would go on to tour America. As part of a world tour in 1974, he had the honor of performing a two-man fight for President Nixon on the White House lawn. By his mid teens, he was already a national wushu coach. By eighteen, Li had earned the title of National Wushu Champion four times (1975, 1977, 1978 and 1979) plus the aforementioned National Youth Championship, a record no one has broken.
Li reminisces about his past and the White House demonstration: "My father died when I was two. I have two older brothers and sisters, and I was the youngest; and because I attended a special school to learn martial arts, I didn't need to serve the army, so I think that kept my mind open. And so with the martial arts, when I was 11, it gave me the opportunity to travel around the world doing demonstrations.
"In 1972, the Chinese ping-pong team was invited to America and then some Americans to Beijing. Now, we had a lot of martial arts, something the West was beginning to understand – maybe with Bruce Lee – and so that eventually led to our wushu team to be invited to America. I remember we went to San Francisco and New York, and the things that stick out to me were that there was lots of food and lots of policemen. Ended up travelling to over 45 countries doing demonstration and did all this until I was 16.
"Coming to do the demonstration at the White House lawn and President Nixon, there were just so many things that were different to me because in China we're taught things differently from what they really are and what you think. So because of that I had expected things to be a certain way, but when I got here they certainly were not. When you're young, the way things are – not just from education but your own mind – are also different. Again America was not what I imagined.
"So coming to America, it helped me learn this, that we can be taught things that aren't real. We don't always know why we are taught the wrong thing, but of course we have to accept it. But anyway, I feel that the trip to America opened my eyes and I grew up from it. I remember thinking that America actually had a lot of good things, but also a lot of troubled things; but then so did China, and I saw that. A lot of big differences exist between our countries. Different countries and peoples have a higher percentages of troubles for different reasons. Coming to America made me begin to think about things in different ways."
Which perhaps planted the seed for his current interest in Tibetan Buddhism. But in a peculiar sense this mixed marriage of fame, fortune, and Buddhism is not only contradictory to the tenets he believes in, but it might also be turning Li into the likes of Shaquille O'Neal, Michael Jordan and other public figures who are in a unique position to do something of greater importance than just star in a film or score the winning basket: to go out and make a difference for their people or their beliefs. But most of these figures grow complacent with comfort and money, which soon deadens the spirit. Li is a major public figure in China, and a devout Tibetan Buddhist, yet it takes a white guy named Richard Gere – now banned from entering China – to speak out on behalf of the Dalai Lama and the plight of the Tibetan people in their struggle to be independent from China. Should Li become more vocal and threaten his standing with the Communist Government? Could Li use his influence, name and fortune to become a goodwill ambassador between Tibet and Beijing? Would he put himself and his beliefs on the line? Does he have that kind of courage?
Were he to do so, he might one day find himself up for the Nobel Peace Prize, perhaps becoming synonymous with those martial arts heroes he so respects, admires and enjoys portraying in the movies. Whatever we might hope or think Li stands for, only time will show his true courage and the sincerity of his beliefs.
So, could Hero (2000) be a portent of things to come or just another Jet Li film?
Back in 1998 I asked Jet if it was important for him to succeed in America. He answered, "It's not a big deal for me. It is important to find good story, good movie, good director and good film team. Many American directors like Quentin Tarantino, Francis Ford Coppola and Oliver Stone send me scripts and they need long time to prepare." He's come a long way since Shaolin Temple, where he earned one yuan a day (about $0.20) compared to more than $12 million for Cradle 2 the Grave.
The rumor mill, including the Hong Kong press, claims that Jet is in the process of reassessing his life and career, even secluding himself in a Buddhist temple; but considering that his latest project is Monk in New York, this might very well turn out to be a publicity stunt. He tells me, "It's a comedy film about what happens when a Tibetan monk, me, wins a trip to New York City. Soon, he's bringing peace to an inner-city neighborhood. So, as you can tell, I look forward to bringing a story of compassion and kindness to the worldwide audience."
But of all the interviews I've done with Jet since his move to Hollywood, Hero (2000) stands alone as a work he's passionate about — in stark contrast to his blunt remarks about Cradle, a film he says he made just because Joel Silver "asked" him to.
"Ah, yes, but Hero (2000), I really love the script so much," says Jet. "When I finished reading the script, I cried twice. In my career, I make film for 20 years, it's the first script that made me cry. A very incredible story. Drama is first and action just there to help story. I cry because the character of the movie has a very strong feeling about the story. His name is Hero. What kind of person is a hero? When you are young you can say a football player is a hero, but at different age you change your mind who is a hero. Action film has hero and bad guys, but I don't think they are hero; they are just characters, it's a story, its not true. I never think I'm a hero, but I may play a character who is a hero. I just make a movie."
The $17 million budgeted Hero (2000) is based on events in China during the Third Century BCE when the country was divided into seven major Kingdoms in an era known as the "Warring States." One of the most powerful Kingdoms was the Chin State led by Emperor Qin Shi Huang Di, the infamous dynastic figure who fought to unify China and whose burial site was guarded by 8,000 life-sized terra-cotta warriors. Wandering warriors were in the middle of this fray, lending their skills to various states against their enemies. In Hero (2000), the fate of China rests in the hands of three such legendary warriors – Lone Sky Iron Shield (Donnie Yen), Steel (Tony Leung) and Snow (Maggie Cheung) – who are out to assassinate Emperor Chin. But standing in their way is No Name aka Nameless (Li).
Hero (2000) – the first martial arts film directed by China's Zhang Yimou (Raise the Red Lantern (1991), The Road Home (2000)) – is being called by many China's answer to Taiwan's Crouching Tiger, Hidden Dragon (2000). But it's not. Zhang's films have always been steeped in strong storytelling and incisive portraits of China, and being a fan of old style wuxia martial arts novels, he's always wanted to make a martial arts film. However, unlike Crouching Tiger, he rejected the idea of adapting something from the literature and instead spent three years developing the story of Hero (2000). Just as they were about to start shooting, Crouching Tiger was released. Zhang wanted to scrub the project, concerned that people would always think that he was trying to emulate Ang Lee; but it was people like Li and the other stars who talked him into pushing onward.
There's also a Kurosawa Rashomon (1951) aspect to the story, where the same events are viewed through the different vantage points of the characters – further enhanced by the work of the film's Oscar-winning wardrobe designer Emi Wada. Wada's job was to design four different sets of costumes for each of the main characters – in four different colors – because the entire sets changed with each of the different perspectives.
This is the sort of film Jet Li can shine in, because he's working with arguably the best fight director around, Ching Siu Tung, who created and perfected the "wire-fu" craze back in 1983 with the award-winning film Zu: Warriors from Magic Mountain. He later proved he was a talented director in his own right with the A Chinese Ghost Story Trilogy (1987, 1999, 1991). Mainstream audiences will certainly remember his unique action sequences in another of Miramax's films that was tardy in its release date, Shaolin Soccer (2001 HK, 2004 USA).
The bottom line for Hero (2000) is that, despite its many unique aspects, it will be compared to Crouching Tiger. With that in mind, Hero (2000) is to Gladiator (2000) as Crouching Tiger is to Troy (2004) (of course Gladiator being a better film). Miramax was supposed to release Hero (2000) several years ago, but when it didn't win the Academy Award for Best Foreign Picture, they shelved it – which is a pity, because with the death of the Matrix franchise (1999, 2003), Western audiences may be fed up with what is called "Hong Kong action." However, this film is beautifully shot; each frame could easily be made a portrait in an art gallery. Had this film been released before Crouching Tiger, it would have won all the awards, with one exception:it would have probably gotten a nod for best actor in Tony Leung.
Even the action in Hero (2000) is superior to that in Crouching Tiger, with Ching's wirework smoother and more refined, a fitting balletic choreography that adds an almost mythical dimension to it's hypno-wheel stylism. One fight sequence shot at Mirror Lake took three months to complete, because the reflective properties of the lake had to be perfect, limiting them to 20 minutes a day. Also, Ching has a great reputation for making non-martial artists look good, especially actresses, where the key is to beautify their movements by accentuating their femininity with brutal believability – hardly the case with the action in Charlie's Angels (2000, 2003). Of course, when you work with actors like Jet Li and Donnie Yen, who are legitimate and highly-skilled martial artists, the action sequences become – as is the film – pure golden magic.
Li asserts, "But too many films – and I've been in them – it is action and coming up with new action for the young audience. It is not necessary to think about the story, it is just about fight, fight, fight. But not this film."
Written by Dr. Craig Reid for KUNGFUMAGAZINE.COM
COPYRIGHT KUNGFUMAGAZINE.COM, ALL RIGHTS RESERVED.
All other uses contact us at gene@kungfumagazine.com.