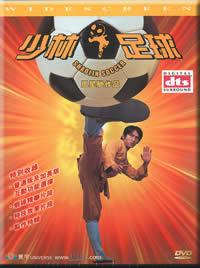 Starring: Stephen Chow Sing Chi, Vicki Zhao Wei, Ng Man Tat
Guest Starring: Karen Mok, Cecilia Cheung, Vincent Kok
Director: Stephen Chow Sing Chi
Action Director: Ching Siu Tung
Rating: Ii B (Not Suitable For Young Persons And Children)- Violence And Blood
Running Time: 112 Minutes
Distributed By: Universe Laser & Video Co. Ltd. Hong Kong
PRODUCT FEATURES
Filmography and biography of Stephen Chow, Zhao Wei, and Ng Man Tat
Featurettes: Making of special effects, Making of documentary, Deleted footage, Outtakes,
Production stills
Chinese Teaser Trailer
Region Code: All Regions
AUDIO/VIDEO FEATURES
Widescreen
Color
Animated Menus
Audio Formats: Dolby Digital 5.1 Surround, DTS Surround
Languages: Cantonese, Mandarin
Subtitles: English, Traditional Chinese, Simplified Chinese
THE STORY
Soccer star "Golden Legs" Fung (Ng Man Tat) takes a bribe from Hung, his teammate, to throw a game. Fung loses the game by missing the penalty kick and a riot ensues. The crowd attacks Fung and injures his knee, ruining any chance of ever playing soccer again.
20 years later, Fung now walks with a severe limp and does menial work for Hung, who is now a millionaire and the owner of the "Evil" soccer team, winning the world championship for the past 5 years. Fung begs him for a coaching position. Hung scoffs at the idea, fires Fung, and tells him that the beating 20 years ago was pre-arranged and that he was set up.
While wandering the streets, Fung bumps into Sing (Stephen Chow), a martial arts student, who lives a meager existence by collecting recyclable trash off the streets and cleaning a mall at night. Sing doesn't mind his harsh meager existence because he is fanatical in his goal of bringing Shaolin martial arts to the masses; showing the world that practicing it is good for people of all walks of life. Sing asks if Fung is interested in being his disciple. Fung balks at Sing and throws a can at him. Sing kicks the can into the air and sails for several blocks.
Fung then later realizes that if he teams up with Sing and his Shaolin brothers (who are also not doing so well in the real world), they can form a soccer team where they can all attain their goals and rise from mediocrity. However it is not an easy road for them because they are all not too skilled at playing soccer and must use their skills in the martial arts to make up for it. They all must individually overcome their own vices and shortcomings before they can be a team. It is when they finally get a grasp of their game when Fung finally decides to enter them in the World Championship Tournament. But are they good enough to win and face last year?s winner?Hung's Soccer team???
I found this Kung Fu comedy to be one of Chow's best films. It is consistent, hilarious, and written with as much passion and heart as the movie Rocky, mixed in with the broad and at times off-beat humor of a Farrelly Brothers (There's Something About Mary) film. The film also mocks The Matrix and Jurassic Park to name a few. The film has a certain childlike optimism and innocence feel to it that I feel makes it such an endearing film.
THE ACTION
I was not really ready for what I saw in Shaolin Soccer (2001) and was in awe, shocked, and laughing all at once, many times throughout the film. It was the creativity and humor of the action sequences that really caught me off guard. Veteran Fight Director Ching Siu Tung (Swordsman 2) does a superb job of blending the application of martial arts techniques into a soccer game. The style of martial arts in the film is a blend of classical and modern eclectic. There are a lot of wire gags that are skillfully combined with CGI that are extremely creative and very humorous.
I must say that with the way the Hong Kong film industry is embracing CGI very quickly and expressing themselves with it in their own special way and not having to imitate Hollywood in the interim. They have made large leaps since STORM RIDERS, which was made only a few years back.
THE PRESENTATION
Shaolin Soccer (2001) DVD is a good and better than most discs coming out of Hong Kong. The menus and additional features all have animated menus with scenes from the film.
There are only a few special features but are good ones though.
The special features are as described below?
"Making of special effects"
(run time 7 min 45 seconds)- in this non-narrated segment we see how many of the special effects are done. We see the theatrical segment, then the raw footage, and then the footage computer generated wire mold of the object.
"Making of? documentary
(20.32 minutes) is a basic behind the scenes look at the making of the film with a lot of behind-the-scenes video. It also includes interviews with Stephen Chow, Ching Siu Tung, and other members of the cast.
"NG Footage"
are the outtakes from the film which you see at the end of the film. Unfortunately you do not have access to subtitles here.
By clicking SPECIAL FOOTAGE in the Special Features menu you will be able to see the director's cut of the film. The only thing is that you need to do it manually every time the Soccer Player icon appears on the right upper screen.
Miramax plans to re-cut, dub, and then release this film sometime later this year. If you are purist and wish to see the film the way the director wanted you to see it, I hope you take the effort to go to your local Chinatown DVD dealer or an online importer and get a copy of it. Having passed this film on to some of my non-martial arts friends, they have commented that they were not as fond of the film as I was because they only know of martial arts as something to beat someone up with. I feel that if you are a martial artist and appreciate the mental and spiritual aspects of why you train, then there is a good chance you will enjoy this film. For me, this film is a keeper, and a proud piece in my DVD collection.