Straight Outta Compton meets Kung Fu Panda, that is Traditionz Movie 2 new action comedy film, Paying Mr. McGetty, written, directed and produced by Michael Baumgarten. The film stars martial artist and actor R. Marcos Taylor as Tyrrell, a guy who is trying to get his music company going, but is forced to pick up and deliver laundry to make ends meet.  Action martial arts star, Don "The Dragon" Wilson  plays a very mysterious and very silent assassin for hire, Shota Kabu, and he plays the role well. The two become adversaries after Tyrrell (Po my lovable Panda) gets drunk, loses all his money, and unknowingly sleeps with a local mafia boss's daughter. Not happy with what happened, the mafia boss, Charlie, hires assassin Shota Kabu and puts a price on Tyrrell's head—which brings in a plethora of hitmen.
In the very visceral opening scene, Shota Kabu takes out another mark with "death by carpet". Shota Kabu has no qualms about killing the individual, who attempts to lie his way out of the consequences chosen for him. (BTW, this is Don Wilson's only other role as a bad guy since his involvement in the 1982 Hong Kong film, ABC in NYC's Chinatown and Don was nominated for Best Actor at the Burbank International Film Festival for his role.
Next we see Tyrrell waking up to a phone call from his angry girlfriend, Meena, (Anita Clay) – who he truly loves. He then rolls over to discover that he is in bed with a stunning blonde, (Alissa Schneider). He is horrified when he realizes he doesn't know this woman and has no memory of what transpired between them. Nothing happened, but his lack of memory leads to a few very embarrassing moments. Taylor's expressions are hilarious as they take us into his confused and confounded soul. Eventually, he realizes that he got drunk and lost all the rent money. Worse than that, he discovers that the blonde is Cecilia—the daughter of a local mob boss!
When Cecelia's mob boyfriend, Rocco (Wade Williams), finds out about Cecelia's infidelity, he pours out his heart to his sidekick, Vinnie, and their conversation is highly amusing. This scene shows off new to the screen actor Jonathan D. Lee's sense of great comic timing.
Enter the local mob boss, Charlie, who decides to take out Tyrrell because he slept with his adult daughter. Hmmm. Alan Goldberg plays a convincing mob boss with his Jersey accent and killer suits.
Anyway, Kabu goes after Tyrrell and there are some priceless scenes when Tyrrell is trying to get away. Kabu builds up the tension as he silently stalks Tyrrell. As Tyrell attempts to escape Kabu he moves with this hilarious little run like something out of a Buster Keaton movie. The two play wonderfully off one another.
During all this, we have a few more "Kung Fu Panda" moments. While Tyrrell is trying to figure things out, he is visited by "The Master" (played by martial arts Master Tayari Casel)."The Master" appears in order to give Tyrrell advice, motivation or maybe special martial arts powers??? I was not really sure what was taking place here, just that somehow "The Master" was here to help.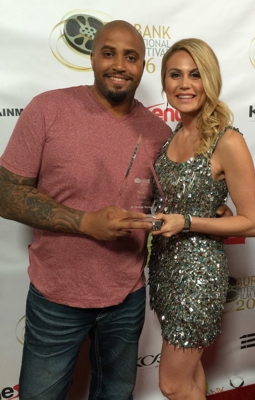 There were some terrific fight scenes in Paying Mr. McGetty. One of those scenes, my "Hero" scene, is awesome. The scene takes place after Tyrrell's visit with "The Master". Tyrrell enters a liquor store and is pushed by some thugs to help rob the store. He uses some DOPE (seriously great) martial arts skills to thwart the thugs. Had he studied martial arts for years, or did "The Master" magically give him some GOAT (Greatest Of All Time) martial arts skills? I'm not sure, but John Kreng, the fight coordinator, and his stunt team did a great job!
I like the fact that one of the major characters experiences a dramatic change of character in the film, but it was rather a jarring contradiction of all that came before. There were also times in the film that I asked, how did we get from there to here?
I enjoyed Paying Mr. McGetty. I like the chemistry between Meena and Tyrrell. Anita Clay was delightful and expressive as was R. Marcos Taylor, and, after seeing him in Straight Outta Compton, I love that he was so endearing and vulnerable in Paying Mr. McGetty. He kept me smiling throughout.
Paying Mr. McGetty was a hit at the Burbank International Film Festival and R. Marcos Taylor won the 2016 Best Actor award for his role as Tyrrell.