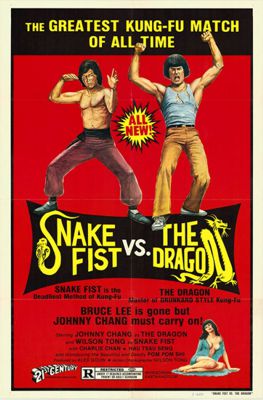 Directed by Sum Cheung
Starring: John Chang.
John Chang stars in Snake in the Monkey's Shadow or Snake Fist vs The Dragon.
Plot: In Snake in the Monkey's Shadowor Snake Fist vs The Dragon, Liang is a martial arts student who impresses his teacher enough to have him instruct Liang in drunken boxing technique. After Liang dispatches a pair of thugs, two hitmen set out to murder Liang. In order to help Liang battle the deadly snake style used by the pair chasing him, Liang's friend Khoo teaches him the monkey fist technique. The killers murder Khoo, but Liang finds inspiration at the funeral and develops a fighting system that will keep Liang alive and help him vanquish his foes.