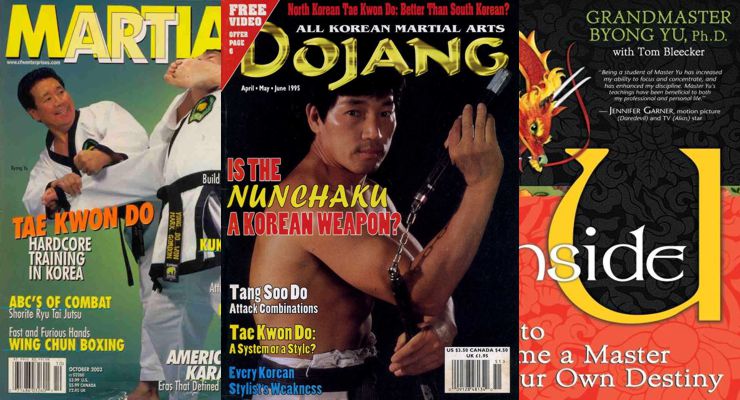 Byong Yu (English Yu Byong) is a martial artist and actor, known for The Association (1974) and The Tonight Show Starring Johnny Carson (1962).
Born on January 17, 1935, Grandmaster Byong Yu, Ph.D., was raised in Korea and moved to the United States in 1964. Overcoming physical disabilities, language barriers, racial prejudice, and homelessness, Master Yu (nicknamed "Lightning Bolt") took the martial arts circuit by storm and eventually attained the highest rank of 9th degree black belt from the World Tae Kwon Do Federation.
Byong Yu won 7 World Champion Belts, 28 Gold Metals, and 486 trophies in professional and amateur martial arts competitions. He was inducted into the "World Professional Martial Arts Association's Hall of Fame," voted "Man of the Century" along with President George W. Bush and Oprah Winfrey," and in 2001 received the prestigious "Martial Arts World Federation Lifetime Achievement Award." In 2004 he was inducted into the Martial Arts History Museum Hall of Fame.
Byong Yu performed in the White House for 5 U.S. Presidents and he did over 3000 martial arts demonstrations in 59 countries. He received 36 of the highest recognition's available from Kings, Queens and Presidents and he earned a Doctor of Philosophy (Ph.D) in Sports Medicine and Nutrition.
Byong Yu is the author of "Inside U: How to Became a Master of Your Own Destiny." Inside U is a guidebook to discovering your true destiny and to conquering every obstacle that blocks your path. Yu says that it is not necessary to physically practice the martial arts in order to gain tremendously from the Golden Keys to Life contained in his book.
Master Yu presently resides in the Los Angeles area, where, at the age of 80, he continues to teach a combination of Chinese Kung Fu, Japanese Karate, and Korean Tae Kwon Do at his school located inside the CBS Studio Center.
Having worked in the entertainment industry, and teaching martial arts in studio city, which is close to Hollywood, has given Yu Byong the opportunity to train individuals including Jennifer Garner, the actress who plays CIA double agent Sydney Bristow on ABC's "Alias."
Byong Yu's life story is currently being chronicled in a full-length feature film project entitled Monkey Man.