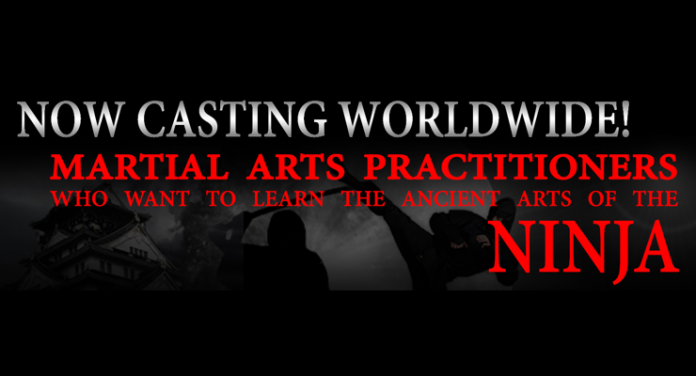 NOW CASTING LAST NINJA WORLDWIDE: MARTIAL ARTS Practitioners who want to test their skills in authentic Ninjutsu!
The Casting Firm and a Major Cable Network are seeking martial artists who are masters of their disciplines for a once in a lifetime opportunity to train with top experts, and learn the ancient arts of the Ninja.
This exciting new series from All3Media America, Emmy award winning producers of "Undercover Boss," will follow the world's greatest martial artists in the ultimate test of discipline, skills and endurance to see if they have what it takes to train as hard and long as a Ninja.
This will take you beyond the dojo and comforts of home – you must survive the elements while training in all the disciplines of Ninjutsu, including unarmed combat, spear techniques, advanced tactics, pyrotechnics, stealth & infiltration, escape and more.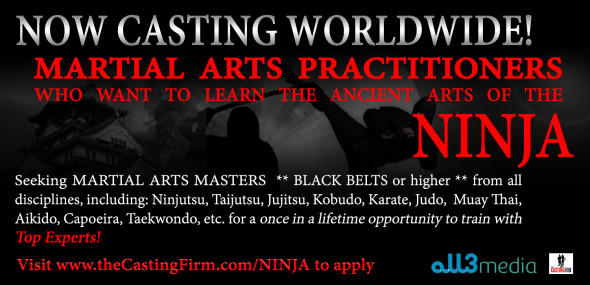 Seeking MARTIAL ARTS MASTERS who are BLACK BELTS or higher from all disciplines, including: Ninjutsu, Taijutsu, Jujitsu, Kobudo, Karate, Judo, Muay Thai, Aikido, Capoeira, Taekwondo, etc.!
If you believe you have the endurance, discipline and dedication to survive till the end, contact us now!
Email Castings@theCastingFirm.com for more info!
WORLDWIDE CASTING!