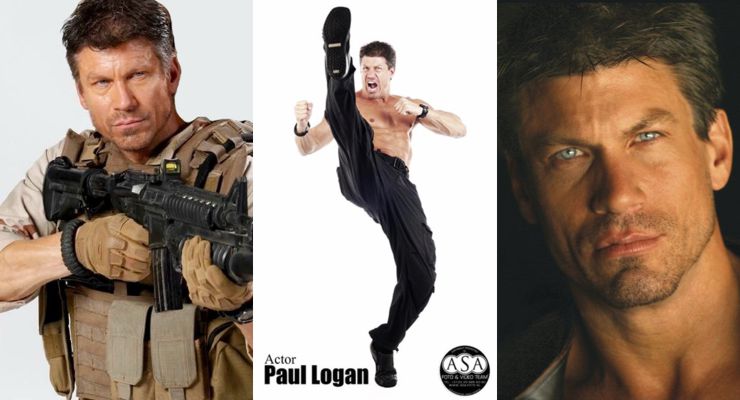 Accomplished martial artist, stuntman, actor and producer, Paul Logan, is known for Killers (1997), Ballistica (2009), Mega Piranha (2010), Code Red (2013) and recently wrote, produced and was both stunt choreographer and stunt performer for his horror movie, The Horde (2016).
Paul Logan was born in New Jersey on October 15, 1973 and raised in Valley Cottage, New York. He attended State University of New York Purchase (SUNY) completing earning a degree in bio-chemistry before moving to Los Angeles to study Chiropractic at the Los Angeles College of Chiropractic. With only 1000 chiropractic hours left in his studies, Paul took a leave of absence from his chiropractic studies and then, in 1996, Paul embarked on a new career path, as an actor. His small parts in films and television episodes lead him to his role as  Nicky in the movie Killers (1997) giving him more screen time. He notched several other credits to his performance belt in the 1990's and into the 21st century.
In the mid 2000's, Paul Logan worked in several fantasy, Sci-Fi and/or creature films. The first of these was The Curse of the Komodo (2004) followed by the supernatural horror film Way of the Vampire (2005) where he starred as Dracula. Next he appeared in the creature/horror film Komodo vs. Cobra (2005).
From 2001-2005, Paul appeared on Days of Our Lives (1965) as a recurring character.
Between 2009 and 2010, Paul Logan worked with small-budget TV/direct-to-video production company The Asylum. His first project with that company was the 2009 disaster thriller MegaFault (2009) (starring the late Brittany Murphy ). Logan's second project that same year was in the Sci-Fi "man vs machine" film The Terminators (2009). His third film with The Asylum saw him in a leading role as the US commando sent to South America to stop mutating killer-fish in the SyFy original Mega Piranha (2010).
His athletic background came in handy for the martial art-styled action film Ballistica (2009), again with a leading role as a top-notch CIA agent trained in the title art of Ballistica (hand-to-hand combat with firearms).
As a highly-versatile athlete, Paul Logan is experienced in most sports, including football, baseball, swimming, boxing and golf. He enjoys weight training and has appeared on the cover of most fitness magazines. His martial art repertoire includes Karate, Kendo (sword-fighting), Aikido and Jiu Jitsu. Paul began training in the martial arts when he was 13 years old and he has been training in mixed martial arts (MMA) for more than 8 years. He holds a Black Belt in Okinawa Go-Ju-Ryu karate.
Follow Paul Logan on Instagram