Update: Congratulation to Paul Logan! THE HORDE is out and already in the Top 25 New and Noteworthy on iTunes. The reviews for the movie are very good!!!
Update: You can watch The Horde (2016) on demand in the U.S. and Canada starting on May 6, 2016. For more release information visit Gravitas Ventures.
The Horde (2016) is Paul Logan's Action-Horror film about Ex-Navy Seal, John Crenshaw, and his teacher girlfriend who take her students on a weekend nature-photography expedition deep into the woods. What should be an educational, fun-filled weekend turns deadly as the group is besieged by an unspeakable evil – a horde of hideously disfigured, mutated human killers with an insatiable taste for blood. As things go from bad to worse, Crenshaw is their only hope of getting out alive.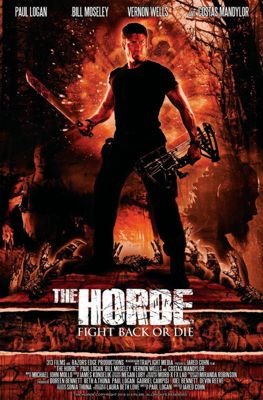 Paul Logan wrote the script, and was a producer of the film along with Razors Edge Productions and 313 Film's Doreen Bennett and Beth A. Thuna. Other producers of the film are  Joel Bennett, Gabriel Campisi and Devin Reeve.
Martial artist Paul Logan was the fight choreographer for The Horde (2016) and the film is filled with top notch action.
This film gives us back one of those old-school action heroes we all love and miss in John Crenshaw (Paul Logan), along with horror icons, actors Bill Moseley (Halloween and The Devil's Rejects), Costas Mandylor (Saw films and Beowulf) and Vernon Wells (Commando, Mad Max and The Butcher).
The Horde (2016) was directed by Jared Cohn.
Great Review on The Action Elite
Follow The Horde (2016) on Twitter