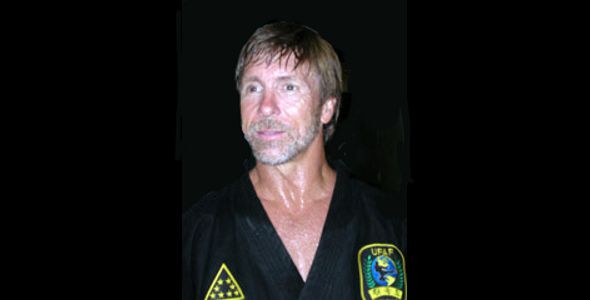 Mr. Chip Wright worked on Chuck Norris's hit television show, "Walker, Texas Ranger," as Chuck Norris' stunt double.
In 1974 Chip Wright began training under Mr. Bob Barrow and was awarded his first Black Belt three years later in 1977. He currently holds the rank of 8th Degree Black Belt, which he received in 2002.
In addition to heading the 2007 Chun Kuk Do School of the Year, an award he's garnered three times, Chip Wright is the 2008 recipient of the coveted Weiland Norris Award. Also a member of the UFAF National Board of Directors and the UFAF/Chun Kuk Do Director of Tournament Development. He coaches the Chun Kuk Do National Team.
An avid competitor, Mr. Chip Wright was named Open National Champion in 1984, 1986, 1987. A member of the Trans World Oil National Karate Team from 1986 to 1991, he won the title of United Fighting Arts Federation (UFAF) National Champion 14 of 17 years, from 1984-2001. Named 4-time UFAF Competitor of the Year, he was inducted into Black Belt Magazine's Hall of Fame in 1991 and the UFAF Fall of Fame in 2002.
His energies also kept Chip Wright busy out of the fighting arena, working on Walker, Texas Ranger from 1993-2002/2005; and films including: GymKata, Eye for an Eye, Side Kicks, Top Dog, Forest Ranger, The Cutter, Missionary Man, and Walking Tall 2.
Chip Wright Stunts
Midnight Expression (short) (stunts)
1993-2001 194 Episodes of Walker, Texas Ranger TV series – martial art and stunt double for Chuck Norris
The Final Showdown: Part 1 (2001) (martial art and stunt double: Chuck Norris)
The Final Showdown: Part 2 (2001) (martial art and stunt double: Chuck Norris)
Blood Diamonds (2001) (martial art and stunt double: Chuck Norris)
Reel Rangers (2001) (martial art and stunt double: Chuck Norris)
Unsafe Speed (2001) (martial art and stunt double: Chuck Norris)
1995 Top Dog (stunts)
Chip Wright Acting
Missionary Man
Biker #1