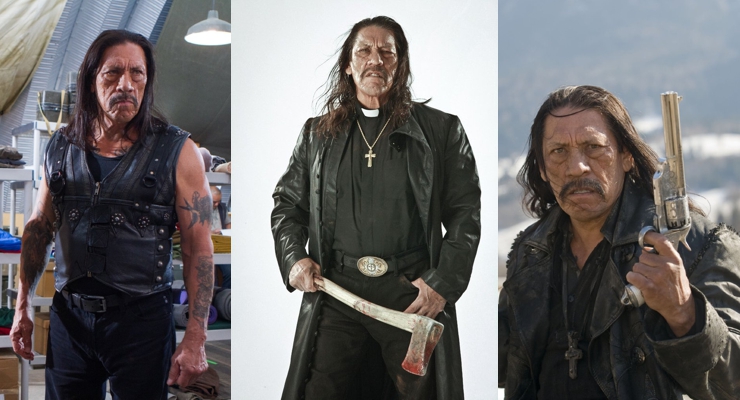 Mexican-American Actor and Producer, Danny Trejo was born on May 16, 1944, in the Echo Park neighborhood of Los Angeles, to Alice (Rivera) and Dan Trejo, a construction worker. On the hard streets of LA, it wasn't difficult for children to get pulled into a world of drugs and crime and Danny was soon caught up in this world, eventually finding himself in and out of jail for 11 years. He began learning to box with his uncle when he was 8 years old and then, while serving time in San Quentin, he began seriously boxing and won the lightweight and welterweight boxing titles. Having been imprisoned for armed robbery and drug offenses, Danny successfully completed a 12-step rehabilitation program that changed his life and he became dedicated to helping others as a drug councilor working in juvenile halls and prisons.
As a youth drug councilor, Danny was speaking at a Cocaine Anonymous meeting in 1985, and he met a young man who later called him asking for support. Trejo went to meet the young man at what turned out to be the set of Runaway Train (1985) where he was working as a production assistant. Walking on the set of a prison scene with his tough tattooed appearance, Trejo was offered a role in the prison scenes as a convict extra. Also on the set was a crime author and one of the films screenwriters, Edward Bunker, who had done time with Trejo in San Quentin. Bunker remembered Trejo's boxing skills, and offered him $320 a day to train the actors for a boxing match in the film. When Director Andrey Konchalovskiy saw Trejo training Eric Roberts, he offered Trejo a featured role as Roberts' opponent in the film.
Danny Trejo has appeared in many other films and on tv shows with some of Hollywood's most famous actors including Antonio Banderas, Charles Bronson, Nicolas Cage, George Clooney, Robert De Niro, Johnny Depp, Harrison Ford, Val Kilmer, John Malkovich, Al Pacino, and Jean-Claude Van Damme usually playing the role of a tough criminal or villain/anti-hero. His films include Heat (1995), Con Air (1997), and Desperado (1995). The director of Desperado, Robert Rodriguez, began to collaborate with Danny Trejo, creating possibly Danny's most recognized character, Machete, originally developed for the Spy Kids children's series of movies and later expanded into Trejo's own series of films for older audiences. Danny is often named after sharp tool used as weapons in Robert Rodriguez films including Machete in Spy Kids, Razor Charlie in the From Dusk till Dawn series, Navajas (Spanish for blades) in Desperado, and Cuchillo (Spanish for knife) in Predators.
Danny Trejo has also appeared in such major films as Marked for Death (1990), Blood In Blood Out (1993), From Dusk till Dawn (1996), Anaconda (1997), Six Days Seven Nights (1998), The Replacement Killers (1998), Point Blank (1998), Animal Factory (2000), Bubble Boy (2001), SPY kids (2001), xXx (2002), Once Upon a Time in Mexico (2003), Anchorman: The Legend of Ron Burgundy (2004), The Devil's Rejects (2005), Snoop Dogg's Hood of Horror (2006), Delta Farce (2007), Grindhouse (2007), Rob Zombie's Halloween (2007), Urban Justice (2007, alongside Steven Seagal), Valley of Angels (2008), The Haunted World of El Superbeasto (2009), where he voices the character of Rico, Machete (2010), Predators (2010), Bad Ass (2012) and Chavez Cage of Glory (2013) and the list goes on.
He also appeared in television shows such as  Breaking Bad, Sons of Anarchy, and From Dusk Till Dawn: The Series.
The first film produced by Danny Trejo was a family film called Ambition. He is an associate producer on the action film Bad Ass 3: Bad Asses on the Bayou (2015).
An award winning independent film was made of Danny Trejos life. Champion featured Dennis Hopper, Val Kilmer, Steve Buscemi, and Robert Rodriguez.
Danny Trejo has spent his life using the recognition he has gained from his roles in film and on television to help others do what is right.
Danny says, "Everything good that has happened to me has happened as a direct result of helping someone else. My passion is talking to young people who want to stay out of trouble. My message is staying away from drugs and alcohol and education is the key to anything you want to do."