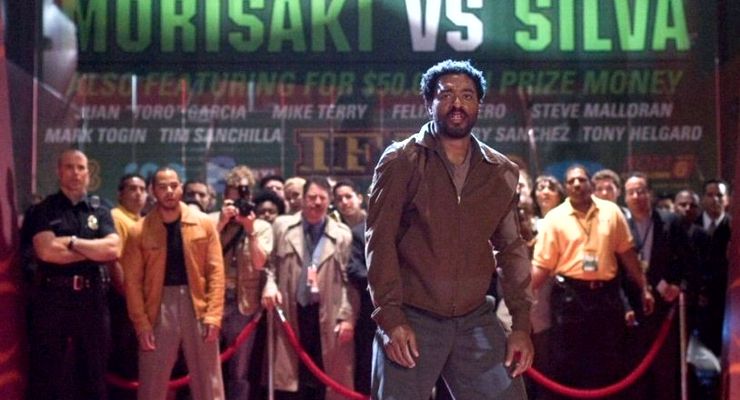 David Mamet Helps Hollywood Discover Ultimate Fighting with REDBELT
HOLLYWOOD is so behind the curve on cultural trends that most fads are over before the movie biz can figure out how to exploit them. So I guess I shouldn't have been shocked to discover that someone is only now — after Ultimate Fighting Championship has become a huge ratings champ on Spike TV, made the cover of Sports Illustrated and, most important in terms of zeitgeist cred, been mocked by both the Onion and "The Daily Show" — making a film about the wild 'n' woolly sport that has gained a chokehold on the elusive 18-to-34 male demographic.
The picture, called "Redbelt," is shooting here in Los Angeles through the end of the month, with much of the filming at the Pyramid in Long Beach. After visiting the set last week, I asked industry-ites to guess the identity of the filmmaker who'd beaten everyone else to the punch, so to speak. An action impresario like Michael Bay? A guy's guy like Michael Mann? A sports-aholic like Mike Tollin?
Wrong, wrong and wrong again. The filmmaker who's plunged headfirst into the brutal world of ultimate fighting is … David Mamet.
A celebrated playwright, opinionated essayist and fiercely independent filmmaker, Mamet was introduced to the sport several years ago by several enthusiasts, notably Mordecai Finley, Mamet's rabbi and a longtime jujitsu practitioner who has a part in the film as one of the undercard fighters. Fascinated by the sport, which blends the brawn of boxing and agility of kick-boxing with the art of jujitsu and the head-banging of wrestling, Mamet wrote a story that revolves around many of his favorite themes — honor, deception and betrayal — set in the world of mixed martial arts.
"Like everyone, I grew up with boxing, but everyone seems sick to death of it — it's all about whether Mike Tyson was going to bite someone's ear off or not," Mamet said during a break between scenes last week. "I'm interested in going backstage into this new world, especially since everyone loves backstage movies. You could say that the story is a lot like a story about Hollywood — it's all about honor and corruption."
Mamet grins. "In a lot of ways, it's an American samurai film. I think it's a script Kurosawa would've liked."
Mamet's script focuses on a jujitsu master, played by Chiwetel Ejiofor ("Children of Men"), who after years of refusing to fight must sacrifice his purity by going into the ring to protect his honor. The film is populated with top fighters, including Ultimate Fighting
Championship legend Randy Couture, Enson Inoue and Ray Mancini, as well as John Machado, who runs a Brazilian jujitsu training school in L.A. But it also features such acting talent as Emily Mortimer and Tim Allen, as well as Mamet regulars Joe Mantegna and Ricky Jay, who plays a fight promoter who delivers such Mamet gems as "Everything in life — the money's in the rematch."
Mamet pitched the story all over town. To his surprise, everyone passed. "I was a little dumbfounded," he admits. "I told them, 'Crunch the numbers. Look at the UFC's pay-TV ratings. See how big Randy Couture and some of the UFC stars are.' God willing, I think a lot of people are going to be surprised at how well this will do."
Looking for a buyer, Mamet went to Michael Barker and Tom Bernard, the heads of Sony Pictures Classics, the art-house specialists best known for championing foreign films from the likes of Pedro Almodóvar and Zhang Yimou. "With them, at least you're talking to the two guys who can say yes," Mamet explains. "They didn't even ask to see the script. They said, 'We'll see you at the opening.' "
Still, that's quite a culture clash, a mixed-martial arts film being financed by the guys whose business model usually involves winning Oscars with exotic foreign films. But from Sony Classic's point of view, the movie is a good bet. For $7 million, they not only get a classic Mamet drama but also one rooted in a pop culture phenomenon.
Created in the early 1990s, Ultimate Fighting Championship events were initially more sordid brawling than sport, famously dismissed by Sen. John McCain of Arizona in 1996 as "human cockfighting." The UFC was purchased in 2001 by Frank and Lorenzo Fertitta with the aid of Dana White, an ex-gym owner who is now the sport's colorful impresario. With a host of new rules and the creation of weight classes, the UFC took off, thanks in part to a weekly Spike TV reality show, "The Ultimate Fighter," which often attracts a bigger young male audience than the NBA or Major League Baseball.
The UFC is represented by the Endeavor Talent Agency, which has helped the UFC put together TV deals with HBO and ESPN. But Hollywood has been a tougher nut to crack. Initially wary of the sport because of its extreme violence, the studios have only just begun to notice the sport's passionate following among men, just as the studios have been painfully slow to react to other pop subcultures, including hip-hop, skateboarding and street racing.
White spoke derisively about Hollywood's risk-averse attitude toward ultimate fighting, saying, "They are the last in line when anything new comes along." He got early interest from several prominent producers. "But we kind of pulled back. They wanted to use the brand, and we never came to a deal. If we do a movie, we want it done right."
The UFC at one point commissioned a script itself, hiring "15 Minutes" writer-director John Herzfeld for a project that would've been released by Lionsgate. White says, "We got cold feet and pulled out" over control issues. Studio executives say they've seen a number of spec scripts, but none that captured the world in an inspired way, the way "8 Mile" did with hip-hop. "Too much of what we've seen have been 'Rocky'-style stories, which felt too clichéd," says Moritz.
Studio execs who heard Mamet's pitch said they shied away because they still felt they were getting a Mamet movie, for them a product with limited box-office appeal. Only now, with the sport booming, are projects taking shape. Universal is developing a film while New Line is close to a deal with director Gavin O'Connor ("Miracle") for a script about two friends pursuing a mixed martial-arts title fight.
"For me, there's a great story that could put a microscope on the fighters' lives and capture their humanity as well as the brutality of the sport," says O'Connor, who produced an HBO documentary, "The Smashing Machine," that chronicled the struggles of fighter Mark Kerr. "But Hollywood has been very cautious. They're never ahead of the curve. They only jump on the bandwagon when something is already successful."
An ultimate fighting movie will never work if it airbrushes away the rough edges of the sport. Mamet's "Redbelt" script certainly doesn't. As Ricky Jay's fight promoter puts it: "Any two guys fighting for money. No way the fight is fair."
What seems to especially interest Mamet is the eternal conflict between art and business. In "Redbelt," the artist is Ejiofor's character, a loner who trains off-duty cops and bouncers in the art of self-defense but refuses to fight himself. As one of his friends puts it: "He can't stand the sight of money."
This is hardly the way of the new world of sport-tainment, where athleticism is often overshadowed by performance enhancement drugs and endorsement deals. Watching Mamet direct a scene one day, John Machado — whose uncle was the founder of Brazilian jujitsu — pondered the movie's themes, which hit especially close to home for him since he has chosen to teach instead of to fight.
"This movie could have a big impact, because it shows the love you must have for the art," he says. "My character is a businessman, so I'm part of the conflict in the movie — and in real life. How much do you do to sell yourself without selling out?"
Perhaps that's why the studios are so late to the party with ultimate fighting. How to sell yourself without selling out is one of those questions Hollywood has never figured out how to answer.
"The Big Picture" runs every Tuesday in the Los Angeles Times Calendar. E-mail questions or criticism to patrick.goldstein@latimes.com.
By Patrick Goldstein of the Los Angeles Times