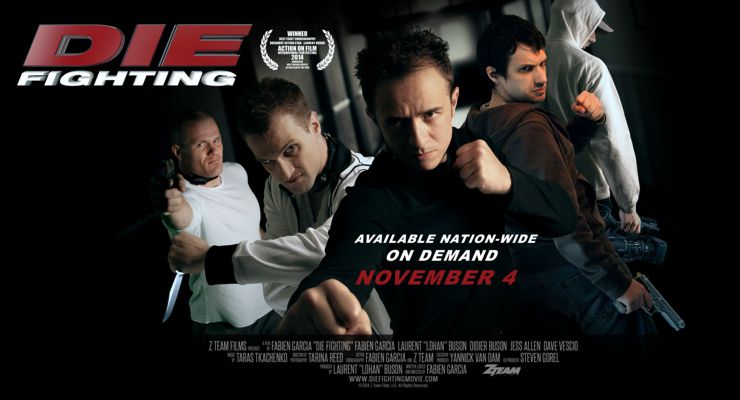 On November 4, Gravitas Ventures unleashed Z Team Films' martial arts action film Die Fighting (2014) on Video on Demand throughout North America, reaching over 100 million homes. Available on iTunes, Google Play, Vudu, Amazon Instant Video, PlayStation Network, Xbox and more…
Originally titled The Price of Success, the film stars Fabien Garcia, Laurent "Lohan" Buson, Didier Buson, Jess Allen, Dave Vescio and Xin Wuku.
Synopsis:
The Z-Team, four Shaolin-forged martial artists, have just won the top award at a Film Festival. Fabien, Lohan, Didier, and Jess immediately set their sights on Hollywood, but from within the cities shadows emerges a new challenge and the four find themselves in front of the seemingly inescapable eye of a mysterious DIRECTOR who forces them to "act" in his brutal reality film, with the lives of their loved ones at stake. Their every move watched through hidden cameras, they are like mice in a maze, and forced to run a gamut through the seedy underbelly of LA – from robbing an armored truck, encountering a Drug Lord, breaking an entire dojo of BLACK BELTS, evading a SWAT team, surviving a blazing gunfight…and it's all a part of the Director's script. A dark filmmaker's game culminates in a shock ending revealing just how high the price of success can be.
While the found footage subgenre of films has been popular as of late ("Saw", "Hostel", "Chronicle", "Paranormal Activity", "Cloverfield", "REC"), none has been completed as a martial arts action/thriller. The creative mandate here ensures that this film's fight choreography is second-to-none. Director Fabien Garcia shot the movie like a Hong Kong action flick, making it easy to understand what is going on on-screen, whereas American films are shot with the opposite of this visual aesthetic. There is no cheating the wider angles needed to capture the extraordinary battles Fabien's script conceived.
The film received two awards at the Action on Film International Film Festival: Best Fight Choreography and Breakout Action Star for Laurent Buson with a total of 4 nominations.
Die Fighting On Facebook
Die Fighting On Twitter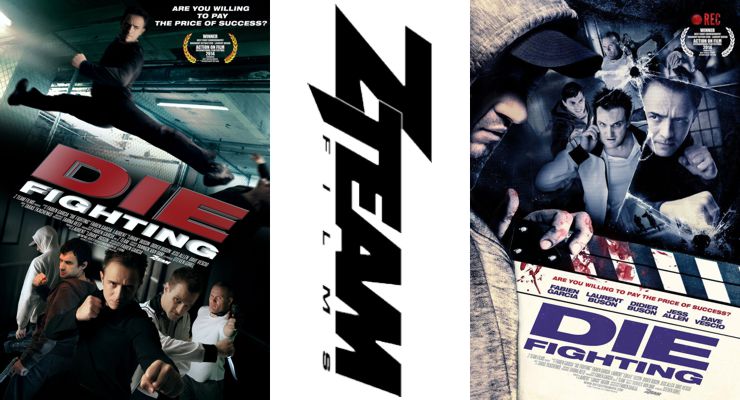 The Filmmakers:
Fabien Garcia received years of intensive martial arts training in China where he journeyed when he was barely 20 years old. Fabien wrote and directed the film, the first feature-length film from Z Team Films. In addition, with the help of Laurent Buson and his brother Didier Buson, Fabien served as action director of the film. Producer Laurent Buson, for 10 years, lived and was trained in China notably at the famous Shaolin Monastery where he met his "partner in crime" Fabien Garcia. During his time in China, Lohan worked on various movies such as Silver Hawk, starring Michelle Yeoh (Crouching Tiger Hidden Dragon, Tomorrow Never Dies). Lohan is a familiar face to the fans of the genre as he was handpicked by lauded action director Gareth Evans (The Raid: Redemption) to play the part of Luc, the human trafficker who goes hand-to-hand against Indonesian action star Iko Uwais in the dynamic duo's film debut, Merentau.
About Z Team Films:
The Z Team formed in the mountains of Shaolin and the urban sprawl of Beijing, our four founding members forging a lasting bond. Our dedication to wushu and other martial arts is evident in our desire to portray the passion of our training on a grand scale. We want the movie-going audience to recognize the art in what we do. The Z Team's purpose through its production company, Z Team Films, LLC, is to make movies with the same kind of work ethic (the literal meaning of kung fu) which we have poured into our martial arts training. We are interested in producing action movies which entertain with provocative narratives, while also faithfully displaying the beauty and power in our fight choreography.
For more information, please visit the Z Team On Facebook
CONTACT
Lohan Buson
310-955-0395
ZTeamFilms@gmail.com
530 S. Berendo St., Apt 239, Los Angeles, CA 90020