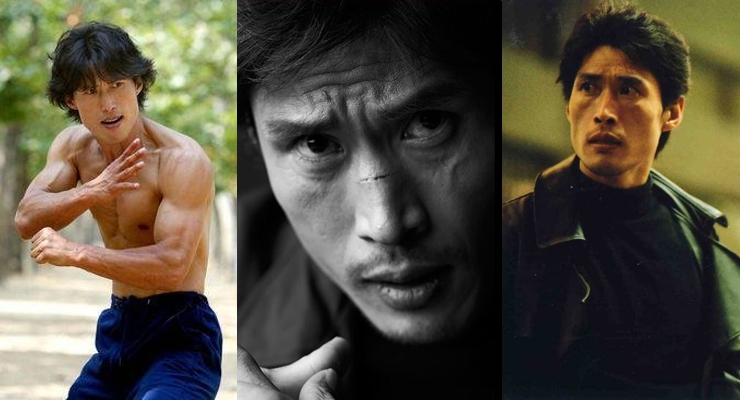 Doo-hong Jung was born on December 14, 1966 in South Korea. He is known for his work on RED 2 (2013), G.I. Joe: Retaliation (2013) and The Good, the Bad, the Weird (2008). Jung Doo-hong is a South Korean action director, martial arts choreographer, stunt coordinator, actor and the creator of "Koreanized" action. At only 25 years old, Doo-hong Jung was the youngest action and martial arts director in Korean history.
The shy and introverted Doo-hong Jung began to study Taekwondo as a high school freshman when a school opened near his high school. This training changed his life and he became engrossed in the Korean martial art, trained every day. He could not afford the classes, but Master Lee Gak-soo taught him for free because he could see that Doo-hong Jung had great passion for the art and that he was exceptionally talented.
When Doo-hong Jung entered Junnio Incheon Junior College he majored in athletics and physical education. He was also selected as a member of a performing team that promoted taekwondo and Korean culture around the world, and he spent most of his college years overseas, teaching taekwondo in the United States, Japan and Mexico. As a Korean, he did mandatory military service, as a martial arts instructor, training a frontline elite unit. After his discharge from the military, he did a brief stint as a bodyguard for a parliamentarian and a friend on his bodyguard team suggested the Doo-hung look into doing stunt work. He did get a job working with a stunt team, but the pay and benefits paid to Korean stuntmen were meager at best, and Jung ended carry heavy equipment for the stunt acting team, who were working on a direct-to-video film. He was so disappointed that he quit stunt work and began doing intensive exercise training at Boramae Park to improve his physical strength, and he continued studying various martial arts such as aikido, hapkido, kickboxing and fencing under Kim Young-mo at a nearby training center. He would train from 11:00 at night until dawn. After three months, he was hired as a stuntman for actor Lee Il-jae on Im Kwon-taek's hit movie General's Son (1990).
At only 25 years old, Doo-hong Jung talent helped him to become the action director (stunt coordinator, martial arts director, or fight director) on the 1992 film Sirasoni ("Bobcat"), and this made him the youngest person to hold that job in Korean film history. Ultimately Jung became Korea's most important and influential action director, continuing as the center of Korean movie action by directing and or choreographing the action for 4 to 6 movies per year. He was responsible for designing the street shooting in Shiri (1999), the wrestling in The Foul King (2000), the western spectacle in The Good, the Bad, the Weird (2008), and the hand-to-hand combat and wire work in The Berlin File (2013). As a great innovator, Jung is the acknowledged creator of "Koreanized" action, the rough-and-realistic Korean style of action and fight choreography.
The Korean action film actors most respected by Jung are No-sik Park and Dong-hwi Jang and he says, "I thought it was very cool to wear a formal hat and throw blows at the enemy and rescue women. But when I first debuted [as a stuntman], it was during the days when stuntmen were treated as less than human." Although conditions for stuntmen hav ve improved, Jung believes working conditions for present-day stuntmen can still be improved. Because of his commitment, passion and pride in action/martial arts filmmaking in Korea, Jung founded the Seoul Action School at a gymnasium in Boramae Park on July 1, 1998. The aim of the school, which he established jointly with four of his younger colleagues, is to produce and nurture martial arts directors and stuntmen. Since 2006, the school has had 25 key members. It recruits new members every six months and offers them free martial arts training. The have also been teaching in Paju, Gyeonggi Province since 2009. Jung explains that it is difficult to maintain a stunt company in a country that he believes does not appreciate the action genre, but he is seeing more young prospective actors at the Seoul Action School who are proud to be park of the action genre. Jung continues to be an advocate for safe working conditions and adequate pay for stuntmen in Korea.
Doo-hong Jung broke out of Korean cinema when he became the action director for the 2002 Japanese film Seoul by Masahiko Nagasawa, and the 2007 Russian blockbuster Mongol: The Rise of Genghis Khan  by Sergei Bodrov. He was also the stunt double for actor Byung-hun Lee in Lee's Hollywood films G.I. Joe: Retaliation (2013) and Red 2 (2013).
Friend and collaborator, Director Seung-wan Ryoo,  respects and appreciates Doo-hong Jung and the way he stubbornly sticks with his creative input in the action scenes of the films he works on, and Ryoo has given Doo-hong Jung his most significant acting roles, mostly as villains, in movies like his action-comedy-fantasy film, Arahan (2004)
Then in 2006, Ryoo and Jung and took on the leading roles in Ryoo's The City of Violence, about two friends who reunite in their hometown and go after the bad guys who had killed their friend. Jung said he had wanted to be in a film that was "simply action" (without romance or suspense) and thought, "This was my last chance [to appear in an action movie]. So I wanted to show everything I had."
Always looking for a challenge, Jung made his debut as a professional boxer in the welterweight division in 2005, when he was in his forties. He also opened a fitness center with TV host Hoon Lee, which they called the Double H Multi Gym.