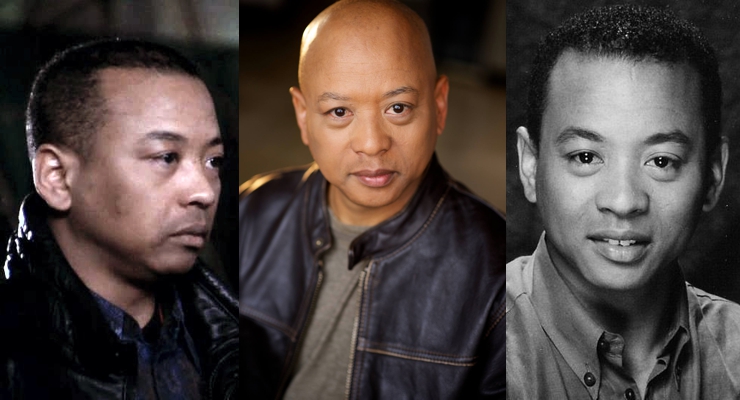 Ewart Chin was born in Jamaica and began studying Goju-Ryu Japanese Karate a very early age. Finding the style too rigid and hard he switched to Hung-Gar Kung Fu at the age of 7 years old and he continues to study today. His teacher, a friend of Ewart's Grandfather, is a Hung Gar Grandmaster, from Guang Dung province China (Canton).
Ewart is also a practitioner in the art of Qi-Gong and studied under the Wu Dang Monk – Zhou Ting Jue, from Wu Dang Shaolin Monastery in Wu Dang Province, China. This internal art helps him balance the internal and the external aspects of the martial arts.
When Ewart moved to the United States, he began a career in film as an actor and stunt person. He worked in Starship Troopers as one of the Trooper back in 1997, and is on the original poster for the Film. Worked on several projects over the years.
He has been inducted into the World Martial Arts Council, USA Martial Arts Hall Of Fame and Martial Arts History Museum Hall of Honors.
For Ewart, martial arts is a way of life, and he lives and breathes his arts daily. He says that martial arts is a Brother and Sisterhood, and, as a way of life, martial artists show respect for self and for others.
Filmography
Actor
2013
Lockhart (filming)
Agent Orange
2013
Eve! (TV Movie) (post-production)
John
2013
A James Hong Film (Short)
Storm 2
1996
Sworn to Justice
Fighter
1994
Red Sun Rising
Oyabun's guard
1993
Ring of Fire II: Blood and Steel
Avengers Gang
Self
2013 The World Champion YoYo Event (Documentary) (post-production)
Himself
1995 Encyclopedia of Martial Arts: Hollywood Celebrities (Video documentary)
Himself
Performer Profile
---
Gender: Male
Height: 5 feet 4 in
Weight: 138 lbs
Age Range: 30 – 50
Physique: Average
Hair Color: Black
Hair Length: Bald
Eyes: Brown
Ethnicity: Mixed, Caribbean, Asian
Voice Type: Baritone, Tenor
Film
---
| | | |
| --- | --- | --- |
| Star Ship Troopers 1997 | Trooper(uncredited) | Tri-Star Pictures/Paul Verhoeven |
Performer Skills
---
Performance Skills: Martial Arts, Stage Combat, Firearms, Stunts, Voiceover, Dancing
Athletic Skills: Aerobics, Boxing, Track & Field, Baseball, Soccer, Rollerblading, Swimming, Cycling, Tennis, Martial Arts
Accents: British, Jamaican
Spoken Languages: english
Dance: Disco, Club/Freestyle
Education
---
St. Georges College, Business Graduate, Kingston, Jamaica, 1977
Training
---
Private Teacher, Kingston, Jamaica, Hung-Gar Kung Fu, Sifu Wan Su, 1977
Started at 7 years old, Master in Kung Fu attained. Qi-Gong Training with Master Zhou Ting Jue from Wu-Dang Monastery in China.
Awards
---
USA Martial Arts Hall Of Fame, Inducted., 2013
Master in Hung-Gar Kuhg Fu .Practicioner of Wu-Dang Qi-Gong.
World Martial Arts Council, Inducted, 2013
Martial Arts Master.
Martial Arts History Museum Honor Awards, Honor Award, 2013
Contribution To The Arts.
Munich Hall of Fame Inductee 2015
Employment Details
---
Work History: Theater, Film, Television
Job Categories: Stunts, Acting
Are you willing to work unpaid?: No
Authorized to work in United States: Yes
Primary Citizenship: United States
Valid Passport: Yes
Prior Job Title 1: Actor
Prior Job Title 2: Stunts
Prior Job Title 3: Actor