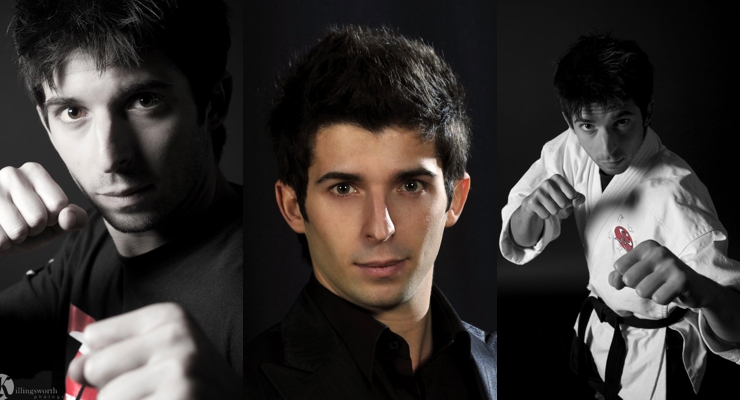 Italian Federico Berte is a martial artist, actor, stunt performer and coordinator, and a producer. He is known for his work on Bad Ass 2: Bad Asses (2014), Subject 13 and Frontal Lobe (2015). He plays Leo in Bloodline (2015) the short film.
Federico Berte was born and raised in Italy. He is an international actor and expert in the Martial Arts of Kung Fu, Wushu and weaponry. Federico received extensive training in Shanghai China, as well as mentoring by Shaolin monks and Grand Masters, who he was later privileged to perform alongside.
Federico Berte uses his expertise in everyday life, but more importantly he uses his talents in film as a fight choreographer and stuntman.
After his journeys in Italy and China, he moved to Los Angeles, California where he attended an acting program at New York Film Academy. He had found his true passion as an actor, and after graduation he quickly booked several national commercials (major league baseball), music videos (Kesha), as well as TV shows (CSI New York).
Currently, Federico works double time as fight choreographer for several film productions such as Subject 13, in addition to being lead actor in front of the camera. Federico Berte is excited to share his upcoming works throughout Los Angeles and around the world.
Federico Berte has been practicing martial arts since the age of 5. He began teaching Kung Fu at 18 years of age and today is an expert in Kung Fu, Wushu, short and long weapon combat, and acrobatics. Mr. Federico had different teachers but never stopped training. It's 1991 Mr. Federico began  training kung fu at the Wee Liang Academy, and a few years later he moved to the Know Tao Academy.
In love with the discipline, in 1998 Mr. Federico began to specialize his weapon skills by studying Kobudo at the Shorei Kan Academy. Federico was one of the youngest martial artists in Italy, and began performing live around the country. During one of these events Federico met the Shaolin Monks, in particular Master HuangShao Song, and Grand Master Xi De Cheng. Impressed by their skill level, he began to practice with them and would later perform beside them.
In 2004 Mr Federico followed his Master Xiao Song, to the Grand Master School in Baotou (China) where he would practice in person with Master Xu for 3 months. After this experience, Mr Federico, opened his first studio in Osimo (An) Italy, where he started teaching traditional kung fu.
During those years Mr. Federico competed and won several national and international events, and in 2006 he was chosen by Director Enzo Cosimi to perform at the Opening Ceremony of the Winter Olympics in Turin as one of eight select athletes in martial arts. After completing his secondary education in Italy, Federico was accepted as a student at the internationally recognized University of Sports in Shanghai, where he focused on the study of Wushu and the Chinese language for almost four years. He is now fluent in Mandarin. In 2007 Mr. Federico was selected by the school to perform in a special show with the Wushu World Champion Wei Jian (China), and one year later, he was chosen to be one of 2 foreigners who'd represented their own country during the 50th Anniversary of the Shanghai Sports University (China). During his journey as an actor Federico came across an ad for the position of instructor at Dragon Martial Arts and he is now one of the main instructors.