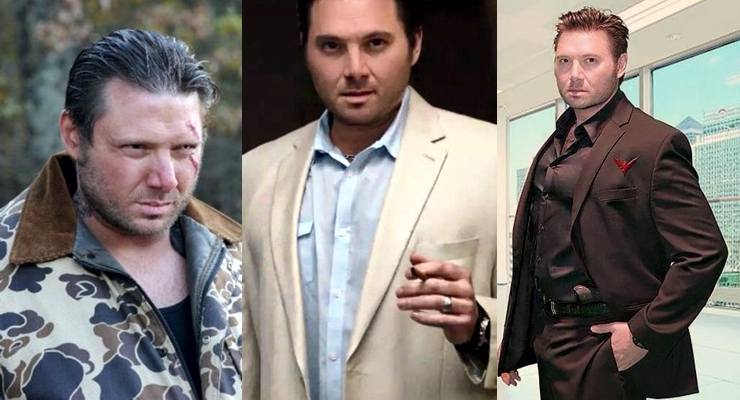 Actor John Emil D'Angelo is known for his Mafia roles. His family stems from Palermo, Sicily and Naples, Italy. Acting wasn't John's first passion however; it was martial arts, which he's been involved with since grade school. After high school, John competed nationwide in Naska martial arts events. It was then, 1993, that the UFC was introduced and began combining all the fighting disciplines to see which was superior. The three letter acronym for MMA (Mixed Martial Arts) was first billed as NHB (No Holds Barred) where 8 men competed in a bracketed tournament. Up until that point, Kickboxing was the martial artists' full contact sport of choice. During this time, John became heavily involved in helping to develop the sport of MMA. He owned Georgia's premier martial arts equipment store, Pro Rank, and captained the world class Pro Rank Competition Team consisting of tournament, boxing, and kickboxing fighters; later adding No Holds Barred fighters to the team.
D'Angelo is best known for pioneering and developing some of the rules of No Holds Barred fighting by creating the 5 minute round system and developing the amateur and semi-pro divisions in 1995 which are currently used in the sport today.
John D'Angelo was inducted into the Georgia Martial Arts Hall of Fame (2010), Action International Martial Arts Hall of Honors (2011), and the Legends of Martial Arts Hall of Fame (2013) for his contributions to the development of the arts.
John got his first acting gig in 1999 when the coach of his competition team, Niko Ashford, asked him to be a part of a fight scene in the movie Razor Sharpe. Unaware of acting and fight scene etiquette, John actually kicked his scene partners (lightly) thinking it would make it more realistic…. It turned out to be very realistic!
In 2010, John began pursuing acting again, studying with great acting coaches such as Rob Pralgo (The Have and Have Nots). A decade later John was contacted by Troy Ashford about a role in a new film, Unkillable (starring Tom Sizemore/ Fred Williamson). Other projects followed including One Fine Day (Dir. Greg Bankston), Greed (Dir. Wardell Richardson), Adopted (Dir. Georgia Tanner), Between Lines (Dir. Java Green) and the popular X-Men Series (Dir. Eric Green).
When asked, "Do you worry about being type cast?" John answers, "I prefer mafia type roles as in Cigar (playing Paulie) but I'll audition for almost anything…You gotta problem with that?"
John Emil D'Angelo has studied with great acting coaches such as Rob Pralgo (The Have and Have Nots).